As the Rio 2016 Summer Olympic Games come to a close and the packing games begin, I can't help but reflect on my time here. It's not my first Olympics, but there were definitely some firsts here: an official team for refugees, a triple-triple world record set, an exaggerated robbery scandal -- The Good, The Bad and The Ugly, these Games had it all.
But beyond the headlines, these Olympics stood out for many of the little moments, the quiet side stories you might have missed if you weren't there yourself. Here are three things I will never forget from Rio: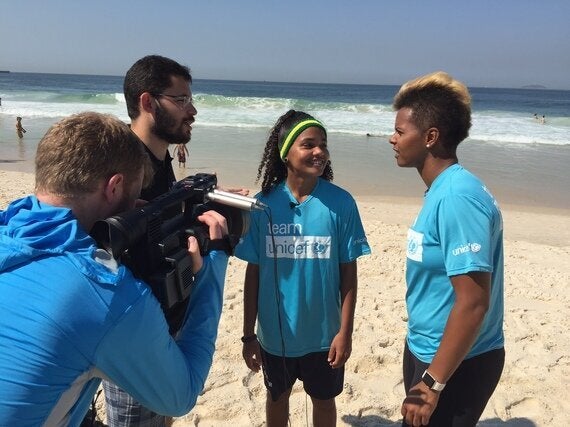 1. Tears. The games are filled with beautiful moments of records, personal bests, and stepping on the podium as some athletes see their flags rise. Tears fall in that moment of accomplishment, and sadly even heavier in the moments of defeat. The tears though that I will never forget are the tears of Popole Misenga, the Congolese athlete who competed in Judo for the Refugee Olympic Team.
I was in the stadium during the Opening Ceremonies when the Refugee team was announced. The stadium erupted with joy and to myself and those who were around me, we stood along with our goosebumps sharing the smiles they each had.
As Olympic athletes, we strive to be the world's greatest.
We knew the journey and the life that these athletes have had, were much different than the most athletes who entered the Olympic stadium that day, and in that moment, the looks on their faces told it all. Their true victory was that they had made it there, and what they stood for was far greater than any medal. As most athletes pack up to return to their home country, I thought back to Popole, who teared up as he was speaking about the family he hasn't seen in 15 years, and the country he can't return home to because of fighting.
The Refugee Olympic Team won the hearts of viewers around the world and infused a new energy into the Games, but it was Popole who brought the message home: more than 65 million people in this world are refugees, and each one of them has a story to tell, a family they miss, a country they can't go home to. Each one of them with enough tears to flood the very oceans many of them swam across to escape. Each one of them who needs our help.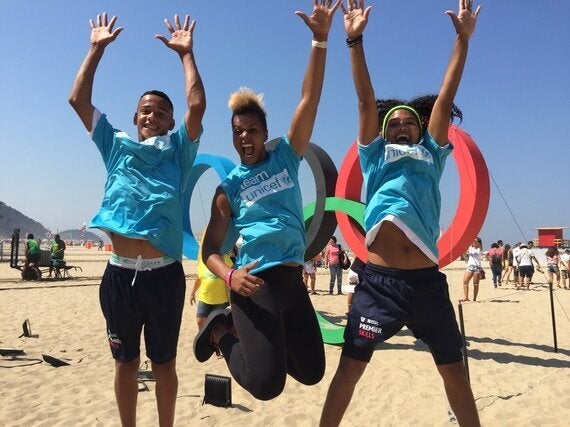 2. Sportsmanship. As Olympic athletes, we strive to be the world's greatest. Few are happy with even silver medal after the long hours of training and putting our bodies through physical and mental strain that many can't imagine. That's why when we see athletes put competition aside and step up as human beings helping fellow human beings, it's hard to forget.
When USA's Abbey D'Agostino and New Zealand's Nikki Hamblin collided in the 5,000 meter race, they both put aside any chances of medalling to help each other up and reach the finish line. They may not have medalled that day, but they etched themselves into our minds, and reminded us of an important lesson: it is our responsibility to always help those in need.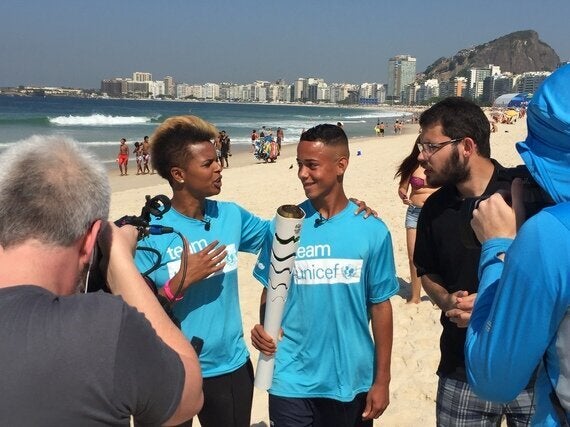 3. Power of Hosting the Olympics. Leading into the Olympics the media told stories of the negative effects the Olympics would have on Brazil and how the country was not ready for the games of this magnitude. Infrastructure, politics, crime were a few topics that I heard daily and the negativity of it all. I wish more stories of how the Olympics impacted the Brazilians for a positive was told.
I met Walas through UNICEF and he proudly shared with me his moment of getting to run the Olympic torch through his favela. The power of that moment would go far beyond running the flame but the hope and new dreams it would bring to not only his family but to so many others in his community. Violence would stop in those days as many knew his story.
Months prior to carrying the torch, an honour given to him because of his involvement in the community and his desire to use sport as a great escape, Walas was home with his family and sadly a crossfire shooting happened. That evening, as the gunfire flew through his home, he would lose his sister during the shooting. The loss of his sister destroyed his family but on that day of him running with the Olympic torch in hand, he became a story of hope and lifted up the spirits of a family that had lost so much, way too soon, and a community that had lost hope in good. I got to play soccer with him at Copacabana beach and then take a drive up to see (from a distance) the favela they live in.
One thing that was immediately apparent to me was that the Olympic games to many in the country brought new hope, new encouragement, new motivation and a new passion for the possibilities of life beyond just what they saw every day, but towards a new life of dreaming big and less violence. During the times of the games, communities agreed on peace and for violence to slow down as the world came into their country. We can only hope that this continues way past the closing ceremonies.
Karina LeBlanc is the longest-serving player in Canadian soccer history, representing Canada for more than 15 years, including at two Olympic Games, three Pan American Games and five FIFA Women's World Cups, and helped lead Canada to a historic bronze medal win in the London 2012 Olympic Games. She became a UNICEF Canada Ambassador in 2013 and now works to improve the lives of children around the world.
Follow HuffPost Canada Blogs on Facebook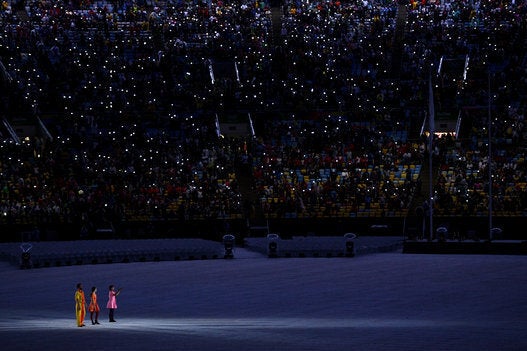 Rio Olympics 2016 Closing Ceremony