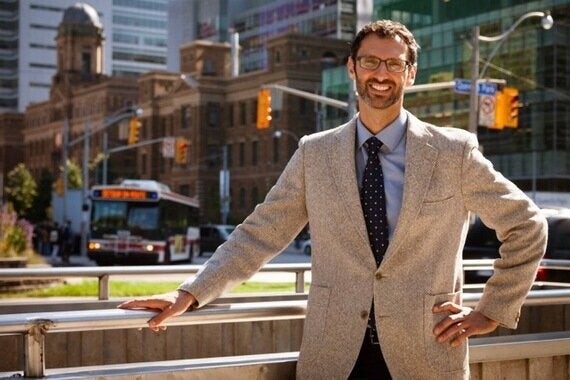 University of Toronto transit and transportation policy expert Matti Siemiatycki. (Photo by Dominic Ali/University of Toronto)
On an average weekday, 1.6 million people use public transit to navigate Canada's largest city, relying on the Toronto Transit Commission's four subway lines, 11 streetcar routes, and more than 140 bus routes to reach their destinations.
Heading into October's municipal election, transit and transportation planning is proving to be a pivotal issue among voters. And some of the decisions made about Toronto's public transportation system today will influence how the city grows for decades to come.
Writer Dominic Ali spoke with University of Toronto expert Matti Siemiatycki about where Toronto's transit has been and where it's heading.
"The best transit systems serve people where they are and where they want to go," says Siemiatycki, associate professor with the department of geography and program in planning.
But, he tells his students, "You can't understand transportation planning without understanding politics."
For example, Siemiatycki says, because Toronto missed a generation of investment in its transit system, there's a lot of debate about how it should allocate the massive amounts of money and resources necessary to catch up - money that affects where communities develop over time.
Although transit projects take years, if not decades, to reach fruition, Siemiatycki has some short-term suggestions to get people moving.
"High-capacity bus lanes on main arteries could be added, which would really help speed up trips and make scheduling more consistent, especially during rush hours," he says, pointing out it's a low-cost approach.
"All you need is a sign and a can of paint to get started."
Changing the fare structure so it's better integrated across different urban and suburban regions would also help many commuters get to their destinations more effectively, he says.
Siemiatycki believes transit passengers have reason to be optimistic. Rapid transit projects are under construction across the region, including a new light rail line along the busy midtown Eglinton Avenue, a subway extension to York University and the northern suburb of Vaughan, and bus rapid transit projects in York Region and Mississauga.
One of the biggest problems Siemiatycki sees in transit planning is that politicians and the public often get into discussing and debating the merits of specific transit technologies. Should the city build a subway or light rail line? Should the vehicles be driverless or not? Should they be built above ground or below?
In practice, he says, we should be matching the transportation technologies to the built form and the expected ridership levels in different parts of the region. And land-use planning must be linked to transit in order to develop complete communities, he says. Otherwise, residents may end up in 'transit deserts' where they need cars to get to and from their most frequent destinations.
So is Toronto unique when it comes to this obsession with discussing transit options?
"Transportation issues and politicization of planning is universal," Siemiatycki says.
He points to Vancouver, where Siemiatycki did his doctoral research.
"At the time, the city was having the exact same discussion about its transit options that we're having here."
The transit systems found in such places as London, Paris, Madrid and Hong Kong enable many residents to live without a car in the city. In Toronto, Siemiatycki points out, there are some areas downtown where you can live happily without a car, but for most of the region it just isn't possible...yet.
"It's seductive to look at other systems, in other countries," cautions Siemiatycki, "But the most important thing, to remember is that we need to build a system for local conditions based on our local needs. And we need a clear plan to pay for these transit investments."