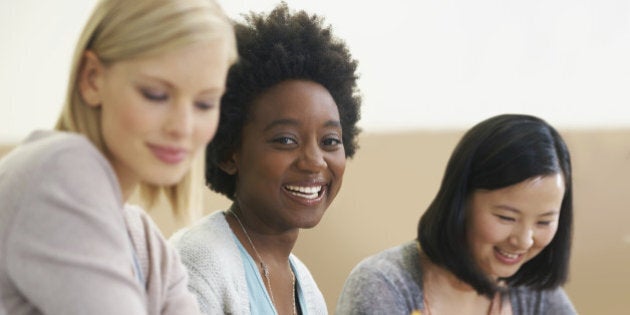 The university you attend could be the most life-changing decision you'll ever make. The friends you have, the job you get, the city you end up in, the skills you acquire, the relationships you experience -- all of which will be shaped based on the university you decide to go to.
However, university is a big investment, and students simply aren't conducting enough due diligence and thought to effectively determine the best possible university for them. A report published by Higher Ed Strategy revealed that approximately 38 per cent of university students either switch or leave -- the primary reason being they didn't like it or it wasn't for them.
So, take matters into your own hands and find out the school best for you.
Step-by-Step: How to Find Your Perfect University
At UniversityHub.ca, we understand how difficult it is to make this decision. As a result, we've created a free quiz we call MatchU™, which takes students through five steps to determine the perfect school for you. After you've gone through these steps, take the three-minute quiz for yourself and find your match.
Step 1: Must Haves - What do you care about the most in a university?
The first thing we do is ask you to rank the five most important things about a university. To help your decision, we've categorized the university experience into eight segments and within those categories, are must-haves you can pick and choose. Which categories resonate with you the most?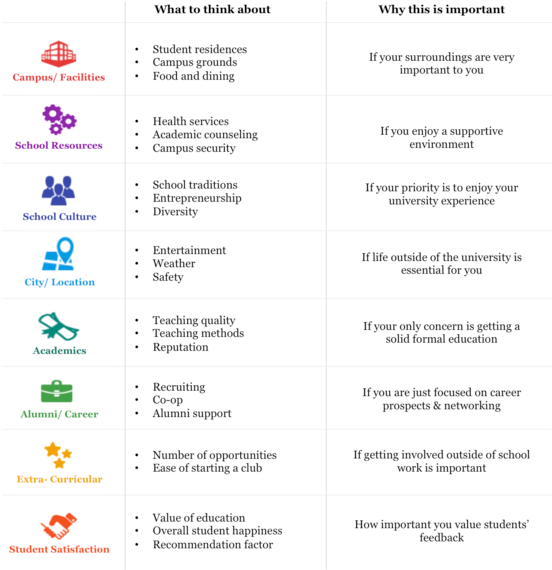 Note that based on our data, the most important factors that students have identified in the quiz are:
Quality and quantity of recruiters
However, just because it is important to others doesn't mean it is important to you. Take the time to think about which must-haves matter to you the most.
Step 2: Distance Away - Where would you be willing to attend university?
Should I go far or close? Is there a "perfect" distance away from home? These are both fair questions. You'll be spending at least four years in the place where your university resides, so the location is a critical thing to consider. You want to go to a place that you are comfortable with and want to live in, rather than feeling isolated or overwhelmed.
For example, the benefits of attending university within your city are clear -- you save an incredible amount of money living at home, but you might sacrifice on the student experience.
Studying cross-province might also be an option, but how much do you plan on coming home? We estimate at least three times a year. Have you budgeted for this travel?
Perhaps a middle-distance away is a preference for you? A two- to five-hour drive is far enough away where students can feel independent and "away from home," but close enough for Mom and Dad to come buy you groceries on a long weekend. In the end, it's up to you and your needs.
Step 3: Program - Which program will you be studying?
Every university has its academic strengths and weaknesses, and therefore it is important to attend a university that caters to your academic preferences. Do your research and determine what you are looking for out of your prospective program. For example, you might want to study business, and you've heard that University ABC has a great business program.
But what does "great" mean? Small class sizes? Incredible professors? A solid co-op program? Just because a program is known as '"great" doesn't mean it has the aspects that make it great to you.
Step 4: Tuition Cost - Are you cost sensitive?
University is expensive, and if you're looking to stay on a smaller budget, it doesn't mean you necessarily have to study in your home city. There are many universities across Canada with extremely affordable tuition and living costs. We factor this into our MatchU™, and so should you.
It is important to note that not all programs at a university cost the same and therefore, a given program could be much more expensive than the average at that university. It should also be known that some universities have different tuition costs for in-province residents.
Step 5: City Size Preference - Big City or Small Town?
Consider the following pros and cons as to whether you want to attend a big city or small town university:
-Good for people who like to do a variety of activities with different crowds
-Better access to conveniences and entertainment
-Typically better access to public transit
-Good if you're from a small town and want a change
-Good if you're from a big city and want to keep it that way
-Typically higher cost of off campus rent
-Potential to have too many distractions
-Good for people who really like small-town feels
-Ideal for those who really appreciate strong community
-Typically less time spent on transportation
-Usually lower off campus rent
-Can be too boring for some
-Possibility of things becoming too routine
-Lack of access to some normal conveniences
-Can be tougher to find jobs
This differentiation is important as some people may prefer the big city full of opportunities compared to a smaller, tight community feel.
Use these five steps to determine the best university for you, and don't forget to try our free, three-minute university match quiz to reveal the perfect university for you.
Follow HuffPost Canada Blogs on Facebook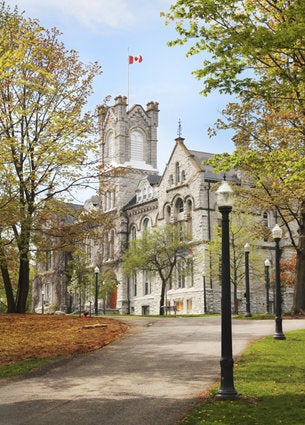 Canadian Universities That Rank Among the World's Best, According to QS