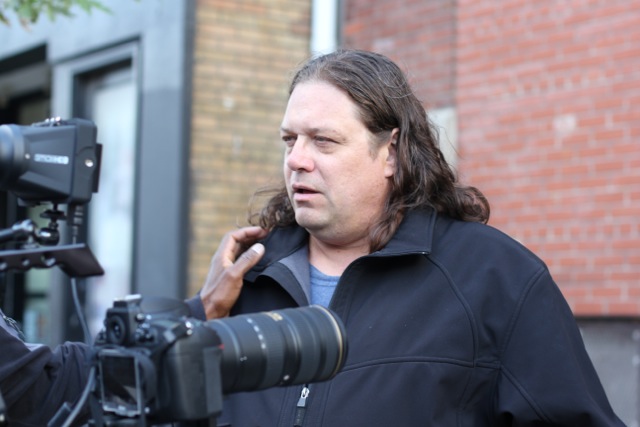 The author on the streets of Toronto shooting his film.
Positive affirmation is like the key that starts the engine of the vehicle that drives us on our own paths.
But self-efficacy -- knowing that you can achieve the goals you set out to achieve -- is reliant almost entirely on self-esteem.
And so it was that I began a journey to five minutes: Suddenly I was given the opportunity to start the creative and technical process of producing and directing a short film for TVO's "Why Poverty?" initiative. My short film, entitled "How Can a Warm Man Understand a Cold Man?", is part of a global cross-media event, using films to get people talking about poverty.
Mine was to be the story of my fall. I went from a successful career as a television producer, who had travelled and worked in over 47 different countries before he was 30, to living in a rent-geared-to-income unit in downtown Toronto, standing in line for a daily meal with many of the city's poorest, sickest and addicted citizens.
I learned from living as part the underclass, that the most basic of things such as where to get the next meal, becomes the focus of one's entire existence.
And herein lay the challenge. I had held on to the last vestiges of self-belief through all these years living below the poverty line, with the hope that one day I would get the chance to direct again. Without a phone or internet, and with no money in my pocket, I had no right to such outlandish aspirations.
But I had hope. And held on to it. Because when that hope dissipates, so does the person.
And fading into irrelevance is the worst thing that can happen.
Understand that I love the craft -- the writing, concept development, storyboard creation and finally the field work of shooting. Then the post-production aspect of editing and sound mix and colour correction.
But none of these are possible without the co-operation of talented people who also love their craft. And in making this film, only with the good graces of old friends and the support of some new friends, who gave of themselves and their time and expertise, would it have been possible to even contemplate this project.
Of all the particular challenges that presented themselves, the one that was most difficult to come to terms with was believing that there were people who actually believed in me. My self esteem had sunk so low that I had to relearn the fact that there was still some measure of value and purpose in my life. This is a common experience amongst those of us who find themselves on the outside looking in.
The entire process of making the film has been a humbling experience. I was never more vulnerable and yet have never felt as empowered before. I discovered that my abilities had not only not diminished but in fact had matured and expanded.
Working side-by-side with great people who are industry leaders in their various crafts, friends who understood and valued my vision and creativity, was the equivalent of saving a drowning man. I had been to the edge, and just as I was about to give up I saw a hand extending out to me, telling me to get up and walk.
No man is an island. We rely on each other in good times and bad.
But most important, the goal of using my story to outline the wider issues of poverty -- including the individual experience of poverty as the worst form of social exclusion -- well, that was the real reward.
Poverty is a state of mind as much as it is a deficiency in material existence. But in the making of this film, and through the incredible support that was part of the process, I became a rich man.