Looking back on my life, I never would have guessed how important my everyday joys and routines were to me. Now that my husband and I have experienced life without them, I understand the significance of cherishing life and what you have; living in the moment. This was especially clear to me when I was diagnosed with cancer.
What next?
My cancer diagnosis came as a total shock; I had too much going on in my life to be thrown this curveball. I was a wife and a mother, I worked in retail and loved my job, and my family and I were in the middle of renovations on our house. I simply wasn't ready to slow down for anything, especially cancer.
There's no sense in brooding about the cards you are dealt in life; that won't change a thing.
When I found the lump and received the diagnosis, I started to think about how much my life would change now that I was facing an uphill battle with lymphoma. It disrupted my life and was constantly on my mind, and my initial rituximab treatment took a large chunk of time out of my day - a total of five hours.
Time for change
There's no sense in brooding about the cards you are dealt in life; that won't change a thing. All you can do is trust the people who are trained to help you, put your hands in theirs and let them help you as best they can.
My health-care team was supportive and always looked out for what was best for me. This included my doctor recommending I take part in a clinical trial, which I qualified for right away. It was for a subcutaneous form of my treatment which decreased treatment time from the original five hours, to six minutes. My husband came with me to each appointment and was by my side through it all. He even became part of the care team and timed the six minute injections to make sure I finished right on time.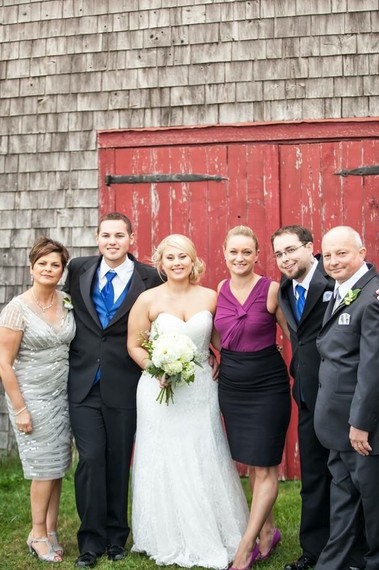 There's nothing better than normal
Thanks to my health-care team and the clinical trial, I was able to get back lost time and enjoy the normalcies in my life. I was able to return to work and spend more time with my family. Being back to my regular day-to-day brought me a sense of relief -- it was my new normal.
After the clinical trial, we learned that I was in full remission!
My husband and I are thrilled to be back to our lives free of lymphoma and are travelling to Florida this winter. We're already planning our upcoming adventures and looking to explore Jamaica. While we can't do some of the things we used to anymore, due to our health, we're replacing those memories with amazing new ones.
You are not alone
I could not have gone through this journey without my family, who are the most amazing support system. We are one unit, and I'm so thankful to have them in my life. We all came out stronger than ever, from my initial diagnosis, to the moment I found out I was in remission.
If you are going through cancer, I encourage you to find the normalcy in your life and most importantly, have a support network. If you know someone going through their own journey, there are many ways you can help. Whether this is offering to drive to appointments, assisting with groceries, providing company at home or on short outings, there are many ways you can help and be a support system to those who need it most.
If you are going through your own journey, and need someone to talk to or a shoulder to lean on, please contact the Canadian Cancer Society. They will put you in touch with the support you need to make sure you never have to fight alone.
Follow HuffPost Canada Blogs on Facebook