Summer -- especially the Canadian summer -- is never long enough. Which is why you need to carpe diem while the sun does shine down. Ideally, your R&R schedule will balance on-your-own time in the backyard with goofing off over food and drink avec pals. In either case, time spent setting up, or maintaining, summer décor should be minimal. (See carpe diem above.)
With that in mind, I'll admit I've never really been a fan of material that is supposed to look like something that it isn't -- even if it is easy-care. Not for me, for example, wallpaper that looks like cheap wood panelling from the '60s**.
But I have recently come around to ersatz looks for the garden and patio. Here's why: cast resin pots, for example, with slate, cast-concrete, ceramic and marble-like finishes are way easier to move about in the garden than the real thing. Which means you can quickly re-arrange them to create blocks of colour throughout the growing season or when entertaining. And they don't chip and break in extreme weather.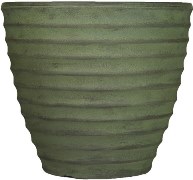 "
I saw what I thought were really chic black plaster planters with a curved top and a stone-like finish in Home Depot. Also loved the green ribbed ones shown in the pic at left. Just remember that they probably do need a little ballast in the bottom. Toss a few large stones inside or a brick to keep it stable on windy days.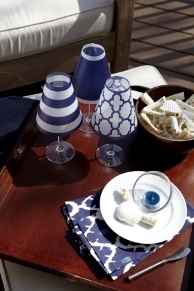 Flameless candles or tea lights also fall into the faux category. But I like having them handy on windy evenings, or when I'm at the cottage during a fire ban. They cast a lovely twinkle when popped in wine glasses or champagne flutes, which can be further adorned with decorative shades from The Paper Table made especially for that purpose.
Three-shade sets (two graphic, one solid colour) in lots of colours go for $22, while three candle bands, made of recycled paper with designs in black, orange, blue or green, cost $12 (plus shipping and handling).
I used to think that buying pre-planted containers was at the very least wasting money, if not morally questionable. But the lure of instant garden gratification was too strong. In fact, ever since I started affixing a value of my own time to tasks, I'm much more likely to opt for a little help. Try it. You're worth it.
I picked up -- with no guilt whatsoever -- two planters, in a mossy green, with a ribbed stone finish, that are stuffed with fat geraniums, dainty lobelia and frothy trailings of other green stuff. Also from Home Depot, they set me back less than $50 (for two) and gave my down-at-the-heel front porch an instant lift.
**Speaking of things that look better than they should, you need to check out luxury vinyl tiles I saw at Karndean. Wow. But that's a whole other column -- more soon. In the meantime, check it out.