Volunteering abroad doesn't have to cost a fortune. And even if you only have a week or so to do it, you're bound to make an impact -- even if it's in the smallest ways.
Here are 10 ways to ensure your volunteer trip is worth it:
1. Volunteer with small organizations
Paying thousands of dollars to volunteer abroad is common, especially for rookie travellers. But, it doesn't have to be this way. Numerous organizations across the globe offer meaningful volunteer opportunities for cheap. In February, I volunteered at a school in Jocotenango, Guatemala through a Guatemalan grassroots organization called EntreMundos. They will place you with smaller organizations around the country that don't see many volunteers. It only cost $40 to apply. All Hands Volunteers is a U.S.-based non-profit organization that doesn't ask you to pay anything at all. All you have to do is sign up for a project, get yourself there, and start volunteering.
If you're already abroad, try to find an organization to volunteer with by simply asking around. If you're staying at a hostel, ask the the owners if they know of organizations that may be looking for volunteers. Find out if other travellers are volunteering, and ask if you can tag along.
2. Work for a cause you care about
If you don't like to spend time outdoors, why would you volunteer to plant trees? Volunteering at an organization that you appreciate will maximize your time abroad. If you love kids, for example, you're much more likely to enjoy your time spent volunteering at an orphanage. Or if empowering women is something that's important to you, why not help organize micro-finance programs for women abroad? You're bound to be more enthusiastic if you volunteer doing something you value.
Learning to speak the native language in the area you are volunteering will allow you to more easily connect with those you are working with and maximize your skills as a volunteer. If you're in a larger city, try to take a few classes a week at a language school. If not, see if you can meet with a private tutor. If you volunteer long enough, you may return home fluent in the language. What a bonus!
In Jocotenango, I spent a few recesses teaching three-years-olds how to count in English. It was very fulfilling. Listening to them laugh when I spun them around once they perfected it was even more fulfilling! Your skills as a volunteer include the languages you speak, so share a little language knowledge. Plan some language games for kids, or help adults practice by just engaging in conversation.
Take a look at a few stories of students helping out during their spring breaks last year:
Story continues after slideshow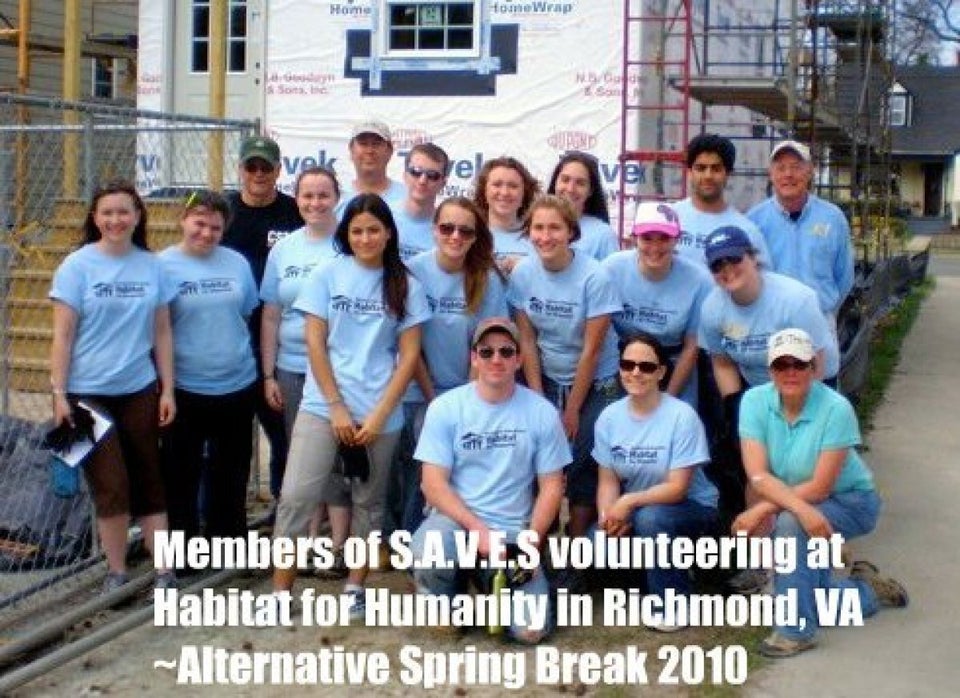 Alternative Spring Breaks 2012
5. Bring personalized gifts
A toddler named Jonathan was the only student in his class who didn't have a backpack. I bought one at the market the same afternoon and brought it to him the next day. It may have only cost me $5, but Jonathan felt special for the rest of the week. "Mi mochilla..." I'd hear him say, trailing off to the other kids on the playground. He always had to have it in sight. Something as little as giving a child a backpack may be the moment that stays with you most from your time abroad. Don't forget to check with the organization you're working with before you leave home to see if they need you to bring any goods for donation.
6. Invest in relationships and spend quality time
Make some meaningful and lasting connections with the people you are volunteering with. Whether it be with your fellow volunteers or with those who work at the organization, relationships are what you will remember most from your time abroad. Be sure to keep in contact with those who run the organization to see how things are going. Check in a few months down the road to see if they are in need of more volunteers and recommend your friends.
7. Be enthusiastic and come with energy
No one wants a grumpy volunteer. Keep a good attitude about the work that you're doing everyday. Try to keep your energy levels high so you're able to help out the most you can. Volunteering is not only about helping those who need it, but also about giving yourself an enriching experience. The more good energy you let, the more will come back to you.
8. Explore housing options
If you don't feel like staying at a hotel or hostel, many organizations will set you up to stay with a local host family. This will allow you to really immerse yourself in the culture, make lasting relationships, and maybe pick up a bit of the language. Some organizations will even allow you to stay right on location. El Buen Samaritano, the organization I volunteered for in Guatemala, asks for a donation between $100 and $300 in exchange for housing and one meal a day.
9. Get out of your comfort zone
Volunteer in a neighbourhood you wouldn't otherwise to go. Speak only in a language you're not confident speaking in. Getting out of your comfort zone will allow you to trust yourself more as a traveller and help you become more confident while abroad.
10. Reflect on your experience
Take time at the end of each day to write a few sentence down about how something made you feel during that particular day. How do you want to make a change the next day? It's a great way to remember your experience.