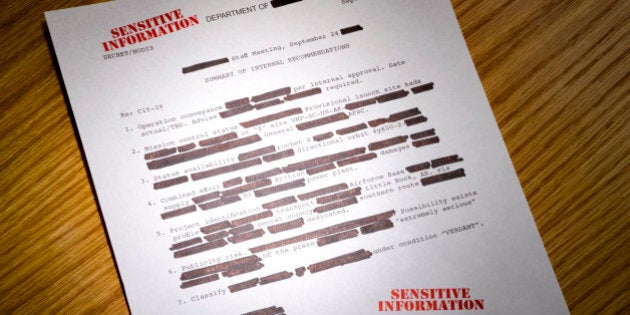 It may be hard to believe, but Canada's Access to Information Act (ATIA) contains a black hole where requested information can disappear without a trace.
And that black hole is being fed more and more government information.
In her annual report released on Tuesday, Information Commissioner Suzanne Legault reported a surge in the use of section 69 of the ATIA, which excludes cabinet documents from Canada's federal access law.
According to the commissioner's report, "Institutions invoked section 69 more than 3,100 times in 2013-2014. This is a 49 per cent increase from 2012-2013, which followed a 15 per cent jump the previous year."
Once a government official says a document is cabinet confidence, neither the information commissioner nor the Federal Court can look at the document to confirm that it is and that the exclusion is being applied appropriately.
But this supermassive problem is not being addressed. In the Speech from the Throne last week, the words "access to information" were never mentioned. The Liberal Party did include a number of reforms to the ATIA in its platform, but they have been very quiet about what, if anything, they plan to do about the cabinet confidences exclusion. Prime Minister Justin Trudeau also neglected to address this important loophole in his private member's bill (Bill C-613, the Transparency Act), which he introduced in 2014.
The B.C. Freedom of Information and Privacy Association (FIPA) has long recommended that the cabinet records exclusion be made a harm-based, discretionary exemption with a 10-year time limit, and be subject to review by the commissioner. This was discussed in detail in FIPA's response to questions posed by the Office of the Information Commissioner for its 2012 consultation on the ATIA (see pages 16 to 18, under question 36). The federal commissioner has also recommended this change.
The commissioner's inability to review exempted records is not merely a theoretical problem. When Newfoundland and Labrador amended its access to information law to prevent its commissioner from reviewing records excluded from access requests due to legal privilege, the number of claims shot up.
As one official told the committee reviewing the Newfoundland ATI law:
"... the person [the public official] said yes, we thought we'd claim [legal privilege] because we just heard about this court decision, and we heard that you can't review claims of solicitor-client privilege so we thought we'd claim it. That is... we were flabbergasted... but it's a fact that a head of a public body actually admitted to us -- that the reason they claim that section of the Act, solicitor-client privilege, was because we couldn't review it."
When, following a change in that province's access regime, the Newfoundland information commissioner was finally able to review files where privilege had been claimed, they found that 80 per cent "had nothing to do with solicitor-client privilege whatsoever and only 20 per cent of the records were properly claimed."
Although there is no way to prove the same thing is going on in Ottawa with claims of cabinet confidence, there is also no way to verify that it is not happening, since neither the federal commissioner nor the courts can review the documents in question.
In British Columbia and elsewhere in this country, provincial information commissioners have been examining claims of provincial cabinet confidences for decades. There have been no problems with leaks or with cabinet ministers being unable to frankly discuss important issues.
The new Trudeau Liberal government should act promptly to remove this information black hole from the federal system as well.