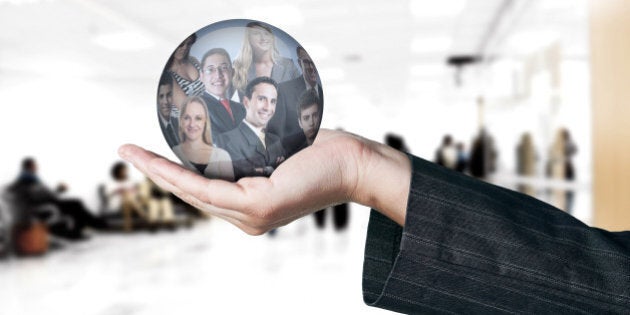 Have you ever wondered why so many new graduates want to work for Google, KPMG or Apple? What makes them so attractive to potential employees? First and foremost, these companies understand the value of a strong employer brand.
An employer brand is the commonly shared image of an organization as a place of work -- from the perspective of current and past employees, as well as those outside the organization, like job candidates, clients, investors, stakeholders, consumers and the media. And it rests on three key pillars: culture, leadership and the opportunities offered to employees and prospective employees.
But don't confuse an organization's commercial brand with its employer brand. The commercial brand focuses on increasing the organization's positive profile as a place to do business, from the client's point of view. The employer brand focuses on increasing the organization's positive profile as a place to work, from the employee's point of view.
A strong employer brand pays dividends in lots of ways. According to California-based online jobs and recruiting company Glassdoor, good employer branding can reduce a company's cost per hire by up to 50 per cent and increase the quality of its talent pool by up to 54 per cent. Successful employer branding can also reduce employee churn by up to 19 per cent, according to a 2014 report by Australian consulting firm Employer Brand International.
It also supports the bottom line by turning employees into brand ambassadors. When they're proud of what they do and where they work, employees can help attract more talent and more customers to your organization.
Online footwear and clothing behemoth Zappos' employer brand is rooted in its culture, according to CEO, Tony Hsieh. "At Zappos, our belief is that if you get the culture right, most of the other stuff - like great customer service, or building a great long-term brand, or passionate employees and customers - will happen naturally on its own."
Recruitment: the core of employer branding
What truly makes an effective employer brand? Let's start at the beginning: recruitment.
Recruiting the right candidate the first time, especially through internal referrals from happy employees, reduces churn and the cost associated with long and unfruitful candidate searches. It also strengthens your employer brand.
Poorly executed and disorganized recruitment campaigns have the opposite effect, costing a company time, money, and potentially, future clients. According to research by job site Workopolis, 64 per cent of job seekers who have a poor candidate experience will never buy products or services from that company again.
If you want to foster a smooth and successful recruitment process, it should be aligned with your company culture. Job candidates will respect a company more if they know exactly what they are getting into. And it will be easier for your organization to identify a good match if your culture is well defined and clearly communicated. For example, if your work environment is corporate and conservative, don't sell your company as if it were the next Google by promising foosball tables and a beer fridge.
Another way to attract the right recruits: broadcast your benefits. Offering competitive incentive programs, benefits, and perks that align with the demographic you want to employ can be a huge advantage. Job candidates today favour companies that go beyond the traditional offering of dental, drug and vision coverage. They want more flexibility and personalization when it comes to benefits, such as work from home days, shorter work weeks, limitless vacations, parental leave top-ups or benefits tailored to, for example, early-career, mid-career and late-career workers.
An authentic employer brand can be a helpful tool in acquiring key talent, but the value of your brand goes well beyond attracting candidates. You need a clear employee value proposition, supported by the C-suite, to support employees throughout their careers.
An employee value proposition can improve the loyalty of new hires by up to 29 per cent, according to CEB, and should be considered the foundation of your organization's employer brand strategy. Your employee value proposition should be a formal strategy, with executive buy-in, and should act as a touchstone for employees and leaders alike. It needs to be developed and validated based on extensive staff input, and communicated to employees and potential employees at every relevant opportunity.
Leaders, from the C-Suite to frontline managers, have a responsibility to create a satisfying and engaging company culture. If employees are engaged, workforce performance, customer satisfaction and productivity thrive, while absenteeism and employee turnover decrease. While this is self-evident, putting measures in place to create an engaging environment remains an ongoing challenge for many employers. Last year's Gallup State of the Global Workplace report found only 29 per cent of employees in the U.S. and Canada are engaged. Clearly this is an area of opportunity for employers to change their approach, and something they're still grappling with.
According to Workopolis, fewer than 20 per cent of organizations have implemented an employer brand strategy to attract and retain top talent and increase engagement. Yet every organization has a reputation as an employer -- positive, negative or neutral.
The business of running a successful organization is multi-faceted and touches on many different areas, such as product planning and development, talent strategy and engagement, responsible fiscal management, succession planning and market insights, among others. An important component of any organization's strategy should include managing your employer brand.
If this isn't yet an area of focus for you, it should take top priority -- the benefits of leveraging a meticulously-crafted employer brand can positively impact every aspect of your organization. The process can take time and effort, and will involve people from across your organization, however, the sooner you start, the sooner you'll start seeing concrete rewards that will add to the overall success of your business.