When I was in my early 20s, fresh out of university, we jetted to Havana to celebrate with friends and see, with our own eyes (for surely the last time) communism in action. "Action" may not be the most appropriate word, as we spent most of the time in lineups: for paint for the diplomatic licence plate to travel in our lawyer-friend's car; for markets that yielded no food; for police checkpoints that would not let us pass without a marriage certificate, prostitution being a problem at the time. We funded our trip by re-selling Romeo et Julietta cigars to Vancouver's Yaletown Cigar Company, then in its heyday.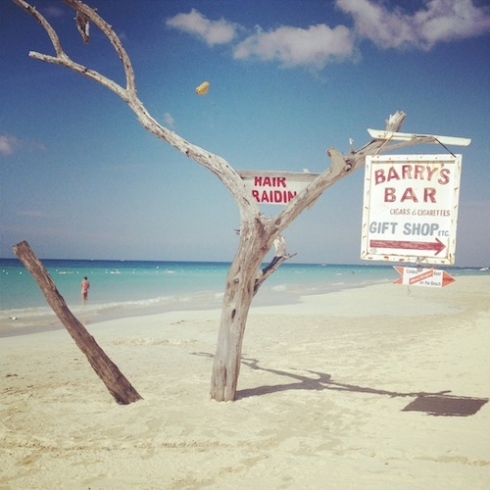 Fast-forward almost 20 years and my husband and I recently had the opportunity to circumnavigate Cuba aboard the Louis Cristal--a re-purposed Finnish ferry (how very socialist!) now operating as Cuba Cruise. It's a second-year startup by two intrepid Torontonians, one of whom is a harbinger in the cruise industry in Northern Canada. Our experience venturing into uncharted cruise territory and conscripting the locals in their operations proved useful in entering the long-disused ports and less-travelled waters of Cuba, not to mention unwinding the bureaucratic red tape of a benign socialist dictatorship. With the recent détente in U.S.-Cuban relations as a news hook, and a promised stop in Montego Bay as a carrot, we signed on for the week-long expedition.
This was not a cruise about counting stars (well, except for the ones in the night sky) but more about adventure. We cruised by night and, every morning, we arrived at a new place, some so remote we dropped anchor and accessed the shore via the ship's lifeboats. Once, locals set up a bar on a pristine white beach and used machetes to harvest coconuts for us to drink from. The best day, by far, had us arriving by catamaran on Paradise Island, where we snorkeled off the pontoons. The island is populated solely by ostriches and herds of water buffalo, which we observed from somewhat rickety Russian army Jeeps. This corridor of baby powder-white beaches punctuated by beautiful shells and lush foliage was where Christopher Columbus (or a Spanish conquistador, depending who you ask) first landed in the Americas in 1492, declaring it the most beautiful place on Earth. Can't argue with that.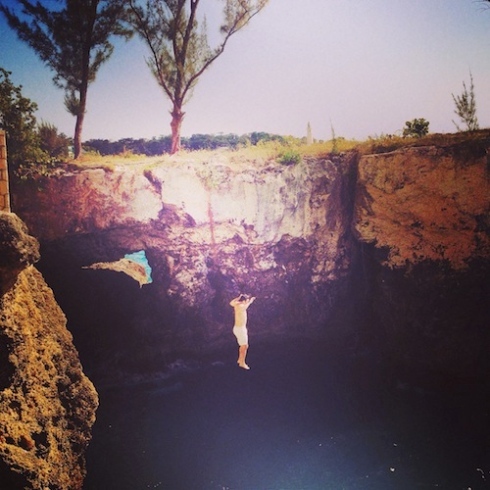 While our one night in Old Havana was a highlight--tracing the romantic path of watering holes of Ernest Hemmingway and Errol Flynn and marveling at the crumbling Colonial architecture--the cruise also took us to more far-flung destinations. In Trinidad and Santiago de Cuba, the real-life struggles and tenacity of the Cuban people were more apparent, the music more raw and haunting, the cobblestones more uneven. Everywhere we went we saw children flying homemade kites of balsa wood and tissue paper, a metaphor if there ever was one for hope and resilience in times of adversity. (This time around, I knew to bring dozens of bottles of nail polish from the magazine's ample beauty supply closet to distribute to the local women. I had witnessed, all those years ago, a group of female lawyers sharing one highly coveted bottle of contraband red nail polish.) Jamaica's Negril beach, with its curry goat and jerk chicken cooked over coals, ample ganga and rum punch and dramatic cliff jumping (not necessarily in that order) was unforgettable--and a stark foil to its Caribbean country cousin, Cuba.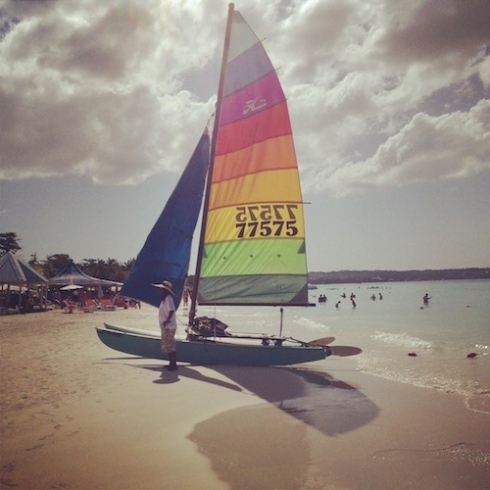 While we didn't lounge in the touristy all-inclusives of Veradero or even, unfortunately, get to check out the retro-Soviet restaurant in an apartment on the oceanfront Malecon in Havana--currently all the rage and opened by our old lawyer friend Gregory of the licence plate paint days (look it up if you go, it's called Nazdarovie)--we did enliven our senses, recharge the batteries and kick-start our imaginations.
And the cigars we brought back? Straight into the humidor. --Sarah Bancroft