By Aurea Dempsey
If whale watching along the Pacific, dining on the freshest farm-to-table fare, or enjoying the luxuries of a private, oceanside cabin sound good to you, read on.
Thanks to our friends at Destination British Columbia, we recently enjoyed all of the above during a mini-tour of Vancouver Island, covering the best of Sidney, Sooke, Port Renfrew and Victoria. Just a sea plane or ferry ride away from downtown Vancouver, we're convinced there's no better way to spend a longish weekend. Should you follow in our footsteps (and we hope you will), here's what you'll need: A car to get around. Hiking shoes, sunscreen, a good camera and a pair of forgiving pants or shorts (the food is that good!).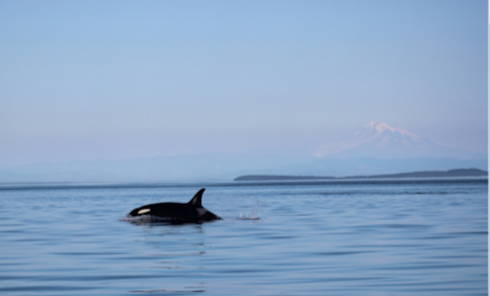 DAY 1 - VANCOUVER TO VICTORIA
Easily accessed by ferry or sea plane, after arriving to Victoria set your sights and your GPS on a sea adventure with Sidney Whale Watching. With Captain Mike at the helm, it's the best three-plus hours you'll spend in search of Orcas and Humpbacks. On our excursion, we spotted a few along with families of sea lions at play. #surreal.
For some delicious lunch fare on nearby Pender Island, let Mike take you to Poet's Cove Resort. A destination spot for its private cabins, wedding-perfect views and venue, it also boasts a pub and restaurant right on the water. The lamb burger alone is worth a visit.
After your day at sea, it's time to check in to The Sidney Pier Hotel & Spa. A 55-room boutique hotel, not only does it boast beautiful Harbour views, its upscale suites and restaurant Haros, are hard to beat. Before feasting on delicious local salmon, tacos and generous salads we kicked our evening off at Victoria Distillers. Famous for their gin, whisky and vodka, they've rebranded their look with a most impressive lounge bar and bespoke cocktail menu.
DAY 2: SOOKE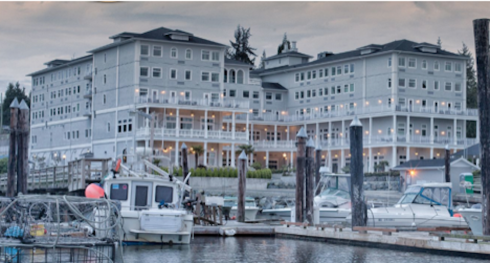 About an hour away, the town of Sooke is ready to greet you with its lush greenery, vast beaches and culinary hot-spots. Home to the spa line Sea Flora, developed by Canada's premier "Seaweed Lady", Sooke is a gem to explore. Known for its comfort food and 50s style décor, there's good reason locals and tourists flock to Mom's Café. From burgers and salads, to all-day breakfast platters, Mom's has it all. For dessert, we shared a piece of their famous apple pie (40 apples big!), and let's just say Mom's hits the decadent sweet spot.
For afternoon activity, nearby Rush Adventures offers paddle boarding, kayaking and cycling tours along the Western trail. We chose the latter and happily rode for hours aboard our cruise-friendly, electric bike. (Hello, turbo button!) Along with deer sightings, we stopped to take in the trail's famous 'pot holes'. Like mini lagoons, Instagram perfect.
All that nature times calls for a hot shower and elegant suite to cosy-up to. Thanks to nearby Prestige Oceanfront Resort we were more than pleased. Our room's tall ceilings and super-sized bathroom wowed us, as did the hotel's ocean views and boardwalk.
When in Sooke, one must dine at Sooke Harbour House. Period. In this romantic, boutique hotel, it's all about locally grown, caught, and crafted cuisine that's legendary for starting the slow food movement. We indulged in the chef's tasting menu with highlights including the freshest salad greens and sea asparagus, risotto pasta, wild salmon and morels--oh, those morels. It's no wonder celebs like David Duchovny and Kim Cattrall have been spotted there.
DAY 3: MYSTIC BEACH HIKE TO PORT RENFREW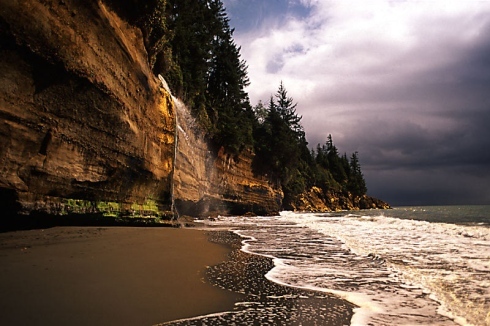 Just outside Sooke and en-route to Port Renfrew (a.k.a., the new Tofino) we hit the Juan de Fuca Marine Trail. With Toni from Rain Forest Tours as our guide, we trekked through the trees, over rocks, and a suspension bridge before arriving to the vast and beautiful Mystic Beach. Despite our soggy weather day, we'd go back in a heart beat.
Post-hike, there's no better place to reward yourself than Shirley Delicious. A cabin in the woods, it's where surfers and locals flock for organic coffees, matcha lattes, baked goods and more. We gobbled-up a turkey on focaccia before succumbing to their cheesecake and espresso brownie sweets.
If time allows and you're feeling up for more exploring (we did), you'll want to hit Sombrio Beach and hike Avatar Grove for the world's gnarliest tree. Yes, it's there!
To really experience Port Renfrew, one must stay at Wild Renfrew. Featuring a cluster of private cabins along the rocky shores, you get five-star amenities (think 400 thread count sheets, a full-sized kitchen and stunning views), we sense it's going to get very busy as word travels. Just steps away at the Renfrew Pub, you'll find gourmet burgers, seafood and salads, along with the friendliest locals, and craft brews on tap.
Photo credit: Rick Graham, Destination, B.C.
DAY 4: COWICHAN VALLEY TO VICTORIA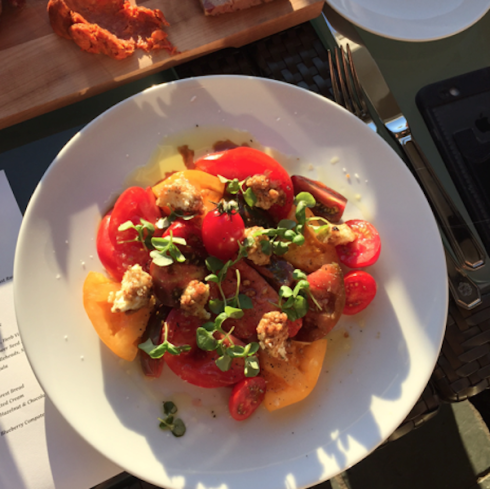 Circling the coast back to Victoria, there's much to see, eat and explore. Our stops included Cowichan's Tea Farm for a warm cup of organic chai with a slice of matcha cheesecake. Following, we made a stop at Bird's Eye Cove, a family farm with cattle, pigs and hens, with a custom-built event space that's simply breathtaking. We topped it off with a cider and gin tour and tasting at Merridale Cidery and Distillery.
Arriving in Victoria, we checked in to the Fairmont Empress, an historic landmark in of itself. It's also been getting a major face lift. In addition to updating the interior décor and suites, they recently opened Q, a bold and impressive restaurant bar with a sophisticated lounge. And that's only phase One. Phase Two includes a spectacular new lobby, Gold suites, as well as updated health club and spa. Checking into our suite, we were immediately impressed with its contemporary style and luxury, including our favourite Le Labo bath products.
Despite the number of restaurants in Victoria, we chose to experience the new menu at Q. Our dinner was nothing short of culinary greatness starting with their house baked rye loaf that comes with whipped lardo and sweet butters. Ling cod, heirloom tomato salad, risotto and spot prawns soon followed, as did espresso coffees and soufflé cheesecake. After a decadent night stay, it's time to bid a final adieu to Victoria. Before doing so however, a stroll to gourmet food and café bar, Fol Epi for their exquisite coffees, house-made breads, sandwiches and pastries--is a must. If toast is your thing, be sure to ask for a side of their maple-cinnamon butter. #heaven.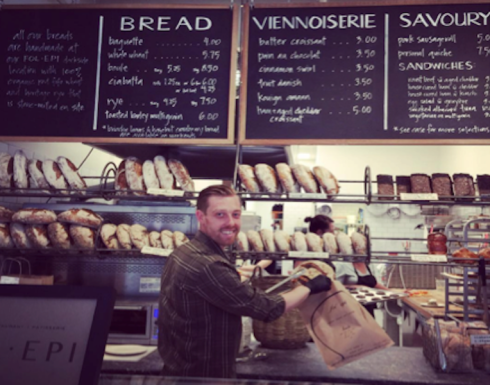 To learn more about Victoria Island getaways, and Super Natural British Columbia, visit www.hellobc.com
Follow HuffPost Canada Blogs on Facebook
ALSO ON HUFFPOST:
Best Places To Camp In Canada