Gregor Robertson opposes the expansion of a Kinder Morgan pipeline that has been running through Vancouver safely for more than 50 years. As a municipal politician, he has no jurisdiction over this issue and yet oddly enough, he has made it a core campaign promise to fight Kinder Morgan if re-elected as Vancouver's mayor. It is true that pipelines and oil tankers do pose some environmental risks but there's more to this issue.
Without pipelines and oil tankers, Alberta oil is landlocked within North America and Canadian oil producers are forced to sell into the U.S. at prices that are below global market value, forfeiting billions. Canada loses out on as much as $20 billion in revenue and royalties per year simply because Alberta oil had no place to go except south of the border.
For Canada, there is no single economic issue that is more important than getting Alberta oil to global markets.
By my analysis of tax returns, published in The Financial Post, nearly every environmental and First Nations group that opposes pipelines and oil tankers is funded as part of the Tar Sands Campaign, an international effort started by the Rockefeller Brothers Fund, the William and Flora Hewlett Foundation and the San Francisco-based, Tides Foundation, in 2008.
Since 2009, Tides has paid out $20 million to at least 70 aboriginal and green groups that oppose pipelines that would take Canadian oil to global markets, including the proposed Kinder Morgan expansion. Meanwhile, oil production in Texas is booming, up by 60 percent and there's no multi-million dollar campaign against that.
Over the past decade, Tides Canada has become the mothership of the environmental movement, taking in nearly $250 million in revenue and re-granting most of that to First Nations and environmental groups, especially on the strategic, north coast of B.C.
Last year, Tides Canada's total revenue was $36 million, up from $24 million the previous year. Tides spends $16 million a year on staff and consultants. Who they are and what they do is not disclosed in detail.
For more than 20 years, Tides has played a central role in campaigns to "reform" forestry, mining and salmon farming. With boycotts and bad press, these campaigns have limited market access to Canadian exports of forestry and aquaculture products. The same thing is now happening with the campaign against Alberta oil. By exaggerating the risks of pipelines and tankers, Mayor Robertson provokes fear and opposition that stalls the construction of trade infrastructure for exporting Canadian energy to global markets.
Joel Solomon, Gregor Robertson's long-time backer, has been with Tides since 1997 in a variety of positions ranging from employee to board chair, tax documents say. Born in Nashville, Solomon has made Vancouver his home and became a Canadian citizen in 2008. The fervently anti-pipeline Vancouver Observer is run by his sister, Linda Solomon.
Just a few weeks ago, a week-long strategic planning session for the anti-pipeline campaign was held at Hollyhock on Cortes Island, a retreat centre run by Joel Solomon and his wife. He's the president, she's the CEO. Hollyhock receives substantial funding from Tides through two federally registered charities, the Nextwave Foundation and the Leadership Institute. Their combined annual revenue is $4.5 million (2013).
Gregor Robertson is no stranger to Tides. In fact, Robertson is a former director of both Hollyhock and Tides Canada. Robertson is also a former director of the Dogwood Initiative, the engine of the anti-pipeline and anti-tanker campaign on the B.C. coast. Since 2008, Tides has paid Dogwood US$1.2 million, tax returns say.
Throughout his business life and his political career, Gregor Robertson has been backed by investment firms and public relations companies that are funded by Tides with Joel Solomon at the front end. Tides funds Renewal Partners which backed Happy Planet, the fruit juice company that is Robertson's claim to fame before he went into politics. In 2011 and 2012 alone, Tides invested $US-543,000 in Renewal Partners, tax returns say.
Between 2009 and 2011, Renewal Partners and Strategic Communications (StratCom), a project of Renewal, contributed $296,000 to Robertson's mayoral campaigns. This year, Renewal Partners and StratCom kicked in at least $60,000, including $5,000 each from Joel Solomon, Carol Newell and Bob Penner, who are principals in these companies.
Tides also funds many of the clients of Convergence Communications, a private company owned by Mike Magee, Mayor Robertson's chief of staff at city hall, as well as the Greenest City Initiative.
Tides also purchased a 150-acre waterfront property which is right next door to Mayor Robertson's private residence on Cortes island. Thanks to Tides, Robertson's house on Cortes now backs onto a 150-acre park.
To be clear, I do not suggest that Mayor Robertson or Tides is backed by U.S. oil companies. I have seen no evidence of commercial interests. What I do see if that it serves the broad economic interests of the United States to continue the U.S. monopoly on Canadian oil exports, restricting Canada's access to global markets where Canada and the U.S. are soon to be competitors.
If anybody can operate pipelines and oil tankers, Canadians can. Proof of this is the track record of the Port of Vancouver which has operated safely with no major oil spills in more than 100 years.
Voting for Gregor Robertson means voting to support a foreign-funded campaign that is keeping Canada over a barrel and costing our country billions.
Don't vote for Gregor Robertson and his outside interests. Vote for Canada.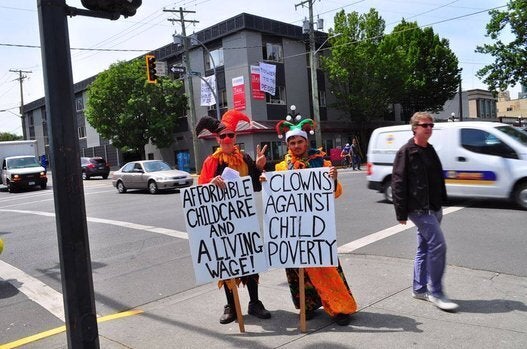 Unusual B.C. Municipal Election Candidates