laflor via Getty Images
If technology has become the greatest driving force behind how we consume fashion, these e-commerce brands are, without a doubt, in the driver's seat. With their commitment to free and fast shipping, flexible return policies, and a superior online experience, these Canadian companies are winning the virtual shopping game!
Get bundled up for fall 2016 without stepping foot into a shop, thanks to these online gems:

This Montreal-based online retailer carries the very best in luxury fashion, from Alexander McQueen, all the way to Giuseppe Zanotti. Their e-commerce success story is reputed for its fashion-forward merchandise, and innovative online strategy of combining commerce and content. Void of ads and distractions, their site offers a chef d'oeuvre of chic, pure, unadulterated fashion, with a price tag as luxe as the clothes. Their return policy is flexible, but just in case you want to try before you buy, drop into their flagship store at 90 rue Saint-Paul, Montreal, QC, before it receives a six-storey facelift.
The sale scoop: Sign up for their newsletter to know when that Saint-Laurent shoulder bag you've been coveting dips below the cost of your mortgage payment.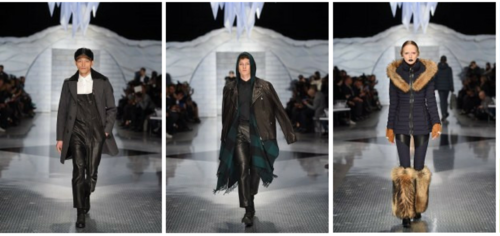 Only a Canadian owned and operated brand could truly understand what it takes to face winter in the Great White North: style and lots of substance. Mackage, a celeb favoourite celebrated for its craftsmanship, has taken a new approach to the typical Goodyear blimp-inspired winter coats, by designing warmer and lighter outerwear that ensures full comfort and functionality. Their website gives you a 101 course on the anatomy of your coat, as well as an easy shopping experience and 360-degree view of your purchase.
The sale scoop: Summer shopping is the secret -- raid the virtual racks during the off-season.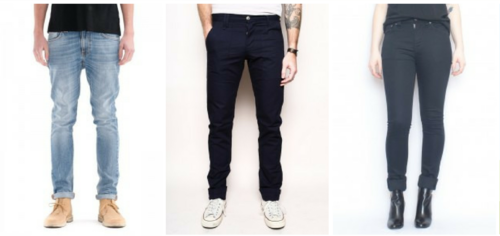 Get your weekend uniform on-point with Dutil's denim, without your bank account slipping into the negatives. Beyond the vast selection of designer jeans from Fidelity, Imogen, Ksubi and their namesake brand, this is an online, one-stop shop where your pants can be hemmed or repaired with the press of a button. Great service at a great price? Yes, please.
Still into brick and mortar? Drop by their storefronts in Toronto (704 Queen Street West) and Vancouver (303 West Cordova Street).
The sale scoop: Dutil's platform is built on discounts, including sign-up specials and customer retention coupons. Brilliant.

This womenswear e-commerce shop may come up short in sophistication and fanfare, but because its prices are so low, we are willing to forgive, forget and shop, shop, shop the pages upon pages of cute-as-a-button styles. Boutique 1861's designs flatter the figure and the wallet.
The Sale Scoop: Love something long enough and its price is sure to drop. Patience is the name of the game here.

FRANK AND OAK-ca.frankandoak.com

Can we really talk about Canadian e-commerce retailers without talking about Frank And Oak? Offering ground-breaking customer service (two-hour delivery, anyone?), as well as employing technologists on their team, this Mile-End duo is doing everything in house and everything right to give you the ultimate online and offline experience.
The Sale Scoop: Two-for-one sales, sign up discounts, deals in your inbox... Frank And Oak are begging to offer you a deal. Will you accept it?
Still dying for the duds, but not ready to pay the price? It's time to browse the e-commerce marketplace for second-hand or unsold threads. If it's your lucky day, Amazon, Ebay, Kijiji and even Alibaba may have just what you're looking for. Buyer beware: their prices, not always in Canadian currency, are probably more appealing than their policies.
The Sale scoop: To score the lowest sale price, you have to scour the sites like it's your job. There's a steal hiding in there somewhere.
This article originally appeared on VULKAN Magazine.
By: Margaux Cassuto
Edited by: Rebecca Besnos