More than 4,000 midwives from around the world will gather in Toronto from June 18 to June 22 for the International Congress of Midwives.
From providing emotional and medical support during labour, to teaching new parents how to care for their newborns, our new photo series reveals how much midwives around the world have in common, no matter where they work.
We photographed and interviewed new mothers and their midwives in the hours and days immediately after birth about their experiences -- from Canada to the UK, to Malawi, Tanzania, Rwanda, and Bangladesh.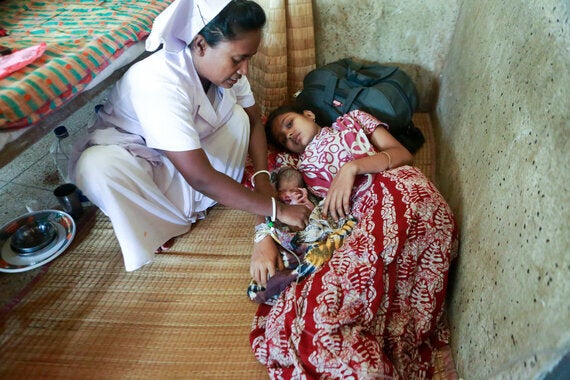 (Photo: WaterAid/ Al Shahriar Rupam)
While midwives in modern hospitals fill birthing pools without a thought and benefit from stringent hygiene protocols, those in many areas of the developing world may start their day with a struggle to find enough water to clean floors and bedlinens, wash their hands and offer labouring women a drink.
Yet, whether new mothers delivered in state-of-the-art hospitals or in healthcare centres without clean water, decent toilets and functioning hand basins, all shared the same joy in their new babies, and great appreciation for the midwives who helped bring those babies into the world.
Here we share some of the stories.
Midwife Bimola Kobiraz delivers newborn baby to mother, Hera, in Bangladesh.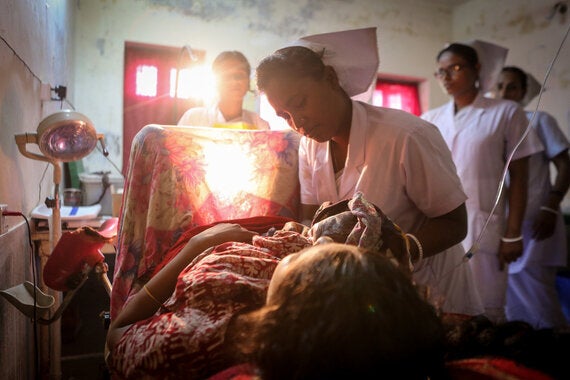 (Photo: WaterAid/ Al Shahriar Rupam)
Bimola Kobiraz, has worked at Dacope Upazila Health Complex for six months and estimates she has delivered 30 babies.
"When I started working here there was a poor supply of clean water and also there was no well-conditioned toilet," she said.
"So patients suffered a lot from not being able to drink clean water and use a clean toilet.
"But now toilets are improved from poor hygiene and also we have a supply of clean water, which was not possible without the help of WaterAid.
"The new facilities have made doing my job easier. It was tough to work in a health complex without water and decent toilets.
"I hope for mother and baby a healthy life."
Midwife Parboti Rani Dhali holds the baby son of Shokla Mondol, 19, in Bangladesh.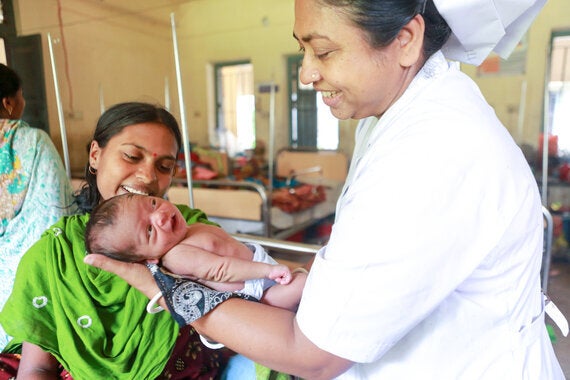 (Photo: WaterAid/ Al Shahriar Rupam)
First-time mother Shokla gave birth at at Dacope Upazila Health Complex in Bangladesh.
"From the first month of pregnancy I was in contact with the Upazila Health Complex," she said.
"I did my regular check-ups along with my mother. The doctor used to tell me how to prepare: that I should save money, buy fresh clothes for me and baby. Also the doctor told me to keep away from heavy jobs.
"I took precautions all the time, I never missed any check-up and took my food regularly following a diet as told by the doctor.
"When I entered the labour room, I saw all the nurses wearing nice white coats and gloves. The room and its environment looked safe. I heard all the instruments were sterilised, also the bed and room seemed clean. So it was a good experience for me to give birth to my first child in this hospital.
"I can't imagine giving birth to my baby in another place, without enough water and good hygiene.
"Parboti is very responsible. I am lucky to be under her. Because of her I didn't have any difficulties and my stay at this hospital so far is great.
"Parboti helped me to bring my child into this world. From then till now she is looking after me and my child regularly with great care. She told me how to feed my boy, what to do when he cries and many other things.
"I am really grateful to Parboti for her support and care."
Nurse midwife Kennifer Samu with new mum Ruth Anderson in Malawi.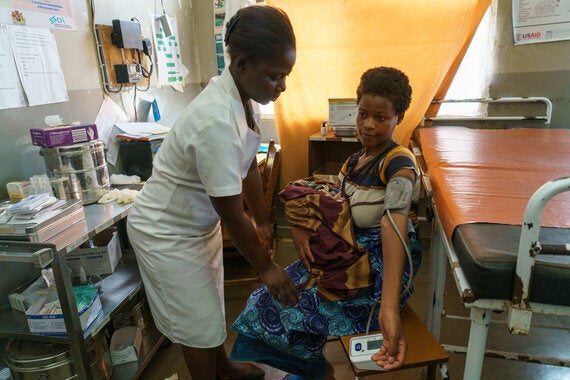 (Photo: WaterAid/ Dennis Lupenga)
Kennifer Samu, 26, has been working at Ngokwe Health Centre as a nurse midwife for the past three years.
"We have no tap water so we usually draw water from a nearby borehole, which is quite tedious," she explained.
"The government installed water tanks that harvest rain water but during the dry season, all the water tanks are empty.
"In the maternity ward, we have two water buckets but sometimes they get dry, which causes some problems. We try our best to keep the water buckets full all of the time.
"We do not have bathrooms indoors. This means women who have given birth have to walk outside the ward and clean themselves.
"For those who have just given birth, they use their water basins for cleaning inside the ward, which impacts on their dignity.
"In addition, the toilets intended for the patients are in bad shape as most of them are full. We have now allowed the patients to use the staff toilets, which is unhygienic for us due to the increase in the number of users.
"As for the delivery process, we have had a lot of challenges. We normally have six to seven deliveries every day as this health centre supports many surrounding villages.
"This means that within a day, all six pregnant women have to use the only two beds our small maternity room has. We have had many cases where some women had to deliver on the floor due to lack of space.
"We have a delivery pack, which has gloves, cord clamp, a pair of scissors, chlorine, and other items. We do our best to help women deliver without getting any sort of infection close to them and the baby.
"I wish we could have better sanitation and hygiene facilities; I would enjoy my job more."
Colleen with her newborn baby Soraia and midwife Joanne Yan in Canada.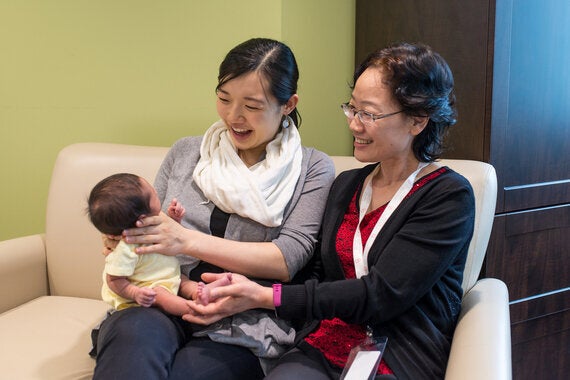 (Photo: WaterAid/ Danielle Donders of Mothership Photography)
First-time mother Colleen gave birth at home; she is pictured at the Ottawa Birth and Wellness Centre, in Canada, for a checkup with her new baby daughter.
"I think I was too busy to even prepare mentally for the birth," said Colleen.
"I was trying so hard to get everything done before the due date and she came a week early. But I managed to get the important things done, and then she came.
"I found Joanne and she had availability, which was amazing. I knew her medical background was very advanced. I had a lot of trust in her. So she was the first person on my birth team that I chose.
"After that I got a photographer, a doula and we bought a house. When we bought the house, I envisioned where the birth would take place. So everything came together in the end.
"I'm a clean person and my doula -- it's so funny -- she wanted to make sure that everybody in the room knew I'm a clean person. So made sure we lay out a lot of towels and clean water.
"I rented a birth pool. So of course the water that goes into the birth pool has to be clean as well. I was too relaxed in the pool so they had to pull me out.
"My midwife's medical background put me at ease. I was confident in her skills and her abilities. But also, her demeanour and the way she talks.
"She's so gentle with everybody. So compassionate. But when it was crunch time, she wasn't soft then."
In 2015, 2,100 newborns died each day from sepsis, tetanus, pneumonia or diarrhea -- all infections strongly linked to unhygienic conditions. WaterAid wants to ensure healthcare facilities everywhere have access to clean water and have adequate toilets and are committed to good hygiene practice and promotion. Yet 38 per cent of health care facilities in developing nations do not have a water supply, 19 per cent do not provide adequate sanitation and 35 per cent do not have soap and water to sustain good hygiene practices.
Follow HuffPost Canada Blogs on Facebook