Spring has long been associated with the start of renovation season. Perhaps it's the warm weather that's stirring your inner do-it-yourselfer. Or, maybe, it's Canada's rising home prices that are the real wake-up call.
And it's not just the price of the homes themselves that's increasing. "People are looking to purchase and live in homes for longer time frames, often five to 10-plus years, as prices and transactional costs, such as land transfer taxes, continue to increase," Anson Kwok, vice-president of sales and marketing at Pinnacle International, told YP NextHome.
According to Kwok, this is leading homeowners down the reno route in an effort to make their dream home come true.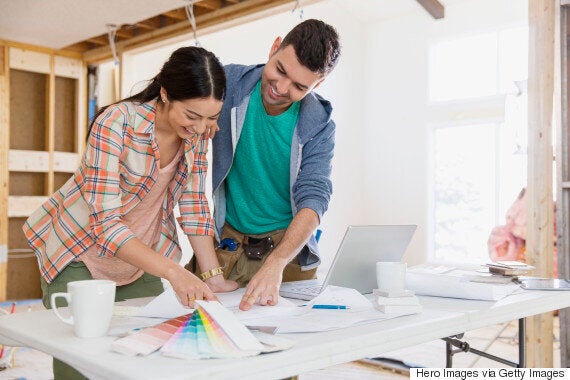 Backing up Kwok's claims, the 2016 CIBC Home Renovation Poll reported that 37 per cent of Canadian homeowners planned to renovate or improve their home in 2016, with an average spend of $13,017 per household. This was up from $12,293 in 2015.
Indeed, residential construction is big business. According to Statistics Canada, the total investment in Canadian residential construction climbed 2.8 per cent in the third quarter of 2016 on a year-over-year basis. This marks the 11 consecutive year-over-year quarterly increase, with renovation investment contributing to the total $32.7 billion spent in that short three-month window. Leading the pack for residential construction spending were Ontario and BC. Toronto, Ont. and Vancouver, B.C. are currently Canada's hottest housing markets. Coincidence?
Whether you're buying a new home or selling your old one -- and many will be doing both this spring -- know that some smart upgrades can go a long way to getting you the return on investment you're after.
Before you put your home on the market this spring, get an objective assessment. Ask someone who will feel comfortable giving you their honest opinion, like a real estate agent or a professional home stager.
Your financial picture will change in time, along with your family structure, needs, wants and home-building trends.
The right renovation can certainly boost the sale price of your home, but before you start knocking down walls, ask yourself if the return will be worth the cost, time and inconvenience of it all.
Demand should also factor into your decision. Would you pay extra for solid gold bathroom faucets? Not likely. Here's where it pays off to follow the crowd. Prospective homebuyers are considering your neighbourhood because they like what it has to offer -- including the look, feel and price of the homes there.
Just as renovating your home can yield a better return on resale, it's also how many people are able to purchase in their area of choice without breaking the bank. If neighbourhood is the most important factor -- and for many it is -- then get in at a price you can afford, and once you've built up some equity and figured out exactly what you want and need, start renovating.
Whether you're buying an old fixer-upper or a brand new place, remember that Rome wasn't built in a day, and neither will your dream home be. Your financial picture will change in time, along with your family structure, needs, wants and home-building trends. Taking your time with something as pricey as a home renovation could pay off in the long run -- especially if you're planning to stay a while.
When you're ready to renovate, hire the right contractor for the job. The Canadian Home Builders' Association suggests you ask these questions:
What services do you offer?
Have you done renovations like this before?
Can we visit one of your current projects?
Do you carry workers' compensation and liability insurance?
What warranty do you offer on your work?
Do you have references? Call them and ask about the contractor's experience. Was the work completed within the specified time frame and for the agreed-upon price? Are they happy with the work?
Do your dream home due diligence -- after all, your home is your castle.
For more essential real estate reading, visit YP NextHome.
Follow HuffPost Canada Blogs on Facebook