HO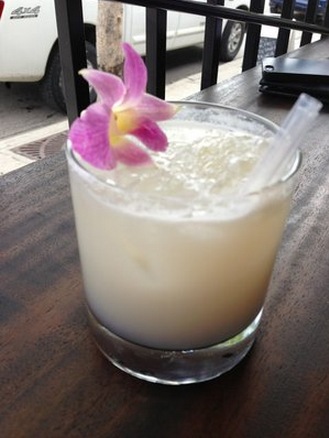 Try an Angela at Ox & Angela - gin, lychee liqueur and a few drops of Parfait Amour, finished with rose water and an edible flower. Photo credit: Yelp.ca
Some folks think snazzing up a drink only requires a little umbrella or a maraschino cherry. Bars all over Calgary are proving them wrong by serving up creative concoctions, and Yelpers are here to show you a few of their faves!
Mango Shiva (Stephen Ave)
Nothing beats a cocktail on the patio! "I'm so pleased to see mojitos on the menu!" exclaims Janine E. Another refreshing summer ingredient featured is pomegranate. Find it in the rose pomegranate martini and Delhi Devil.
Los Chilitos (17th Ave)
Chris P hits this hot spot for beer cocktails! Start with the Michelada made with beer, lime juice, worcestershire and spicy Chilitos sauce. "It's probably the spiciest one I've had and they use the correct rimmer to crown the drink." Or try the Diabla -- beer, lime juice, spicy Chilitos sauce and Clamato.
Milk Tiger Lounge (Beltline)
There's no end to the flavours you'll find! Stephanie S recommends the Sweet Tart, made with Alberta Pure, Blue Caraçao, lime juice and grenadine. It's "definitely sweet, but actually tastes like a sweet tart candy and is not shy on the booze!"
Ki Modern Japanese (Downtown)
The prices may be a bit "on the spendy side," admits Aymie R, "but it is an upscale restaurant and worth it for a nice evening!" Grab your girlfriends for a Kyoto Manhattan Yamazaki Whiskey with sweet vermouth or Ginger Fizz Canton Ginger Liqueur with Prosecco.
Ox & Angela (17th Ave)
"Dark mood lighting and the shabby chic decor" set the tone for craft cocktails like the Angela according to Dinah G. Plymouth gin, lychee liqueur and a few drops of Parfait Amour, it's the "most delightful lychee cocktail with a floating flower!" Salut!