In this supposed era of reconciliation, the federal government sent lawyers to court to line up against the Tsilhqot'in people. If Ottawa had its way, the court would have denied the Tsilhqot'in title to their traditional lands, sent them back to court and entrenched the status quo.
Why did the feds fight the case? And is their vision of Canada built on fighting every other First Nation that follows the Tsilhqot'in lead?
Government lawyers -- who first opposed the Tsilhqot'in claim to title in 1983 when the case began -- argued the Tsilhqot'in have rights to hunt and fish in the 1,750-square kilometre area of B.C. in question but should not be granted title to it. Title would essentially convert the area from Crown land to land owned collectively by the Tsilhqot'in.
Federal lawyers argued that use of the area in question should be determined through negotiations. They argued the claim for title was flawed and the Tsilhqot'in could come back to court for a "properly pleaded" case about title to specific sites rather than a large tract of land. Presumably Ottawa would have fought such a case as well.
The government could have said -- either now or a few decades back -- Canada is a huge nation of tremendous opportunity and this opportunity should be shared generously with aboriginal people. It could have said that without a land base, aboriginal people will be doomed to live in a state of poverty and dependence that constitutes a national shame.
Instead of forcing a gruelling legal battle, it could have collaborated in a process of determining the area to which aboriginal title was justified and supporting appropriate development. Such a process would set a precedent that would have to be followed elsewhere. Clearly, the prospect would make government, and many Canadians, nervous. Understandably so.
Land title remains undetermined or questionable in most of B.C., roughly 40 per cent of Quebec, points east of Quebec and possibly the two-thirds of Northern Ontario covered by the dubious James Bay Treaty. The ruling may also bolster calls for revenue sharing from First Nations that have signed treaties.
As one aboriginal leader noted, "a rising tide carries all boats."
All of this would come at a cost. It would create a monumental jostle for land rights and ultimately it would mean some resource development projects would not happen or would happen on a less ambitious scale than they might have otherwise.
But the failure to grant aboriginal peoples the dignity and opportunity of a land base also comes at a tremendous cost -- economic, social and moral. It is the cost of an entirely unacceptable status quo.
Change is required. That change can come through arduous, adversarial court battles or through a more co-operative nation-building process.
Aboriginal rights are complicated and often poorly understood by Canadians, but behind the intricate issues of rights, title and treaties is the essential notion of sharing.
The 147-year-old arrangement known as Canada has worked better for non-aboriginal people than aboriginal. Those of us on the settler side have not shared well. We need to learn to share.
Sure, we may have to give up some things along the way -- though nothing as drastic as some people predict -- but in the process aboriginal people would gain a measure of dignity and self-reliance, and the rest of us would gain a measure of honour, and perhaps a somewhat eased national conscience.
We are all neighbours and we dwell in a land of exceptional abundance. There is plenty to go around. As non-aboriginal people we need not fear and we need not fight.
We made the unthinkable mistake of taking First Nations' children; maybe we should let them have a land base.
This article first appeared in the Winnipeg Free Press.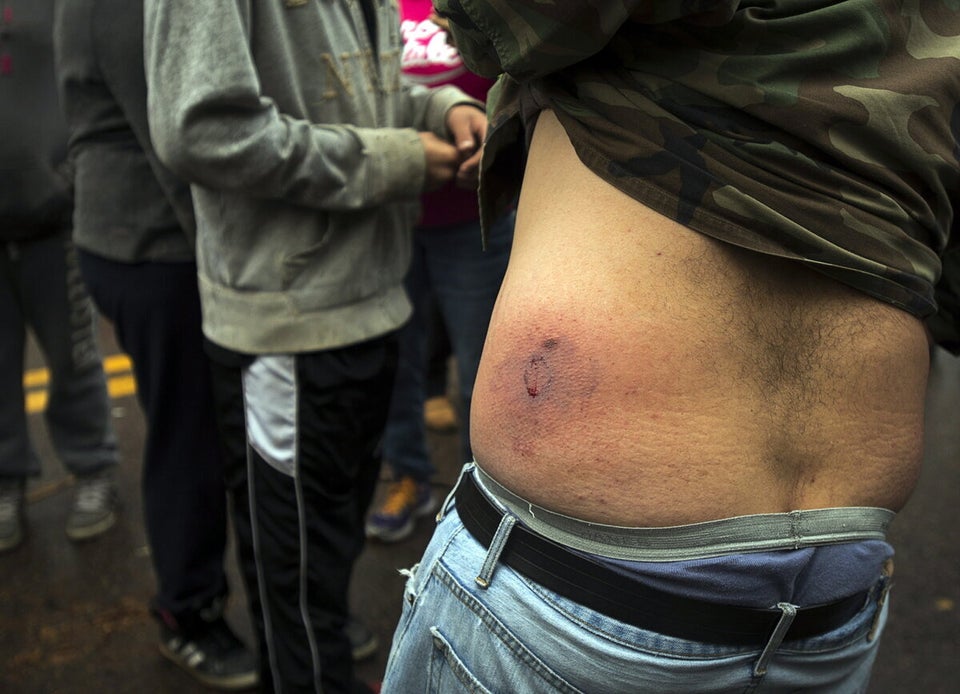 Elsipogtog First Nation Protest Fracking Projects