Whenever a new condo tower is announced in Vancouver, public outcry is often not far behind.
This has never been truer than in recent weeks with news headlines about Vancouver residents voicing their concerns over what condo developments will do to their sense of community, and the character of their neighbourhoods.
It's a debate that's raged for decades. Is suburban sprawl or urban densification the answer to city growth? Is it better to go up or out? Each has its proponents and buckets of data to back up their views.
But the d-word-- densification-- doesn't have to be a bad word. In a recent Vancouver Sun opinion piece, UBC professor emeritus Michael Goldberg argued that "far from being the neighbourhood destroyer it is made out to be, higher density and taller buildings are key tools to protect and preserve single-family residential areas."
Goldberg argues that, contrary to popular belief, adding density along major streets and transit corridors can ease price pressures in the centre of neighbourhoods, helping to preserve the community's physical character.
Nowhere in the city is more community-oriented change unfolding than in the drily-named Downtown South. The City of Vancouver envisions an entirely transformed neighbourhood centre for the area bound by Yaletown, Robson Street and the West End, and condo towers form a large part of that vision.
Until now, the area we like to call Midtown has lacked a cohesive sense of community. But with plans to eliminate the unsightly Granville Street Bridge "loops," which would open up a large expanse of under-utilized city-owned land, council foresees a whole new community under and near the bridge with the addition of a grocery store, drug store, shops, parks and services like childcare facilities. The city has also stated that their goal is to extend Granville Island across the creek to Midtown.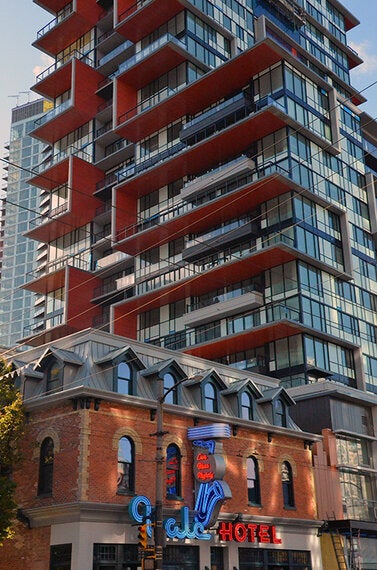 To preserve the character of the neighbourhood, Rize Alliance worked with the city to restore the heritage façade of the iconic Yale Hotel, located street level at The Rolston. The Yale is famous for playing host to artists like Stevie Ray Vaughn and English bluesman Long John Baldry. And today, the Yale still stands in its revitalized form as a nod to the neighbourhood's historical roots, with plans to re-open next year.
Other major Midtown condo projects nearing completion include Onni's 41-storey, 300-unit Mark on Seymour Street, Cressey Developments' 215-unit, 32-storey Maddox tower on Howe and Drake streets, and Concert Properties' 194-unit, 33-storey Salt tower at the corner of Hornby and Drake.
Currently in the planning stages is Westbank's twisting 52-storey, 407-unit tower at the foot of the Granville Bridge, which the city recently referred to public hearings, as well as proposed towers from Seacliff Properties, Burrard Gateway and Reliance.
With a mix of condo towers and parks, offices, community services and retail stores, the plans for Midtown show that it is possible to create communities that preserve their character, encourage interaction between residents, and inject a sense of renewed energy into a downtown neighbourhood that had lost its way-- until now.