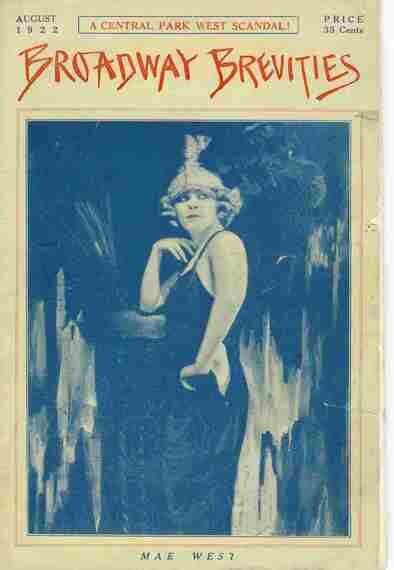 No one will be celebrating this, but 2016 marks the hundredth birthday of one of the most vicious show business gossip magazines ever published. Broadway Brevities was launched in New York City in 1916, edited by a Canadian named Stephen G. Clow. Born into a respectable Prince Edward Island family, Clow would later describe himself to Time magazine, with characteristic exaggeration, as "the most famous and wicked blackmailer in world history." On his death, the US newspaper columnist Westbook Pegler called him "the originator of Saloon journalism."
Until 1925, when Stephen G. Clow was sent off to the Atlanta Federal Penitentiary, Broadway Brevities brought a new sensationalism to the field of celebrity gossip. Month after month, the magazine hinted at same-sex relationships among the rich and famous, offered dirt about the backstage lives of producers and chorus girls, and described the vice dens of Columbus Square or Greenwich Village. Prominent New Yorkers feared seeing their name in its pages and paid money to ensure that they didn't. The short life of Broadway Brevities stands as a key event in the history of the twentieth century gossip industry.
Stephen G. Clow had been born in 1873 to a family of merchants in Murray Harbour, Prince Edward Island . His father was a President of the Murray Harbour North Dairying Company who served as Justice of the Peace and was elected to the provincial Legislature. Family lore includes the suggestion that Stephen showed homosexual tendencies as a young man and was sent off to the United States to avoid local scandal. He arrived in New York City at the beginning of the 20th century.
Once settled in Manhattan, Clow set up a book publishing company, the Broadway Publishing Company, later exposed as a vanity press operation. He advertised widely for manuscripts, then published them in return for direct payment from their authors. Anthologies of ministers' sermons, memoirs by lesser Civil War generals and collections of turgid poetry fill the company's catalogues and advertisements, though it is difficult to imagine any of these selling in significant numbers. In 1913, the company collapsed in the face of lawsuits and debt.
Three years later, Clow launched Broadway Brevities. In the years which followed, Stephen G. Clow emerged as a well-known, colourful New York personality. He was seen at nightclubs and openings, always well-dressed and in the company of local celebrities. His circle of friends included mainstream Broadway journalists like Mark Hellinger (later a successful Hollywood producer) and New York personality Evelyn Nesbitt Thaw (the wife of Harry Thaw, whose killing of architect Stanford White in 1906 was seen as one of the most sensational crimes of the early 20th century).
Even as he moved in ever-loftier social circles, Clow and his magazine's staff became skilled in gathering information about the hidden lives of New York's theatrical and commercial elites. They positioned informants in the dressing room areas of Broadway theatres or near the doors of establishments of ill repute. Clow traded silence about one celebrity's indiscretions for revelations about those of another. A series of sensational articles with the title "Nights in Fairyland," published in the magazine's last year, visited gay and lesbian meeting places in Manhattan, describing their patrons and pick-up rituals in lurid detail.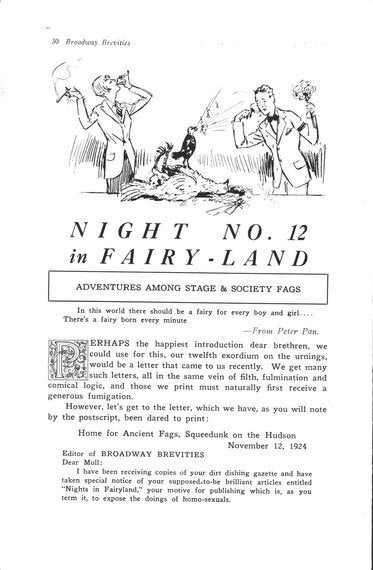 In 1924, Stephen G. Clow was indicted by a United States Grand Jury, on charges of using the mails to defraud. The underlying crime was that of blackmail, the same offense which had brought down Town Topics, an earlier New York magazine devoted to the comings and goings of East Coast high society. Over several years, the trial revealed, Clow and his collaborators had approached wealthy business and show business figures, threatening to publish information about them in Broadway Brevities unless payment was made. Among those who had given in to Clow's pressures were industrialist Otto H. Kahn, movie mogul Jesse Lasky, 'yeast king' Jules Fleischmann, and socialite W. Averell Harriman.
The trail of Clow and his co-conspirators filled the front pages of New York newspapers in January, 1925. The New York Sunday News called it "the greatest show on earth." Clow was found guilty and sent to prison, where he worked on the penitentiary's newspaper and sent reports on prison life to U.S. newspapers. On his release, in 1927, he worked briefly for the show business newspaper Variety. Clow relaunched Broadway Brevities in 1930, but it was soon taken out of his hands and transformed into a weekly tabloid newspaper, one of several sleaze sheets which fought for survival in the early years of the Depression.
By the mid-1930s, Clow had become a disgraced figure in New York. He worked, when he could, at the very lowest levels of publishing and turned up regularly in the offices of his well-established friends, begging for money. In 1937, he moved briefly to Toronto, where he helped the Rubin brothers launch a series of low-end sensational Canadian magazines (one of which revived the titleBroadway Brevities). Here, too, Clow ran afoul of the law. He was charged by Toronto police with publishing materials "tending to corrupt morals." The charges were dropped, but Clow returned to New York, where he died in poverty at Bellevue Hospital in 1941. No one came forward to claim his body.
The history of Broadway Brevities reminds us that a sleazy, gossipy press is nothing new. It should remind Canadians, as well, of our own role in shaping those US media trends to which we usually feel superior.