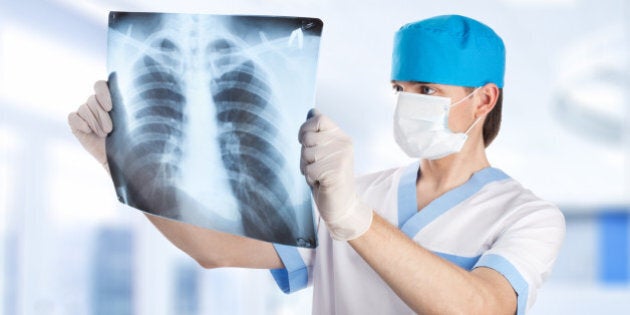 Written by Dr. Kashif Irshad, Head of Thoracic Surgery, William Osler Health System
Each year, lung cancer takes more lives than breast, prostate and colon cancer combined. With smoking cigarettes as one of the leading causes, it is one of the most commonly diagnosed cancers in Ontario. In fact, according to the Canadian Cancer Society, smoking is related to more than 85 per cent of lung cancer cases in Canada. Needless to say, the longer you smoke, the higher your risk for developing lung cancer.
It is important to know that unlike other types of cancers, lung cancer doesn't show symptoms until in much later stages. This means that by the time an individual begins to notice changes to his or her health, the cancer has significantly advanced, often making treatment more complex.
However, there is still hope. Lung cancer can be treated effectively when caught early or prevented altogether. Founded in 2012, the Early Detection Lung Cancer Program at William Osler Health System is helping with just that. Our Thoracic Surgery and Diagnostic Imaging teams have strategically collaborated to prevent, catch and treat lung cancer earlier among high-risk patients, and ultimately help save more lives.
If you are at risk, a CT scan can detect tiny spots on your lungs which may indicate lung cancer at an early stage.
Heavy smokers are at a higher risk for developing lung cancer, especially after the age of 55. However, recent research from the National Cancer Institute shows that CT lung screenings reduce lung cancer deaths by 20 per cent. If you are at risk, a CT scan can detect tiny spots on your lungs, also called nodules, which may indicate lung cancer at an early stage. If we find lung cancer before it has spread, the patient can often be cured.
Patients are referred to the program by their family physicians. Currently, people between the age of 54 to 80, who have a 30 pack-year history of smoking and no previous history of cancer are eligible to enroll. Someone who has smoked one pack a day for 30 years or two packs a day for 15 years is considered a 30 pack-year smoker.
Individuals eligible for the Early Detection Lung Cancer Program receive a low dose CT scan which has significantly less radiation compared to a regular CT scan. If any abnormalities are discovered, patients are quickly referred to Osler's Solitary Indeterminate Pulmonary Nodule (SPIN) clinic where they are assessed within two weeks.
Here, patients with benign nodules are monitored carefully and those with malignancies are given medical treatment, as appropriate. As well, patients screened in the program remain enrolled until the age of 80 and undergo regular CT scans, allowing us to monitor their health and ensure that if needed, timely treatment is provided.
It is tremendously gratifying to see that four years in, the program is having such a positive impact on the lives of the patients we serve. When people are diagnosed with lung cancer that is beyond stage 1, they have to often undergo painful treatments like chemotherapy and complex surgeries. However, by catching it early through the program, that can now be prevented.
Each year we have seen strong growth in our referrals as well as returning patients. Roughly three patients per day are now referred to the program for early detection and have access to a range of multidisciplinary specialties, including but not limited to radiology, oncology and a smoking cessation program.
As the Early Detection Lung Cancer Program continues to grow, we are encouraged by its success thus far. To date, we have seen over 2000 patients and performed over 3,800 screening CTs with an average wait time of only 17 days. From this we have identified over 300 positive CTs, referred over 400 patients to the SPIN clinic, as well as over 200 patients to our Smoking Cessation Program. Most importantly, we have diagnosed 54 patients with lung cancer who were screened through the program.
With unique programs like this one, we remain committed to delivering compassionate care to better serve our patients, create a culture of wellness and further improve the health of our community.
Dr. Kashif Irshad is the Head of Thoracic Surgery at William Osler Health System (Osler) and Assistant Clinical Professor at McMaster University. He co-founded the Early Detection Lung Cancer Program with Dr. Marc Ossip at Osler. Dr. Irshad graduated from McGill University School of Medicine where he also completed his General Surgery training. He later obtained training in Thoracic Surgery at McMaster University. He has spent one year working as a Clinical Instructor of Minimally Invasive Thoracic Surgery at the University of Pittsburgh Medical Center. Board Certified in General and Thoracic Surgery, Dr. Irshad has performed thousands of minimally invasive procedures for the treatment of lung cancer, esophageal cancer, gastro-esophageal reflux disease, achalasia, and large hiatal hernias.
Follow HuffPost Canada Blogs on Facebook