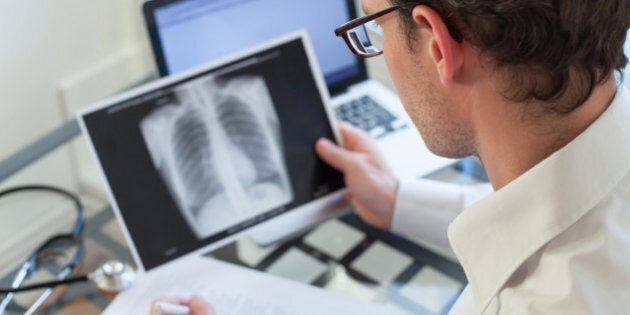 Written by Dr. Sergio Borgia, Corporate Division Head and Medical Director, Infectious Diseases and Infection Prevention & Control Program, William Osler Health System
When many Canadians think of tuberculosis (TB), they think of an ancient disease that affected and often took the lives of people in a time before antibiotics, modern disinfection and hygiene practices. Many would be surprised to know that TB is still around.
With today marking World TB Day, it is important to highlight that about 10.4 million people around the world are diagnosed with TB and 1.8 million die from the disease every year, according to the World Health Organization. While the majority of people with TB live in developing countries like India, Indonesia and Nigeria, the illness also affects people in Canada with more than 1,500 cases reported in 2014 alone.
Canadian communities with large immigrant populations have a higher rate of TB. Take for instance the Region of Peel in Ontario - located just west of Toronto - the area has one of the fastest growing and most culturally diverse populations in Canada. In fact, the prevalence of TB in the region is more than twice the provincial rate and almost double the national figure as well.
TB is a contagious bacterial disease that most often affects the lungs and is spread through the air. When someone with TB coughs or sneezes, germs are released into the air where other people can breathe them in and get infected.
Many people aren't aware that they are infected with TB because in the majority of cases there are no symptoms. In fact, 90 per cent of people who become infected have what's called latent tuberculosis: they don't feel sick, have no symptoms, don't spread it to others and don't develop the disease.
Those who do become sick either at the time of infection or much later when TB can re-activate have what's called active tuberculosis. Symptoms include a persistant cough, occasionally coughing up blood, losing weight, fever, weakness, lack of appetite and night sweats.
For most Canadians, the chances of getting TB are quite low. Those who are most at risk are people who were born in or have travelled to countries with high rates of TB; people who have been around people with active TB; people who had TB in the past but didn't complete treatment; or people who work in or live in communities with high rates of TB like certain First Nations reserves and Region of Peel in Ontario (that has a large number of foreign-born residents). Other risk factors include a weakened immune system from taking immunosuppressant medications or having untreated HIV infection.
TB is diagnosed with a special skin test. A small amount of non-infectious TB is injected under the skin. If you have latent or active TB, your skin will react within two to three days and you will be sent for further tests and a chest x-ray. A newer and slightly more accurate blood test exists which is being used in addition to the skin test in certain circumstances.
The vast majority of TB cases can be cured with antibiotics, as long as the medication is taken properly and for the full treatment, which usually takes six to nine months. Patients who don't complete the full treatment or skip frequent doses, are at risk of having the TB recur and also redevolping TB that is resistant to medication.
If you think you might be at risk of contracting TB - whether by travelling to a high-risk country or by coming into contact with someone with active TB - consult your primary care physician.
If you are diagnosed with latent or active TB, you may be sent to a special clinic like the Tuberculosis Clinic at William Osler Health System's (Osler) Brampton Civic Hospital. Established in 2010, the clinic works in partnership with Peel Public Health and offers a multi-disciplinary approach - seeing patients from diagnosis, right through to treatment and management. With a high number of new Canadians seen in the Clinic, Osler and Peel Public Health have made delivering care in a culturally-sensitive manner a focus, respecting the beliefs, values and traditions of patients, while also helping to manage stigma associated with the disease.
Dr. Sergio Borgia, M.Sc., M.D., FRCP(C) is the Medical Director and corporate division head of the Infectious Diseases Program at Osler where he is an Infectious Diseases and Infection Prevention & Control consultant. He is the co-lead of Osler's TB clinic, along with Dr. David Richardson. He received his Bachelor of Science degree in Microbiology from the University of Toronto where he also completed his graduate work in Medical Genetics & Microbiology at Mount Sinai Hospital. Dr. Borgia obtained his medical degree from Queen's University and completed his specialty training in Internal Medicine and Infectious Diseases at McMaster University. He is a Fellow of the Royal College of Physicians of Canada and is an Assistant Clinical Professor in the Department of Medicine and Division of Infectious Diseases at McMaster University.
Follow HuffPost Canada Blogs on Facebook