gpointstudio via Getty Images
This guest post is written by Instagram foodie Dennis Prescott, better known as @DennisThePrescott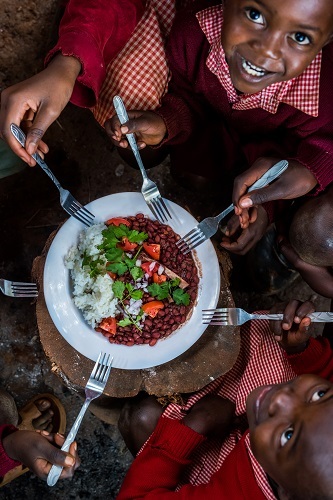 A shot of the meal Dennis Prescott cooked at a school in rural Kenya. Photo: Dennis Prescott
This summer I traveled to Kenya, to learn about the meals Kenyans love. My adventure was a true farm to table experience.
I met with families to see where their food comes from and how they cook it. I learned to prepare wonderful dishes over a cooking fire, and some secrets of Kenyan food preparation. I even helped cook lunch for a school of 800 children in rural Kenya, over an open flame of course. And the best part was sitting down to enjoy the meal with them.
The heroes of this story, ultimately, are the farmers and parents I met who are making amazing meals for their families from fresh foods, and the Canadians who helped set them up for success.
This life-changing experience was in support of World Vision's #HungerFree movement, celebrating the food we love and inspiring people with the joy of providing long-term sustainable access to meals for children and families in developing countries.
In this spirit, and to help your social media feeds look their most delicious, here are five winning food photography tips:
The Story. Telling a great story should be the goal of every photograph. Food is chock-full of nostalgia and emotion. Photographing a great meal means styling, lighting, and shooting in a way that invokes a specific emotional response from the viewer. Is it a date night? Game day? Thanksgiving dinner? All very different experiences, and your food photo can tell that story.

Photo: Dennis Prescott

The Hero. Every epic story needs a hero. Deciding on the hero element in the shot, be it a basil leaf on a 15 pound turkey. There's no right or wrong hero, it's up to you to choose one. This will define your overall composition, and ultimately where you hope to draw the viewer's eye. You highlight the hero by focusing your camera on it; you can do this on most phones by tapping your screen where the 'hero' is before you take the photo.
The Composition. Now that you've chosen your hero, it's time to consider the composition of the entire photograph. How you lay out your food and relate it to other objects in the photo create visual interest. It sets the drama and mood of the shot, and draws the viewer's eye from one place to another as they look at the photo. Using odd number groupings (3 basil leaves, 5 strawberries, 3 drinking glasses, for example) and capitalizing on leading lines will help create the strongest photographs.
The Movement. Movement in a food photograph helps to sell the story, and allows the viewer to imagine themselves in that scene. A glass of wine being poured, a hand twirling pasta noodles around a fork, a drip of melted ice cream slowly working its way down the cone. The best food photographs are moments in time that the viewer has experienced, and can imagine themselves experiencing, or wishes to experience one day.

Photo: Dennis Prescott

Perfection is overrated. If things are too perfect in a photograph, they tend to seem.....off. They feel staged and slightly cold. A few greens, some sprinkled rock salt, or a drip or two of olive oil on the table top can make all the difference. Don't be afraid to draw outside the lines. Controlled chaos is perfect imperfection.

Photo: Dennis Prescott
Follow HuffPost Canada Blogs on Facebook