It has been one year since South Sudan signed a peace deal to end 20-months of conflict in the world's newest country. But with renewed violent clashes in July and mass internal displacement, long-term peace and stability remains uncertain. These South Sudanese children share what peace means to them.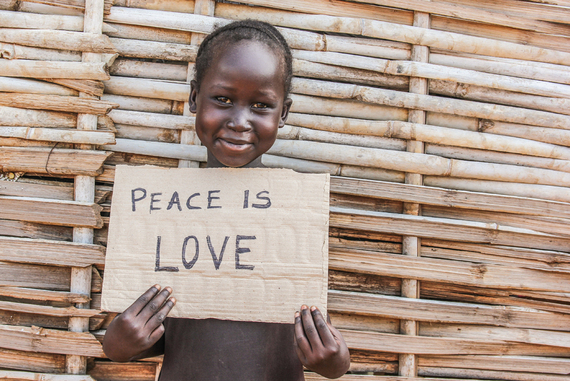 Photo: Steph Glinski/World Vision
"Peace, to me, means love. My mother loves me very much. If all people loved, there would be peace. My family had to flee from my village because there was fighting. Here in the camp we have peace and I can play with my friends. I'm also going to school for the first time where I get to learn how to read and write. During my breaks, I play skipping rope with my friends. To me, this is peace.
We live in a tent now and not in a house anymore, but it's fine for me, because I have my family with me and a school I can attend." - Nyatap, eight years old.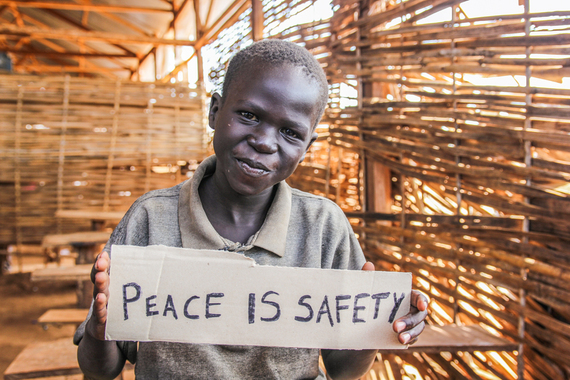 Photo: Steph Glinski/World Vision
"I came to live at the PoC (protection of civilian site) two years ago, when it wasn't possible to live in my village any longer. We were woken up by fighting one night and had to run away. We left everything behind. I don't remember much of it anymore and don't want to think about it. We are safe here, and to me, peace means safety. I feel safe now, but sometimes I'm scared that new fighting will break out again." - Choul-Baping, eight years old.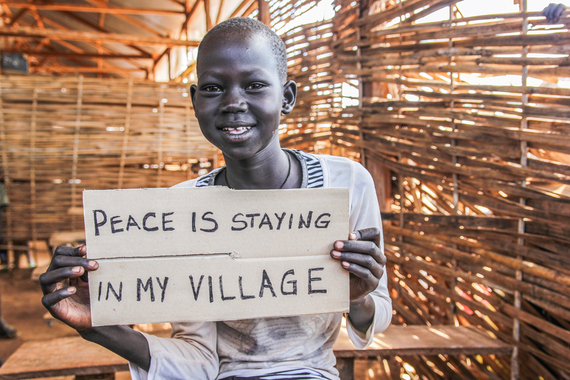 Photo: Steph Glinski/World Vision
"I miss my home. Because of the fighting, all the schools in my village were closed and I came here to attend classes. I like that I can go to school, but I wish I could be with my parents. Many people were killed in my home and I am scared because my family is still there. I'm so far away now. I don't hear from my old friends anymore and rarely speak to my family. I have a good life here, but if the fighting stopped everywhere, maybe we could have a school in my village and I could return home." - Nhial, 10 years old.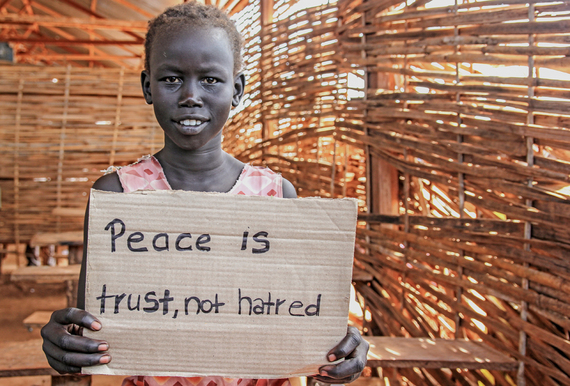 Photo: Steph Glinski/World Vision
"My sister and I fled Malakal when fighting broke out earlier this year, and the two of us now live here in Juba. My mother is still in my village, but we don't know where my father is. I miss my parents and life here is hard. There are thousands of people here and I don't know most of them. It was very different in my village. I knew everyone and I didn't have to be scared. To me, peace is trust, not hatred. In South Sudan, many people don't trust each other and that can lead to hatred. I wish we could have more trust and more peace." - Nagal, 11 years old.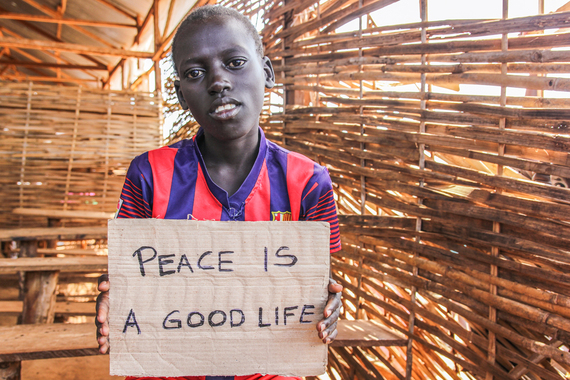 Photo: Steph Glinski/World Vision
"Peace to me means having a good life and not lacking anything. Right now, I don't have this. I arrived in Juba after a long journey from Unity in 2015. My brother and I came here together and we now run our own household. My parents are far away and I wish my family could be united again. Life is difficult." - David, 14 years old.
You can help support children and families affected by conflict in South Sudan, and others living in some of the world's most dangerous places. Become a Raw Hope supporter with World Vision today.
Follow HuffPost Canada Blogs on Facebook
ALSO ON HUFFPOST: