On the International Day of the Girl Child on October 11, let's celebrate the determination of girls everywhere, help them to overcome barriers -- and encourage them to dream big.
I could have been a great mathematician, if it weren't for a guy named Matt who sat beside me in Grade 9 math. At least this is something I like to tell myself, as I work through my budget and taxes.
I was, at the time, an 'A' student. I had a perfectly organized binder, did all my homework, read ahead in the textbook and really enjoyed it. But Matt noticed this, and started to tease me. "Brainer" he would call me, and joke about my binder. It made me want to be invisible.
I wish I had been one of those strong girls, who are able to brush off these comments and put them into a broader context. Unfortunately, as a 14-year-old-girl (and an awkward one at that), my perspective was focused too squarely on what others thought of me. And my 'A's slipped to 'B's and sometimes 'C's. I no longer put the same effort into math, hoping to not be poked at, or pointed to, for standing out. Looking back, I know this was a ridiculous reaction, and something I'm not proud of. But at the time, the shame I felt for being good at math was very real.
Barriers of different heights
As progressive as we like to think our society is, there are still barriers to girls realizing their potential. In Canada, it could be something as simple as how a teenage girl is perceived socially if she excels at something considered a little less than cool.
But these barriers pale in comparison to what girls overcome other countries. While I didn't become a mathematician, I still had access to a wonderful education and graduated from a respected university. I now work with an organization that helps girls around the world overcome barriers that loom much higher than peer pressure. It's inspiring to hear these girls' stories of triumph -- I'm always in awe of their determination.
Consider Afrin, an 18-year-old who is now at medical school in Bangladesh, in spite of odds stacked against her. In Bangladesh, girls are generally seen as having less value than boys. Their role in society is drastically limited. According to the United Nations, 1.5-million girls in the country are not enrolled in school; many of them drop out of school as the system fails them, with lower expectations and limited opportunities for girls.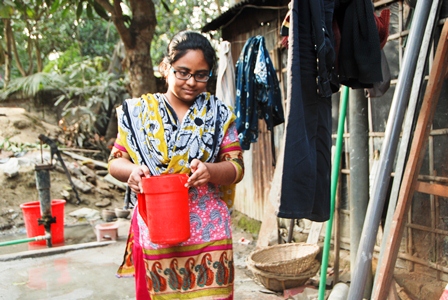 Putting her dreams to work
As a child, Afrin dreamed of becoming a doctor. But coming from a poor family, she wasn't sure how to make that happen.
"I never thought that low-earning family members can also dream for better future," she says. She had the determination, but not the means of getting an education.
At the age of five, Afrin was sponsored through World Vision which provided her the support she needed to go to school. She recalls receiving the school supplies that otherwise would have been out of reach, such as textbook, notebook, ball-point pen and drawing materials. She resolved to excel in school, and did, earning scholarships along the way and eventually entering medical school.
Her family is proud of her. Says her father, "I always used to inspire her, saying if you read, you can do well. She proved that. In fact, her commitment and earnest interest in reading made her successful."
Shooting for the best
It is 21-year-old Preaw's determination to succeed that has been her greatest asset. When she was just eight, she and her younger sister were orphaned. They were taken in by her uncle Daeng, who was struggling to provide for his family. In most situations, losing parents would have been a huge barrier to a successful future. But Preaw had the dedication, and, through sponsorship, the means to achieving her goals.
As a sponsored child Preaw receive essential support -- especially for her education. Encouragement from her proud sponsor in Canada, who she lovingly refers to as 'Mom Thelma', proved essential during this time. Preaw also found comfort from an unlikely source -- the sport of archery. A cousin introduced her to it when she was in grade six. The thrill of hitting a target became Preaw's mission. As she continued with her education, she practiced in her free time.
And she was good.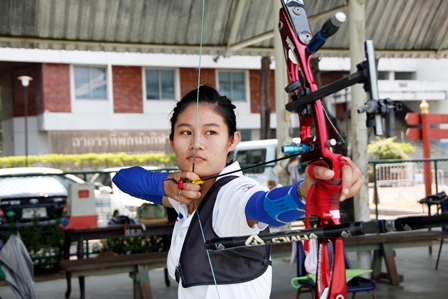 Preaw saw success early on in regional competitions. As she continued to excel in the sport, she began travelling internationally, with her sponsor cheering her on and even helping to pay for some of the entry fees. In 2007, she won a bronze medal for Thailand in the South East Asia Games. She continues to train for, and compete in, national and international competitions.
She's currently a third-year student at a university in Bangkok, majoring in science and technology. When there are no classes, she teaches archery to children interested in this sport, earning money to put herself through school.
"Success is up to us"
Preaw is determined to help relieve her uncle's financial burdens, and send her younger sister to nursing school. She looks forward to finding a good job when she graduates. "Problems are meant to be solved and obstacles overcome. Success is up to us," she says confidently.
The International Day of the Girl Child, on October 11, is a celebration of the determination of girls to overcome barriers and continue to dream big. To foster the spirit embodied in girls like Afrin and Preaw. To remind us to come alongside girls in our community and around the world, to offer our encouragement and support -- to help them break down the barriers holding them back.
And, a soft spot for me, to make sure any girl who loves math realizes what a gift she has.
By Genevieve Barber