Getty
By Jaimie Clark, World Vision Canada
This past year, I became your mother. As I watch you grow I'm amazed by the things you are learning, and the unique and spunky little person you're becoming. Already, I see you picking up so much from me and others around you, including the good, the hilarious and the not so great. I realize just how much of an impact I am having with the example I set.
Sometimes in the rush and chaos of everyday life and just trying to get through the day, I don't stop to think about these things and make conscious decisions to live them out. So I want to write them down for you now.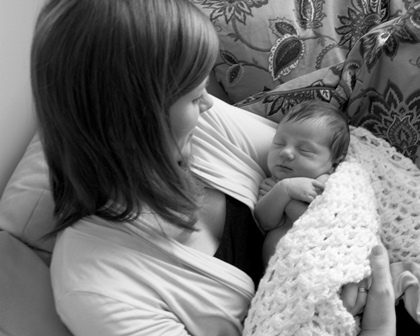 Here are 10 things I pray that I'm able to teach you, in the years that we'll have together:
Be passionate: Find something that matters to you and you go after it. Spend your time and efforts on something you love. At times it will feel overwhelming and hopeless but know that those seeds of change you plant may seem small but it's all it takes to make a difference.
Be compassionate: Be aware of what others in your world are going through. Your birth could not have gone further from our plan. If we weren't in the hospital that day, the chance of your surviving was very slim. I was so fortunate to have medical professionals and facilities that could save little you. It breaks my heart thinking about mothers whose babies aren't given the same chance at life. I hope you can find things that break your heart and find ways to help and stand up for what you believe in.
Be brave and take risks: Your dad and I can't ever argue with you taking risks. We both moved to exotic countries and have jumped out of planes and off of platforms high in the sky -- things most people would think are crazy, but I believe it is so important for you to take risks. Make yourself uncomfortable and seize new opportunities.

Jaimie bungee jumping in Indonesia, at the tail end of a three-month back-packing trip around South East Asia in 2008.

Be full of doubt: This is a secret I'll probably regret telling you, but I want you to know that I don't know everything. Neither does your teacher, our politicians or even your friends. It's so important for you to question the way things are done or said, it's how we as a society will improve. Just please do it respectfully and with some tact.
Be courteous: Leaving dirty dishes in the sink will create enemies among roommates -- as well as rearranging the dishwasher after someone has loaded it (I'm still working on this one). Do your best to make life easier for those around you, and try to give others the benefit of the doubt -- just because someone does things differently doesn't always make it wrong.
Be prepared: Always pack a swimsuit and clean underwear in your carry-on when you travel -- you can replace almost everything else when you land.
Be forgiving: There is a lot to admire in someone who extends grace. This is another one I am still working on. It's so hard to forgive those who have wronged you especially when those wounds are deep. But holding onto grudges only weighs you down and burdens your soul. Just because you forgive doesn't mean you approve of someone's actions but rather means you don't let it affect your day to day.
Be thankful: You can't put a price on a handwritten thank-you note. Always say thank you to those who do anything for you and speak up while doing it. Today I am still haunted by the woman that didn't hear me say thank you when she opened the door for me, she called me an ungrateful princess.

Jaimie with World Vision Canada volunteers at a York University event to raise awareness about children in need.

Be a volunteer: There is so much you can learn about yourself when you volunteer. It's important for you to give some of your time to a cause that matters to you. Here in Canada, we are blessed with the choice to help others and it doesn't take much time to do so, as I see from my work with World Vision Canada. I think about this especially now, during National Volunteer Week. Where would we be without the 1,900 volunteers who give their time and talents to do something they believe in? Some give just a couple of hours a week, but they're helping to change lives.
Love others extravagantly: I hope you find people in your life you love and love you. Love with your whole self and show that love by encouraging, challenging, growing, comforting, laughing and experiencing life in its fullest with others.
My dear, this is a big world with so much opportunity and I wish nothing but the best for you in it.
Love always,
Mom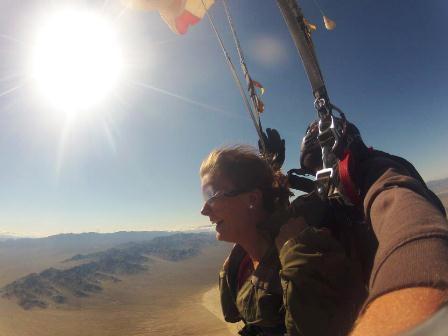 Jaimie skydiving in Nevada in 2012, two years before becoming a mom.
ALSO ON HUFFPOST:
Best Baby Names That Mean Love!