By Sara Schulz, Senior Policy Advisor, Child Health, World Vision Canada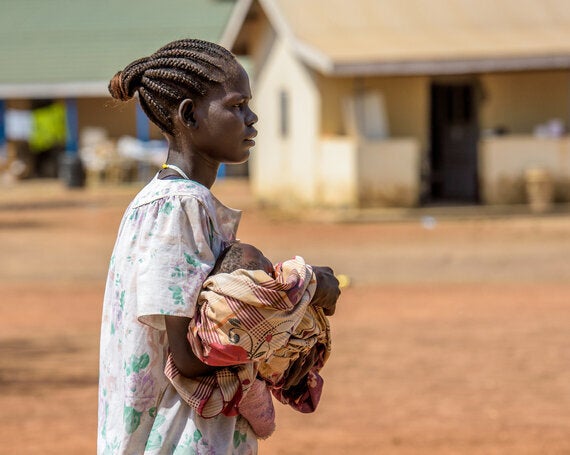 A mother carries and rocks her newborn baby, born into the ongoing conflict in South Sudan. Photo: World Vision
Together, my husband and I bent over the home pregnancy test, squinting as the thin red line emerged. We were both so excited. Together, we had made the decision to start a family, after five years of marriage.
Yet, despite the shared joy, I remember our uncertainties. "Are we ready for this," we both wondered? "Are we really at the stage -- mentally, financially -- where we can care for another person?"
Looking back, we were more than ready to become parents. Our marriage was in good shape, as were our careers. And although I had no experience as a mother-to-be, I was supported by a wonderful midwife who gently and knowledgeably guided me through nine months of pregnancy.
But for women in the world's toughest, most turbulent regions, "Am I ready?" is rarely answered with a "Yes."
Pregnancy during war, natural disaster, or economic collapse isn't simply a time of joy and wonder; it's often tainted with anxiety and fear. For these women, it's more like nine months of holding the thin red line of courage against almost impossible odds. The strength and resilience needed to do this is astounding.
When there's conflict and chaos, there's normally no discussion about pregnancy in the first place. No luxury of late-night talks on the couch, as I had with my husband.
Few women would elect to become pregnant as bombing and gunfire move closer to their neighborhoods. Few would choose to give birth in the squalor of a refugee camp, when battling to feed several other children.
Yet those tell-tale signs of pregnancy don't wait. Women notice the swollen breasts of early pregnancy while toiling in fields to earn an income. They wonder about that missed period when cooking for their children at the side of the road, a thousand miles from home. They endure morning sickness in shelters with no toilets or sanitation. Sometimes they shudder, painfully recalling a scene of domestic violence the night before.
A whole different question
In places like Syria, South Sudan, Somalia or Afghanistan, "Am I ready for this?" is seldom about the state of a woman's career. It's more about "Can I feed and protect this child?"
Many women we meet in refugee camps are there without their husbands, who may have been killed, stayed back to protect their homes, maintain an income, or even to fight. Some women are already caring for a brood of children, by themselves. With health clinics looted or abandoned, others worry desperately about where they will receive help should complications arise in pregnancy or delivery.
It's tragic -- but not surprising -- that 60 per cent of all preventable maternal deaths and 45 per cent of newborn deaths occur in fragile and conflict-affected settings. And even more heartbreaking: this number is on the rise.
Conflict and instability can force girls into marriage long before they're ready. In our work in unstable regions, World Vision knows families who have reticently married their daughters while they were still children, to try and ensure they're provided for in uncertain times.
If I had become pregnant at age 15, I would have questioned whether my body was physically ready for the task ahead. It would have been a valid concern.
Globally, complications due to pregnancy are the leading causes of death for girls age 15 to 19 -- twice as likely as for women. The consequences for an unborn child are equally grave. Around the world, teenage pregnancy can lead to preterm birth -- the leading cause of death in babies and young children.
I try to imagine the desperation of a newly married teenage girl in Syria or South Sudan who realizes that she is pregnant. This could be the start of a string of pregnancies, very close together, stretching into the future. Though it's her fundamental right, she may have no voice in discussions about family planning.
For girls and women alike, such crises could be prevented with better access to contraception. Taking contraception is something that many women do, even without the knowledge of their husbands. It is one thing they can control, in a world where so much else is decided for them.
But what happens if a woman or girl has forgotten her contraception, in the panic to gather her children and flee to safety? What if she has been on the road for six months, and the pills have run out? What happens if her husband finds the pills and forbids her to take them?
Canada has been clear about its commitment to realizing the rights of girls, adolescents and women -- especially when it comes to reproductive health. World Vision supports this wholeheartedly, yet we know those rights are hardest to uphold when girls' or women's lives have been turned upside down.
Canada needs to take its commitment even further -- and that means stronger support for family planning and contraception in the world's toughest places. This must be combined with comprehensive prenatal and postnatal healthcare that involves mothers, fathers, and influential community leaders and elders.
A woman deserves to know that her husband respects the impact of pregnancy on her health and life, and on the future of the couple's unborn child. Anxiety around unplanned pregnancy -- and the very real threats it poses to mothers and babies -- can be reduced not only with better access to contraception, but also the power to use it.
Sara is headed for the Women Deliver conference in Copenhagen next week, the largest global summit of its kind in more than a decade. She'll be championing the health and rights of women and girls in the world's toughest places.
Follow HuffPost Canada Blogs on Facebook