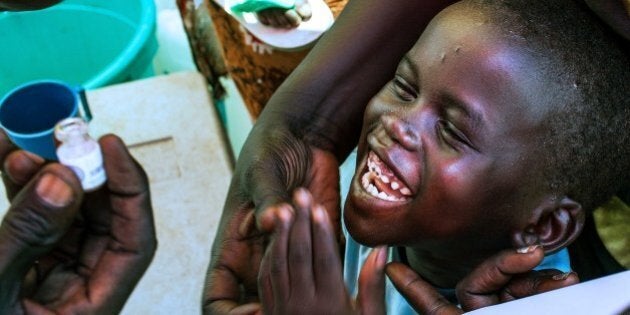 Decades of conflict in South Sudan have put millions of people on the edge of survival, but Canadian funds are making a world of difference for some of the most vulnerable children on earth.
By Brett Tarver, World Vision Canada
Outside, the temperature creeps past 40 degrees Celsius as the hot, dry sun bakes last night's rains into the hard, red earth. The tall stalks of sorghum are at their peak, enclosing the tiny homestead on all sides, shutting it out from the outside world.
Inside the mud and thatch hut, the air is cool and comfortable as the babies enjoy their afternoon nap. Twelve-month-old Amou and her two-year-old brother Adol are sleeping peacefully under their mosquito nets. The chubby siblings are peaceful, healthy and well-nourished.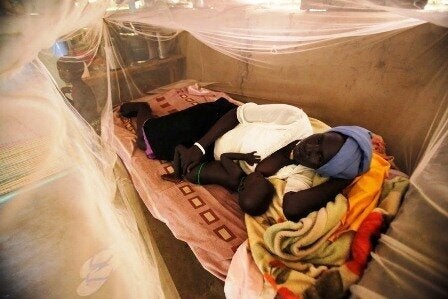 Mary Manuat, 28, nurses her 12-month old daughter Amou under the protective cover of a mosquito net provided in part by funding from the Canadian government. Sept. 18, 2015. Photo/Andre Forget
Amou and Adol haven't directly experienced the latest wave of conflict which has swept their fledgling country back into turmoil. Their family has managed to avoid the surge in violence that has displaced millions of people and created a full-blown humanitarian crisis. But the ripple effect of conflict has still penetrated their tiny home, compromising their quality of life and the opportunity for a better future.
South Sudan is a clear example of a global phenomenon. Extreme poverty has been declining across the world, yet human suffering is now increasingly concentrated in the world's most fragile places.
But it doesn't have to be that way. Right now real money is being put to work in South Sudan to make a real, sustainable difference for real people.
There's no denying that South Sudan has a long, tough road ahead. It's been ranked the most fragile country on earth for the past two years by the Fund for Peace. The fighting has also masked other challenges for the world's newest country. South Sudan possesses great potential but continues to be one of the world's most under-developed. It's a nation constrained by perilous roads little more than dirt tracks, a school system unable to pay their teachers a living wage and perhaps most importantly, a health system that is unable to consistently meet the most basic needs of its people, particularly mothers and young children.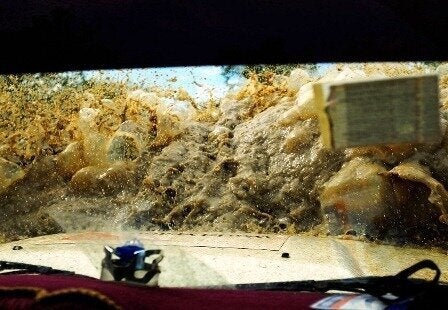 Land Cruiser vs. wall of mud. Heavy rains and rudimentary roads didn't stop this World Vision vehicle from reaching a remote village in Tonj North County, South Sudan. Sept. 19, 2015. Photo/Andre Forget
But even in the face of all those difficulties there are many reasons for lasting hope. On a recent trip to remote Warrap State, I witnessed targeted Canadian investments improving the health of moms and babies. There are long-term, sustainable efforts to strengthen the health system taking root in South Sudan right now that go above and beyond much-needed emergency relief -- and they are paving the way for a better tomorrow.
I could see it in the loving eyes of Amou and Adol's mother, Mary, filled with gratitude for a nearby medical facility bolstered in part by Canadian funds and administered by World Vision. A revamped facility with newly trained staff providing proper medical care for families, now stocked with a consistent supply of both vaccines and life-saving drugs for their children.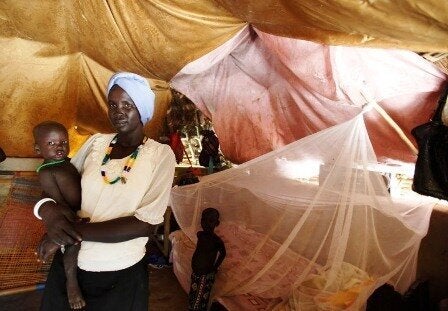 Mary Manuat with two of her children. Warrap State, South Sudan. Sept. 18, 2015. Photo/Andre Forget
Mary's eyes mist over with pain as she remembers the trauma of her two older children nearly dying from life-threatening malaria, a disease that kills 450,000 children every year. But Amou and Adol have been spared thanks to the protection of mosquito nets and anti-malarials provided by Canadian money.
Their story is just one success out of many. World Vision and other NGO's have been delivering dozens of simple, cost-effective solutions that are changing children's lives throughout South Sudan and across an entire spectrum of need.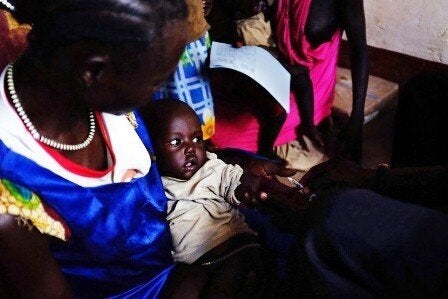 A mother prepares her baby daughter for a health checkup and vaccination at a World Vision health day. Tonj North County, South Sudan. Sept. 19, 2015. Photo/Andre Forget
Aid can alleviate humanitarian emergencies and support sustainable development at the same time. In a camp for internally displaced people living in makeshift shelters, I saw a new well provided with Canadian funds. Children in the camp were no longer getting sick thanks to this new supply of fresh, clean water. A critical step in making their lives better.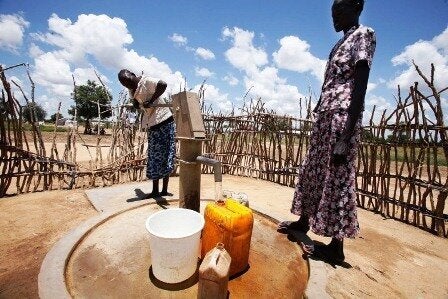 Women living in a camp for internally displaced people collect water from a well provided by funding from the Canadian government. Sept. 16, 2015. Twic County, South Sudan. Photo/Andre Forget
I saw many examples of Canadian money at work, strengthening South Sudan's health system. Change is happening everywhere. Newborn babies are being registered for the first time and getting vaccinated against disease. Mothers and fathers are getting tips on proper nutrition, hygiene and family planning to help ensure the health of their growing families.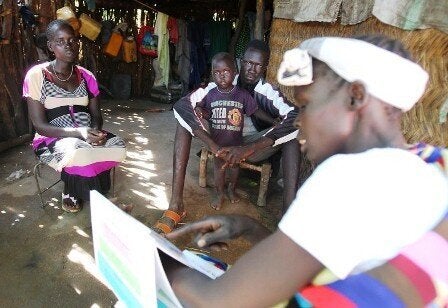 An expecting family receives prevention and treatment health tips from a community health worker for their growing family. Gogrial West County, South Sudan. Sept. 18, 2015. Photo/Andre Forget.
It's this kind of support that is empowering the South Sudanese people to build their country. I could see it in the way the people talked about the future with hope, the way they carried themselves with dignity and their growing understanding of what their lives can and should be like. It was truly inspiring.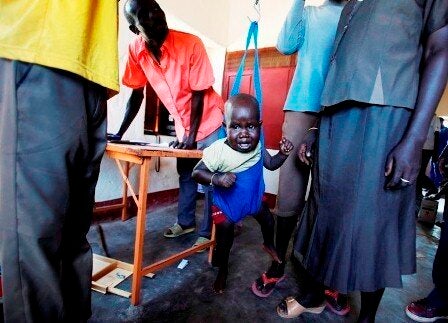 Like many babies in Canada, this little boy isn't thrilled about being weighed! But he's so healthy he's tipping the scales at this World Vision health day promoting nutrition and hygiene. Tonj North County, South Sudan. Sept. 19, 2015. Photo/Andre Forget.
Deciding on whether to dedicate resources to fragile places isn't an option if we want to eradicate the damaging effects of the cycle of extreme poverty. We can do much more than simply provide short-term humanitarian help to people suffering from conflict. Canadians can promote sustainable, long-term development even under the most difficult circumstances. We will succeed and it will make a world of difference for those who need help the most.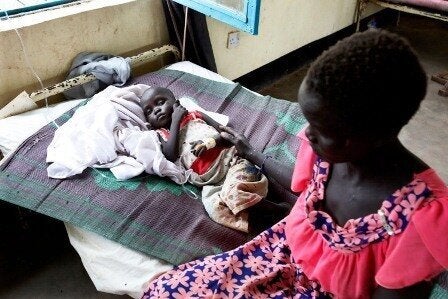 No time for half-measures. A young girl suffering from malaria recuperates in Kuajok Hospital, South Sudan. Sept. 17, 2015. Photo/Andre Forget.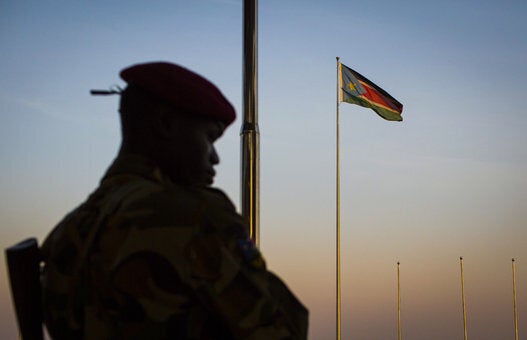 South Sudan Post Independence