world vision
"Don't wait. Just find something you can do, and move forward."
These words could easily have been spoken by any of the women sitting with me in the Toronto banquet hall last fall. We had just been named Canada's Most Powerful Women by the Women's Executive Network, an honour given to only 100 Canadian women each year.
In the speeches presented that day, the idea of women's power was explored from many different angles. The question of what makes a woman powerful is something that I wrestle with constantly, especially on International Women's Day March 8.
There are lots of quantifiable ways to measure a woman's influence, like the position she holds, the degrees she has earned, the budget she manages, or the number of people she leads. And there's no question that these achievements are worth celebrating -- not only for those who have made them, but for those who need the encouragement of seeing such things are possible.
But what about the women, here in Canada or around the world, who may never earn a PhD, lead a large corporation, or shape public policies? Are they not also powerful? Intuitively we all know that a woman's strength isn't just measured in status. There's something intangible yet very real about the power that millions of women exude through their influence in their homes, workplaces, and communities.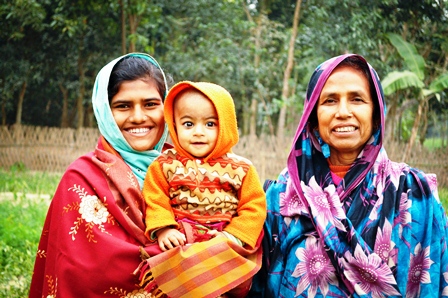 Johura (right) is a successful entrepreneur, cultivating vegetables, fruits and spices in Bangladesh. She attends training courses with World Vision, expanding her food production systems with year-round gardens. The proceeds help care for her daughter-in-law (middle) and baby granddaughter.
This power may never be recognized with an award or magazine article -- yet its impact can change the world. I think about my own mother and grandmother, neither of whom received formal recognition for the strength, intelligence and determination that they modelled for me. But without their example, I wouldn't have become who I am today.
"Don't wait. Just find something you can do, and move forward." I heard this message from the speakers and participants at the Women's Executive Network Summit, from every woman who had taken their gifts and run with them. But the actual words came from a woman you might not expect, a women named Gheetha living in a village in Sri Lanka. She wasn't wearing a power suit, but a simple cloth dress.
Gheetha grew up in poverty, married at 17 and had two children. When World Vision's micro-finance organization, VisionFund, came by, Gheetha stood in line to apply for a small business loan. She had been selling cashews to a local distributor until then, and wanted to start her own business.
It's been six years since Gheetha signed for that first loan. She now owns 20 acres of cashew trees, and employs 20 members of the community. She has used the profits to build her family a new home, to put her children in school, and to help other women in her community.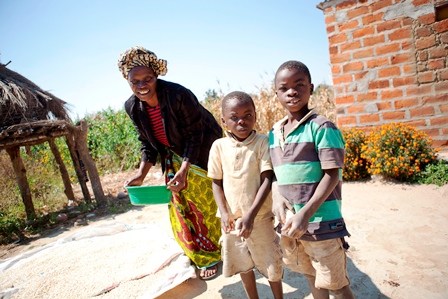 In Zambia, Esnart despaired of raising four children alone after her husband died. Since receiving a loan from VisionFund, she now has poultry, gardening and baking businesses. With the proceeds, Esnart has been able to keep both her children and her grandchildren in school.
Even Gheetha's huge achievements might seem small, when held up against those of many influential Canadian women. But she's just as exceptional in her community as the Top 100 Women are here in Canada. Even though women make up half of the world's population, they are under-represented economically in the marketplace. In fact, women perform 66 percent of the world's work, produce 50 percent of the food, but earn 10 percent of the income and own 1 percent of the property. Though World Vision's microfinance initiative, VisionFund, we are committed to helping women living in poverty and empowering them to lift themselves up and lend others a hand. Over 68 percent of all loan clients are women.
Experience shows us that woman's financial empowerment is transformative. Studies have proven that women spend the majority of their profits on their families and children, including improving healthcare, nutrition and education. They can keep their children in school and learning. When women are empowered, their families, communities and countries are better off. And like me as a child, looking up at my mother and grandmother and holding my head a little higher, Gheetha's children are blessed with a similar example.
As we mark International Women's Day, let's listen to Gheetha's words, remember the innate power that all women possess, applaud them, and come alongside them at every opportunity possible to amplify it. It's a powerful message for every woman to seize the opportunities in front of us. And it's a powerful reminder that strong women make for a strong world.
Sara L. Austin is a passionate champion for the rights of women and children. Sara is the Director of the President's Office of World Vision Canada, and in 2014 she was named one of Canada's Top 100 Most Powerful Women and Top 25 Women of Influence.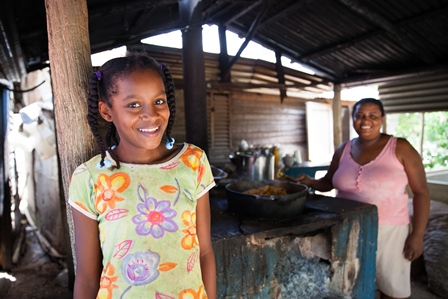 Nereida (right) in the Dominican Republic loves cooking, but her small chef's business had reach a plateau. A loan from VisionFund helped her expand the business, keeping granddaughter Geanny (left) and three others in school. Geanny says her grandmother has been "a huge inspiration to me and my sisters."
MORE ON HUFFPOST: