By Suzy Sainovski, Communications Director for the Syria Crisis Response, World Vision
For the past two weeks of school vacation, many Canadian children have enjoyed lingering in bed in the mornings, snuggled under the covers. But for children forced from their homes by violence in Syria and Iraq, warm blankets are more than a holiday luxury. On some mornings, it's just too cold to leave their beds.
Although the worst of winter hasn't yet hit in the Middle East, many families recall how brutal winter in a tent or other temporary shelter can be -- they have already survived at least one. Mayan and her children, displaced in the Kurdish region of Iraq, are among them.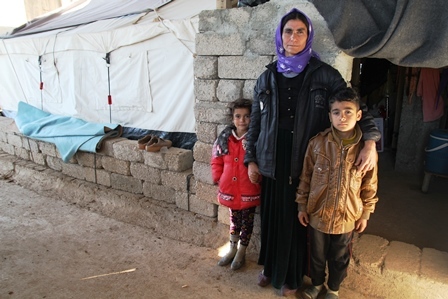 All photos by Suzy Sainovski
"That first winter here was so cold," recalls Mayan, of the family's first winter inside a huge, unfinished concrete building. "We just slept on the ground."
Winter far from home
It's not what families like Mayan's deserve, after surviving unthinkable journeys on the run for their lives. About 18 months ago, Mayan, her husband and their children fled the escalating violence in Iraq, along with thousands of others. They made for the Sinjar Mountains in Iraq's north-west. There, they were stranded with little more than the clothes they were wearing.
At that time of year, the challenge wasn't cold, but the searing heat. Temperatures in this part of the world are extreme.
"Many died in the mountains," remembers Mayan. "There was no food or water." The family then made their way towards the Syrian border where passing cars offered to take them to the safety of the Kurdish region of Iraq.
The need for warmth
But now winter is here, and the temperatures are dropping. In Canada, children are spending more and more time indoors, with the central heating on and warm beds at night-time. Such constant warmth is a far-off dream for millions of displaced Syrians and Iraqis. But thanks to donations from Canadians and others, many children have been able to warm up.
World Vision recently distributed winter kits to nearly 1000 families in the Kurdish region of Iraq, including Mayan's. The kits include shelter materials like plastic sheets and rope to keep off the rain and snow. But they also include things Canadians count on to keep them warm in winter: warm blankets, a heater, some carpet for the floor and mattresses to keep the bone-chilling cold several inches away.
Here's a look inside where Mayan and her children are living: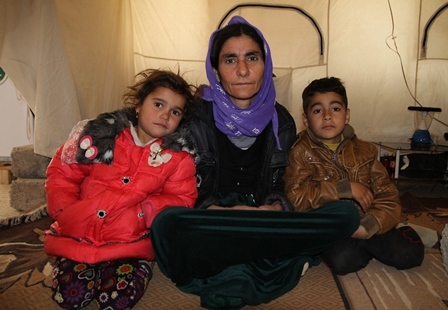 Mayan and her children, Hareman (left) and Manaa (right), cuddle close inside their tent, where they've lived for about 18 months. In winter, coats are worn all of the time, even indoors. You can see the importance of having a rug on the floor, when it's just bare ground underneath.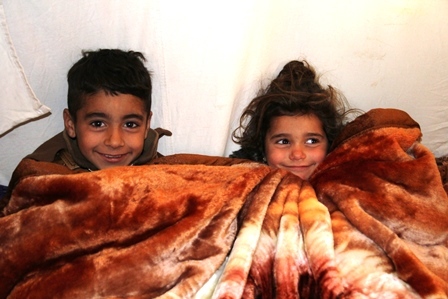 Manaa and Hareman snuggle together under a warm blanket that was provided to the family by World Vision, along with other winter items such as a heater, plastic sheeting to keep the wet off, carpet for the floor and mattresses. The kits were funded by DFATD Canada (now Global Affairs Canada.)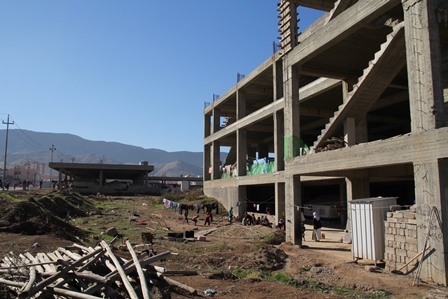 This is the unfinished building inside which the family's tent is erected. The first sight of the building is quite a shocking one. It's hard to believe that people actually live in these conditions -- especially during winter, when you can imagine how the wind whips through.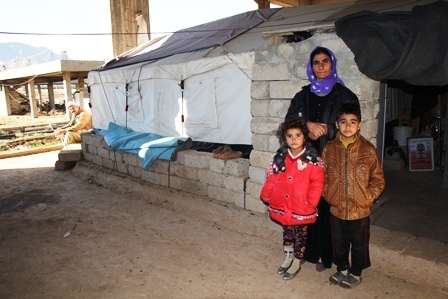 The unfinished concrete building above keeps some of the snow off their tent, but it still blows in from the side. The canvas walls cut the wind a little -- but there's no insulation. This makes carpets, heaters and blankets especially critical.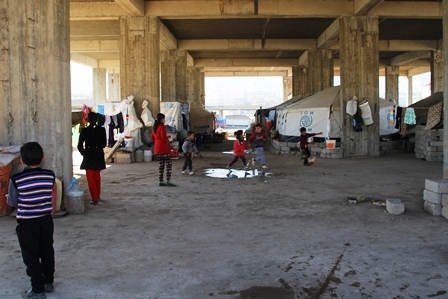 When the day is warmer and the wind is low, children play around between the tents under the concrete structure. Next to this unfinished shell is another, also housing displaced families. There are a staggering 3.2 million people who have been displaced within Iraq.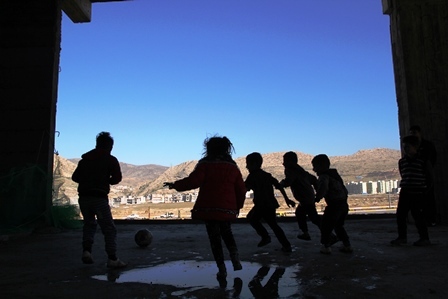 The concrete building in which the families' tents sit provides some protection from rain and snow. But you can see from the puddle here that the precipitation still blows and leaks in. The plastic sheeting and ropes provided by Canada are important in helping families reinforce their shelters.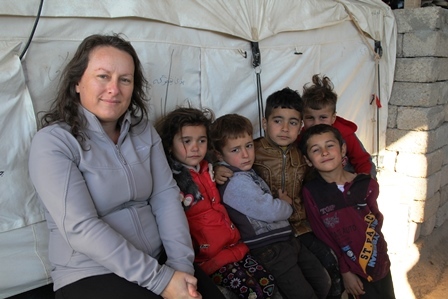 When I visited Manaa, Hareman and their friends, the overnight temperatures were dropping near zero. They will continue to drop as the winter sets in. On some cold mornings, Hareman will say "I'm hungry, but it's too cold to get out of bed. I will wait to see the sun. Sometimes I take breakfast to them in bed," says their mother.
It sounds cozy, until you remember that some mornings, there's simply no other choice.
Learn more about helping children affected by conflict in the Middle East at worldvision.ca
ALSO ON HUFFPOST:
Pictures Inside A Syrian Refugee Camp In Jordan