By Sarah Bartley, World Vision Canada
One year ago this week, Alex Foto, a young woman who was helping change the world, was killed in a tragic accident while riding her bike. But this weekend, Alex's work will continue on through a dream she had: to hold a Canada-wide fundraiser to provide people around the world with clean water.
Alex was a World Vision Youth Ambassador, who traveled overseas with us to experience development work in action. Back in Canada, she held talks and led fundraisers, engaging and inspiring other young people to make a difference for children overseas.
This weekend's fundraiser, #LiveLikeAlex, was inspired by a video she sent to us at World Vision before her untimely death. In it, Alex explained her idea for a 'water walk' fundraiser, to bring clean water to children and families in the world's poorest places.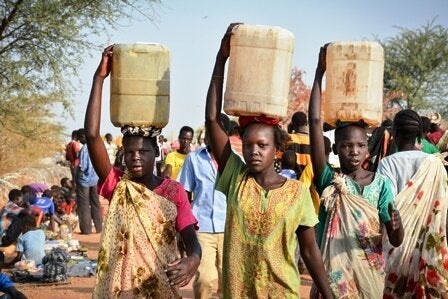 Lack of water is a major challenge in South Sudan, where thousands of people have been displaced by conflict. World Vision Photo.
It seems so fitting that Alex continues to create change in the world. In life, she found ways to take on projects to benefit kids in desperate need, while dealing with the high-pressure demands of university life and being a regular teen. She was a person you'd look at and think "Where does she find the time?"
Alex's desire to help families and communities wasn't just a part-time hobby. It was deeply a part of her, and she wanted it to be her life's work. When Alex first told me she was going to university to study international development, I thought "Of course." It all made sense. But Alex didn't wait for graduation to begin making a difference. She was incredibly willing and giving of her time, she really wanted everyone to know they can make a difference in the lives of children everywhere.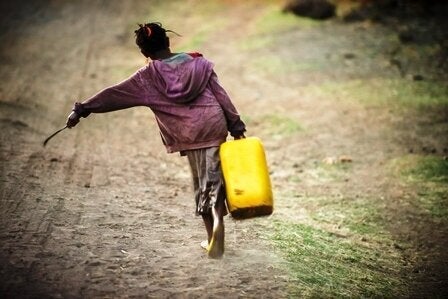 In Ethiopia, a girl hauls a heavy jerry can full of water from a stream shared with horses and cows. It's children like this who could benefit from Alex's fundraiser. World Vision Photo.
Remembering Alex's passing
I heard about Alex's death two days after it happened. I was on parental leave from my job at World Vision, having just received custody of the two teenage daughters I was adopting. It happened to be my birthday, and the girls had kicked me out of the house so they could bake me a cake and decorate the house for a family party. I was full of wonder at their energy, their kindness, and their desire to care for the people around them. Sitting under a tree, scrolling through my work messages, I saw the e-mail that Alex was gone.
Alex's death instantly hit me with so much sadness. Here I was celebrating another year of life, yet this amazing young woman who should have had so many years ahead of her was no longer with us. Alex's death shook us at World Vision. And as a mom of girls, I felt such loss that a wonderful role model was gone.
Alex's idea for the fundraiser came from personal experience. While in Kenya, she had walked alongside a woman who was fetching water for her family, to see what her daily journey was like. Alex felt the weight of that jerry can, and the heat of that sun beating down. She felt the muscles in her back, arms and shoulders screaming. And she had the experience of thinking "Is this journey ever going to end?"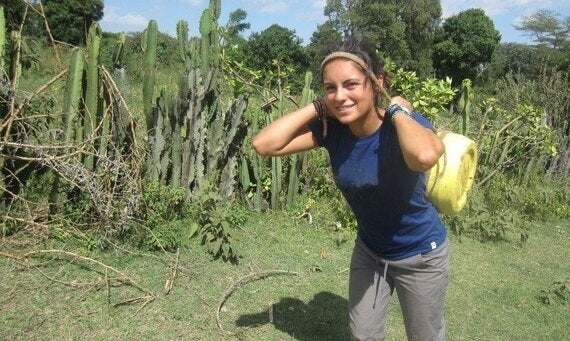 As we've seen at World Vision, women and children in developing countries walk an average of six km per day to get water. This takes up time women could be working and earning what they need to support their families. Children who have this chore may not be left with enough time to attend school. They do all this for water that is often contaminated and will make them very ill.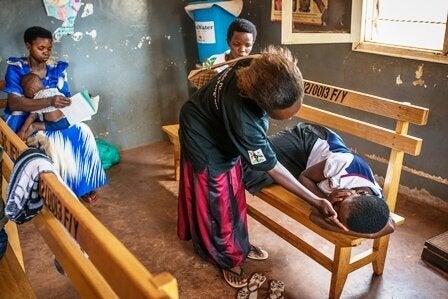 In Uganda, a child lies on a bench at a health clinic, waiting for medical care. Children are often brought here because of waterborne illnesses that can cause death. World Vision Photo
As Alex knew, children are especially susceptible to getting sick from dirty water. A child dies every minute of a water-related illness. Alex saw the potential to help the 769 million people in the world without access to clean water.
In her honour, World Vision Canada and our supporters are taking her up her cause. We're challenging Canadians to #LiveLikeAlex by forming teams of six people, to carry jerry cans of water for six kilometres. Proceeds will go to water projects. You can join one of the walks happening in London, Toronto, Edmonton or Halifax, host your own World Vision Water Walk or support Alex's legacy online.
Alex Foto's death was indeed a senseless tragedy. But with your help, it can also be the beginning of a movement to change the lives of thousands.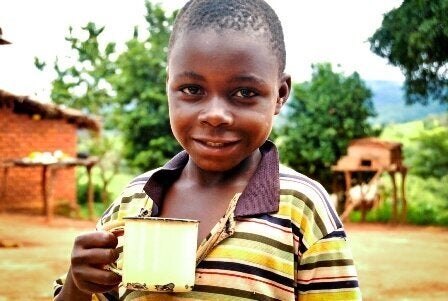 In Malawi, 12-year-old Innocent is one of many children who now have clean water to drink thanks to a World Vision water project. World Vision Photo.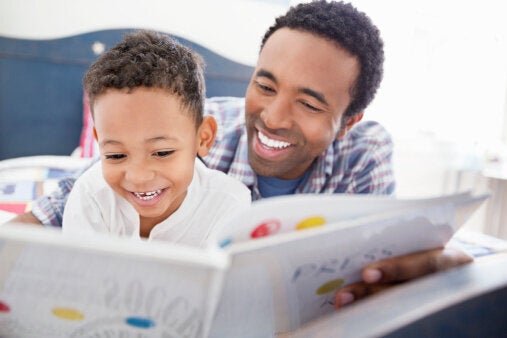 Volunteering With Your Family