By Megan Radford, World Vision Canada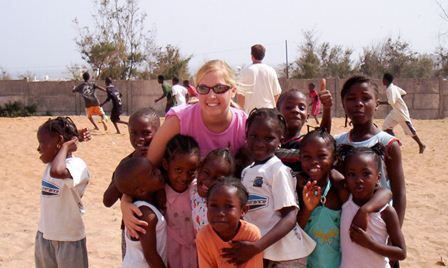 Megan in Senegal, shortly after her high school graduation.
You may remember the white rubber wristbands that so many Canadians started wearing a decade ago. As a member of the so-called "Millennial Generation," I was in high school at the time and an early adopter of the trend. I still remember the sense of proud belonging I felt when I slipped the bracelet on for the first time.
For Canada, the Make Poverty History movement was a hip new kind of activism. What could be cooler than a movement started by rock star Bono? There were versions of Make Poverty History in dozens of countries around the world. Every time I saw that bracelet when reaching up to open my locker, I felt a part of something way bigger than myself. I actually had the power to help change the world -- and I was ready.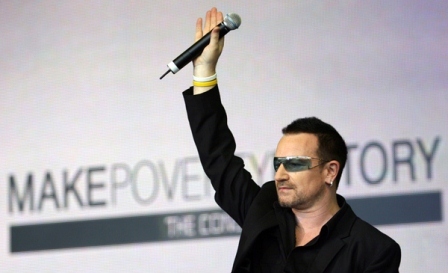 Photo Courtesy of Make Poverty History
A decade later, Bono is still pushing for the ideals those white bracelets symbolized. And a lot has been accomplished since I first put one on. In September of 2000, when I was still in middle school, the United Nations unveiled something called the Millennium Development Goals -- eight goals targeting international development. Two of them were specifically related to children:
To reduce child mortality
To improve maternal health
Partly because of movements like Make Poverty History, global momentum for achieving the Millennium Development Goals has stayed strong. The world committed to poverty reduction like never before. Working at World Vision, I get to see the real-life results firsthand -- and it's so exciting. The number of people living in extreme poverty is now half what it was then. The number of preventable child deaths per year has also fallen dramatically, from 12.7 million in 1990, to six million today.
But my job also allows me to see that there is still so much to do, especially for some of the world's most vulnerable children. Time has run out for the Millennium Development Goals that were pushing progress forward. And as a Millennial, I now feel responsible for helping carry the next wave of change.
We Millennials have grown up. We've gone from passionate teens to professionals, flexing our leadership muscles in the workplace. We still carry the idealism of our younger years, but, with our new roles as movers and shakers, the stakes for our involvement are much higher. We have even more power than we did before. This is our world now -- and we need to be ready to help take charge.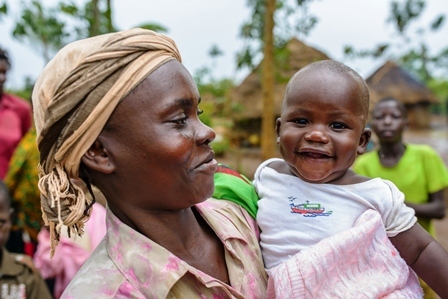 World Vision photo
The next wave begins now
This week in New York City, the United Nations will adopt the new Sustainable Development Goals, a set of goals and targets designed to end extreme poverty over the next 15 years. They're universal, and so are expected to guide the policies and practices of all countries, not just the developing ones. As a Millennial, I'm keeping a watch on what our governments and organizations do, and looking for ways to help.
I get to be a part of making the Sustainable Development Goals a reality, every day in my work at World Vision. For all of their successes, the Millennium Development Goals had a long way to go in serving the world's most vulnerable children. There are so many still at risk of child labour, early marriage and other forms of violence. The goals also neglected people living in fragile or conflict-affected places like Syria and Afghanistan.
Those drafting the new Sustainable Development Goals seem to be taking this into account. The new document, a kind of charter, says clearly that "we will endeavor to reach the furthest behind first." All eyes, including mine, are on the UN to see what happens next.
To my fellow Millennials, I have a special message for you: Now is the time, when we're just starting out, to decide what we want this world to look like. We can make it a world where poverty is history, where children are not for sale, where mothers don't have to watch their newborns die of starvation and where people of all different backgrounds join together in peace.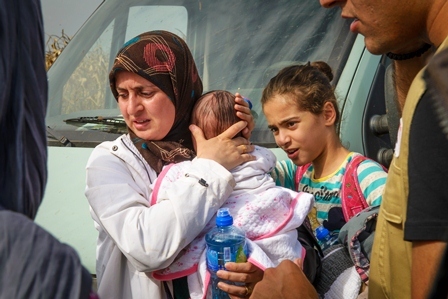 World Vision photo
Five ways to get involved
You can also be a part of "reaching the furthest behind" as you join me in helping the new Sustainable Development Goals become reality:
As Amina J. Mohammed, the United Nations Special Adviser on Post-2015 Development Planning said in an interview, "This is a generation that can do what we need to do to achieve many of the challenges that we see ahead of us... by 2030 we can end poverty, we can transform lives and we can find ways to protect the planet while doing that."
I've already begun. Will you?
Follow Megan Radford on Twitter: www.twitter.com/MegRadford
MORE ON HUFFPOST:
Child Poverty Around The World