World Vision
By Teriano Lesancha
Recently, I heard a news report that Canadians will spend an average of $669 per child on "back-to-school" purchases this fall. I did a Google search of "Back to School" which brought up everything from fashion tips to the perfect lunch box contents. But in my home country, Kenya, thousands of children won't return to school this fall due to circumstances brought about by the ongoing drought.
I grew up in a Maasai village in southern Kenya where support from World Vision made it possible, even during the drought of 2000, for me to receive a high school education. Today, I am a graduate from Ryerson University in Toronto, the first woman from my village to be university educated.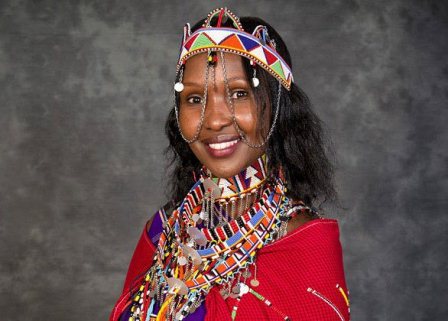 Teriano Lesancha was the first woman from her Maasai village in Kenya to be university educated. She is worried that children from her home community aren't getting a chance to attend school the way she did.
Since my graduation, I have created the SupaMaasai Women's Beadwork Cooperative, which helps the women of my village to become self-sufficient and better provide for their families while giving back to the community. Some of their work will even be featured in World Vision's Gift Catalogue this fall.
Thanks to my education, I have been able to return to my homeland to help others achieve self-reliance and independence. But first, there must be the opportunity for children to attend school without interruption.
I worry constantly about my community back home. There is hunger and great suffering there. The community relies largely on income from livestock, though cattle have become so thin and malnourished that they cannot be sold. And so, there may not be tuition money for many children to attend school this year.
In Canada, education is a right that is taken for granted. For most of the world's children, going to school is something they can only hope for, a luxury, a point of pride. Certainly, I've seen the economic disparity in Canada, but no matter what a family's circumstance, every Canadian child can count on school in September. Every child in Canada can count on literacy and the ability to improve themselves through hard work.
During my last visit home, a young man in my village told me that he no longer believes that "hard work pays off." After striving for the best marks in his class, he is unable to continue his education. His family's diminished income is going towards paying soaring food prices and buying clean drinking water.
The $500 required annually for this boy to continue his education is impossible this year. He has lost hope. But I am here to tell that boy and Canadians that there is indeed hope. The UN has stated that the solution to cyclical drought in the Horn of Africa is long-term sustainable development. Access to education is the critical piece of the sustainability puzzle.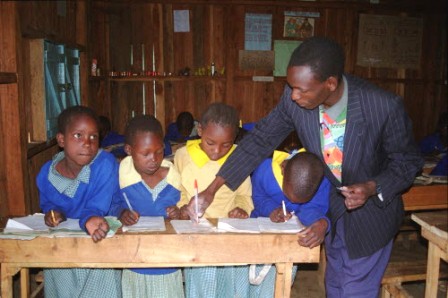 Schoolchildren in Kenya in 1999, around the time Teriano was in high school.
So as Canadian children begin the school year, I ask Canadians to pause and consider the millions of children worldwide who can only dream of books, teachers and classrooms. Think beyond the current crises and the images of the famine. Think about how your support can help a child finish school and, like me, have options to help themselves and their community. Give your ongoing support to one of the many reputable charities that are focused on long term sustainable solutions, through sponsorship or charitable gifts. As a collective force, we must act; we must do everything we can to help.