By Brett Tarver, World Vision Canada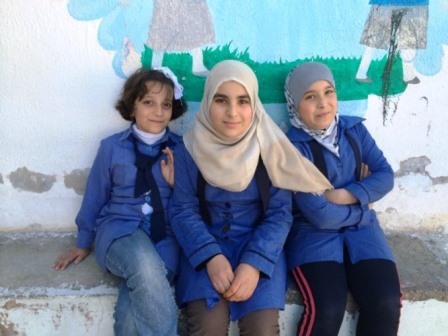 My own daughter has given me that look of glowing confidence like Raghad (centre) when she's feeling a sense of her own power. I got a similar feeling from these Syrian girls who've been going to a student empowerment class funded by Canada. Photo: Brett Tarver/World Vision
"I want to be a chemistry teacher when I grow up," Raghad proudly declares.
It was a hope for the future that many Canadian kids might take for granted. A remarkable thing to hear from a child refugee whose life was completely uprooted when her family fled Syria several years ago. And yet, children like Raghad are filled with optimism thanks to programs funded by the Canadian government.
It's staggering to think that more than half of Syrian refugees are children.
The challenge ahead
This week marks five years since the start of the Syrian conflict. The war has inflicted a devastating toll on millions of desperate Syrian families, resulting in a humanitarian crisis that has rippled throughout the region. More than 4.3 million Syrian refugees are now trying to piece their lives back together in neighbouring countries.
It's staggering to think that more than half of Syrian refugees are children. The majority of them have lost precious time in their educational development; some haven't been to school for several years.
Many of them have been left scared and insecure by the violence and terror they've both seen and experienced, and an agonizing sense of loss after being forced to leave everything they knew behind. As a result, a healthy future for millions of Syrian children continues to be at serious risk.
Life as a refugee in Jordan
More than 600,000 Syrian refugees are now living in Jordan, safe from bombs and gunfire. But their futures are far from secure. Most live in local communities -- and schools now operate in shifts to cope with the surge of students.
With the breakneck pace at which schools are forced to operate, and the poverty of Syrian families who can't pay for their children to attend, the system is struggling. Too many children, Syrian and Jordanian alike, are either under-educated for their ages or not going to school at all.
As the conflict drags on, it's easy to lose hope. Even if the war ends tomorrow, a recent report from World Vision indicates that it could take 10 to 15 years for Syria to recover its shortfall in GDP per capita - a basic indicator of how well a country is able to provide for its citizens. By then, these children will no longer be children. Their challenge of catching up is almost insurmountable.
The long-term view
There's a growing understanding within the international community that the Syrian response requires a long term approach, one that also recognizes the need to help build healthy minds, not just healthy bodies.
It's about giving children safe, supportive environments to process devastating feelings and experiences such as this: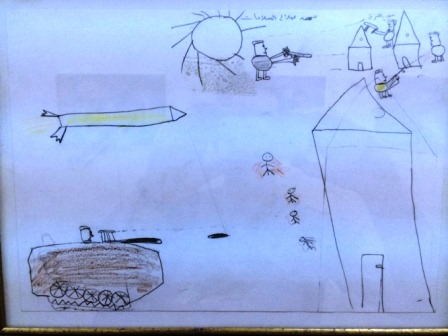 Drawing by a Syrian refugee child in Jordan depicting the conflict from which they fled. Photo/World Vision.
And offering enough hope and opportunity to learn and thrive, that they will be free to once again dream of this: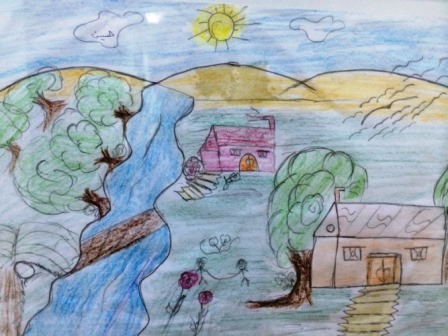 Drawing by a Syrian refugee child in Jordan depicting the life they had before the war. Photo/World Vision
That's where the No Lost Generation project comes in. It's a global initiative, supported by donor countries and non-governmental organizations, to help save the future of displaced Syrian children. The goal is to provide safe education and psycho-social support which includes protecting children from exploitation, abuse and violence.
Canada is playing a big role in No Lost Generation. Here are just a few of the Syrian refugee children I met in Jordan over the past few weeks, children who are growing and changing because of what Canada is doing in their lives.
Safa's story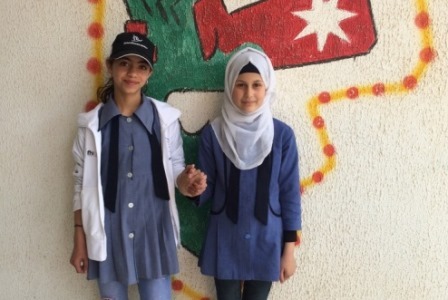 Safa (right), and her new Jordanian best friend Sara, met in a World Vision program which is part of the No Lost Generation project. Photo: Brett Tarver/World Vision.
Twelve-year-old Safa still misses playing with her friends back home in Damascus. When her family slipped out of Syria to come to Jordan, they first lived in the massive Zaatari refugee camp before settling into a local Jordanian community.
Safa remembers being very sad about losing the life they left behind. With nothing promising to replace it, she felt afraid and became very shy and withdrawn. Her father was only able to get a part-time job as a falafel chef, and her family struggled to make ends meet. Perhaps most challenging of all for Safa: school expenses were hard to prioritize when there was rent to pay and food to put on the table.
But cash transfers provided by the No Lost Generation project helped subsidize expenses, meaning Safa could go to school. The social programming encouraged her to make new friends --- both Syrian and Jordanian.
Now Safa loves school, especially playing hide-and-seek with her friends. And just like any Canadian child, Safa once again dreams of the future. She wants to be either a hair stylist or an actress.
Seba's story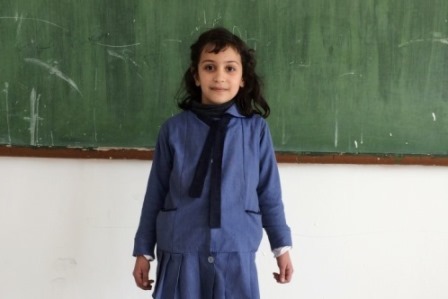 Seba, seven, has been able to catch up on the education missed as her family escaped Syria, thanks to programs supported by Canada. Photo: Brett Tarver/World Vision.
"I remember the garden of our home," remembers Seba. "There were beautiful red flowers and orange trees and the smell of mint. I used to love to play with my sisters there."
Being uprooted was a shock, says Seba's mother Fabiaz. But support from the No Lost Generation programs helped Seba catch up on her schooling, and to meet new friends. Seba loves playing a game called "fish in the middle." And like so many of the children I met, she also dreams of the future. "I want to be a teacher when I grow up," she says.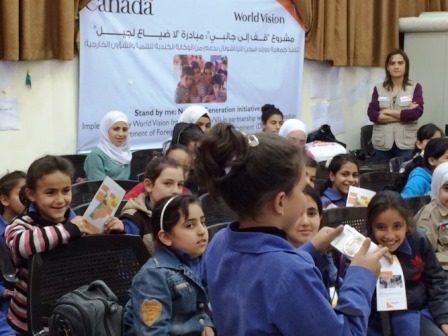 Syrian refugees in Jordan enjoy a child-to-child empowerment class which teaches them about public speaking using digital cameras. Photo: Brett Tarver/World Vision
The joyous sounds of school in action
During my time visiting schools in Jordan, I saw children scurry excitedly through the halls, laughing with excited voices. The kids seemed happy, healthy and well-adjusted.
Parents told me about how their children's school performance has improved dramatically after just a few months with extra support. With help, children directly impacted by this conflict have begun to overcome what they have been through. They have come to love school and the new friends they have made in Jordan.
The No Lost Generation program is effective because it helps complement an over-burdened local education system, extends school benefits of learning and adaption and is often what keeps them in school, enabling them to feel more optimistic about their future and connected to their new communities.
A lot of great work has been done, thanks to Canada and Canadians. But there are many other Syrian refugee children who need our support. That's why World Vision is encouraging Canada's government to continue its comprehensive response to this humanitarian crisis by working with Canadian humanitarian organizations to prevent a lost generation of Syrian children.
For more on the No Lost Generation project click here.
Follow HuffPost Canada Blogs on Facebook
ALSO ON HUFFPOST:
7 Deadly Threats Facing Innocent Syrian Civilians