Radford Family
By Megan Radford, World Vision Canada, with files from Kathryn Reid
When I was a kid, my family had a long-standing joke that we never lived in a house more that two years. I've now lost track of the number of houses and apartments I've called home. The last time I counted it was somewhere around 25, but that was several moves ago.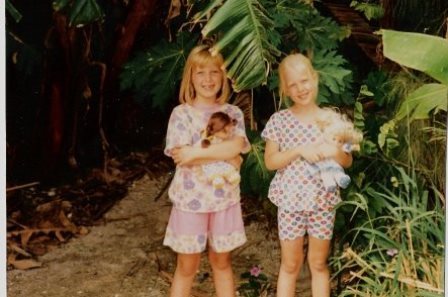 Megan (left) and her sister with their dolls, while living in Senegal. Photo from the Radford family.
You would think that by now I'd be an expert at moving. Saying goodbye should be as easy as packing my suitcase. But it isn't.
The pain of 'goodbye'
When I was 12 years old, I had to leave my home. My family had been living in Senegal, West Africa, for five years. I believed that was where we would stay, and the day my parents sat my sister and I down and told us otherwise is seared into my memory.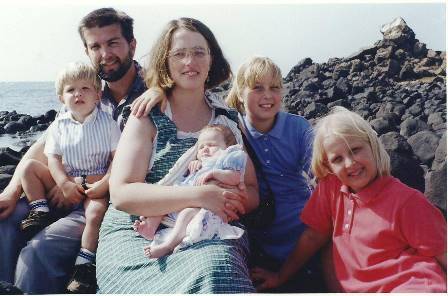 Megan (second from right) with her family at the Western-most point in Africa, in Senegal. Photo from the Radford family.
It was the summer, so there was little time to process or say goodbye. Many of my friends had already left on vacation.
We spent the weeks until our journey back to Canada deciding what to bring in our few suitcases, what to ship home later, and what to leave behind for good. As a child, losing those treasured playthings was heartbreaking. But saying goodbye to my best friend was worse.
Jess and I spent our last day together playing Barbies and plotting how I would hide in her closet when my dad came to pick me up. For a minute I think we almost believed it would work, until I heard my dad's voice downstairs. My stomach felt like a rock as I realized that there would be no hiding from this. I said goodbye to Jess, and to Senegal, forever that day.
Identifying with Syrian children
When I think about all the children who have been uprooted by the conflict in Syria, I get that same rock in my stomach. I know the uncertainty and pain of saying goodbye, not knowing when or if you will ever see your home and friends again.
But I don't know what it feels like to flee with just the clothes on your back and a small bag of essentials. I don't know what it feels like to not know whether your closest friends and family are alive or dead. I don't know what it feels like to not have a safe place to sleep after a grueling journey.
As hard as moving is, it is nothing compared to the trauma and constant upheaval of living as a refugee.
When I left Senegal, there were a few things that were certain:
1. We would have a place to live when we arrived in Canada.
2. I would be going to a new school.
3. My family would be together.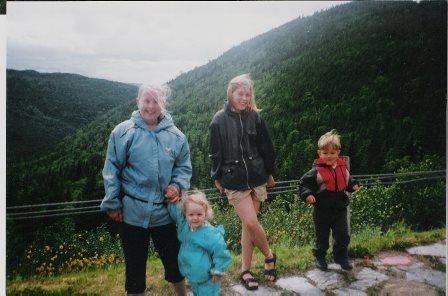 Megan (second from right) with her siblings at the Eastern-most point in Canada, Newfoundland. Photo from the Radford family.
Without those three things to hold on to, I'm not sure how I would have gotten through that painful first year in Canada. Sabrina (nine) and her brother Ahmed (seven) don't have those certainties.
Sabrina and her family
As of September, Sabrina and her family were living in a tent on the border with Hungary. The tent is a temporary solution, but there isn't a long-term one. There is no furnished house waiting for her family when their journey eventually ends.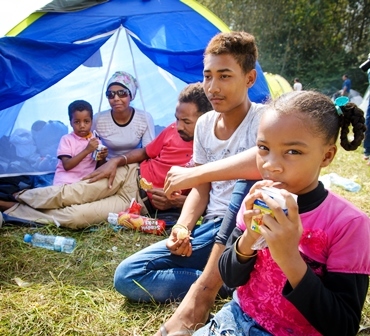 Sabrina (right) and Ahmed (left) and the tent they've been calling home for now. World Vision photo.
Sabrina hasn't been to a new school since her family left Syria over two years ago. Ahmed has never been inside a classroom. Their few toys are named for the countries they've passed through. Serbia is the latest, a yellow plastic bus.
Travelling with Sabrina's family is 16-year-old Ahmed, who lost his father in the war. His family has been torn apart; he has had to make new connections to survive.
The only certainty for these children is change. World Vision has been able to help with emergency assistance, remedial classes, and child-friendly spaces that provide psycho-social support for the difficult circumstances refugees endure.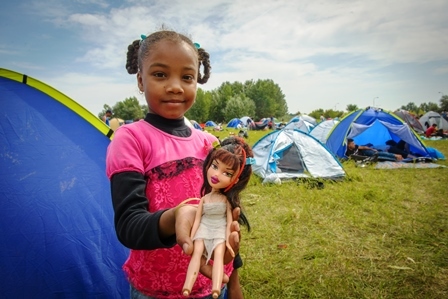 Sabrina's doll, one of the few possessions she's carried with her on the journey, reminds me of my own as a child. World Vision photo
You can help bring stability
But there is so much more to be done. The conflict in Syria has raged for five years, leaving children like Sabrina without a home and without an education. Until there is peace, the future will remain uncertain for Syria's children.
Join the conversation, and ask Canada to step up in the peace process. Write or Tweet to your MP using the hashtag #SyriaCrisis. Enough is enough. It's time to speak up for children like Sabrina.
Follow HuffPost Canada Blogs on Facebook
MORE ON HUFFPOST:
Photo gallery

Great Things Canadians Have Done So Far For Syrian Refugees

See Gallery