By Cynthia Conlon, Ambassador for World Vision Canada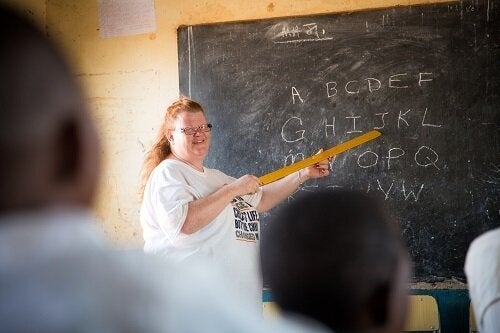 With the holidays fast approaching, many Canadian kids can't wait for vacation to begin. Two glorious weeks of relaxing, and hanging out with friends and family. And absolutely no homework!
Like my own kids, many Canadian students take our educational system for granted. But I don't -- not any more. Not after travelling to Tanzania this fall as a volunteer with World Vision, and spending some time in a classroom there. Here's what I discovered.
As a Canadian, it's hard to believe it's possible for teachers to successfully educate 104 children of different grades in a single classroom. Where children sit on a dirt floor, have an empty stomach, don't have sufficient school supplies for their needs. Children excited to be in school, no matter how far they had to walk under a blazing sun.
I will never forget the young girl overseeing the huge porridge pot over an open fire so her classmates could have a warm meal -- just metres away from the latrines and water sources that seemed certain to bring disease. And this is where children go to school.
I was asked to step in and help out, as the teacher was away that day. As I walked into the classroom, my old nemesis -- shyness -- cropped up where I least expected or wanted him to appear. I was enlisted to teach a class of Swahili speaking children. I was paralyzed by fear at the thought. I tried to teach the children, armed with my Lion King movie Swahili.
As a parent, the words I knew fluently were: "Jambo", the greeting used for children; "Mambo", the greeting used for adults; "Assante-sana", meaning "nice to meet you" and my own version of "Rafiki", meaning friend. This one I used primarily for kids who were shy themselves or uncertain about a "muzungu"-- white person.
After a lively group lesson of 'Heads, shoulders, knees and toes,' it was my turn to teach the alphabet in English. I took a deep breath while thinking "How did I get roped into teaching? Can I possibly do the real teachers justice?" Back home in Canada, I am a bookkeeper"! Numbers are my thing, analyses, papers.
Then the realization hit me like a slap in the face. I had nothing to be afraid of. Just moments earlier, these very same children had storm-trooped our vehicles as we arrived at the school, singing songs of welcome. Most had never seen a "muzungu" yet embraced us wholeheartedly with open arms as we made our way to the classroom.
Astounded with this newfound comprehension, I began the task at hand. I thought about the real teachers who would normally be at school. I had met ladies and men who somehow did this job every day. I knew they did it without enough desks, school supplies, classroom space and learning materials.
Teachers I had spoken to travelled long distances to arrive at overcrowded classrooms, taking up to two hours each way to get to school. They were so dedicated they would walk, ride a bike, or take a crowded bus to get there. The disparity between this and my recent ride in an air conditioned jeep was not wasted on me as I thought about these unsung heroes.
I thought about all of this as we recited the alphabet. Then gave the students a chance to teach, asking them to teach me and my fellow volunteers the alphabet in Swahili. The joy and excitement on their faces as they realized they were able to teach the Canadians something will be forever etched in my memory.
Certainly these children never thought they had anything valuable to teach us. As we learned Swahili from our young teachers, they experienced a very valuable lesson in exchange. Perhaps I wasn't just a bookkeeper after all!
It wasn't the only thing that encouraged me that day. I had been told that more and more girls were attending school in the area, and I could see this in the classroom. This made me smile. The message World Vision is teaching is getting across: education is critical for girls as well as boys. The future can look very bleak without it.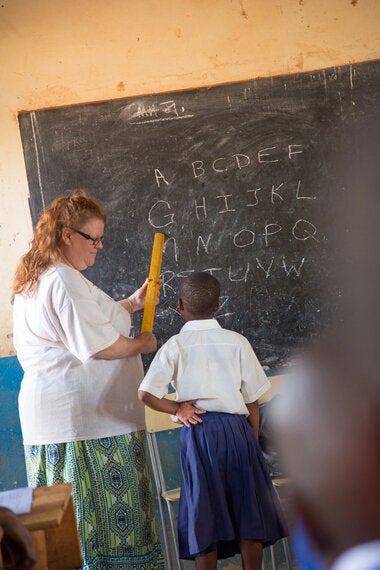 For girls, education can mean escape from an early marriage, in which illiteracy keeps her trapped in poverty. Most girls in Africa don't go to school beyond the sixth grade because the cost to their families is too high. Even though education is free, books, school supplies and uniforms are not. In rural areas, families are used to keeping their children at home, to help cultivate the land, fetch the water and tend the livestock. Education has been seen as a luxury.
Slowly but surely, this mentality is changing, with education recognized as important to the future. I was humbly respectful of parents who seemed to be understanding and embracing this new idea. My female students' futures would be much brighter than the generations prior. They would be able to read, write, do arithmetic -- all things which are needed to prosper. I saw hope in the faces of my charges.
A gift we take for granted
In Canada, our educational system is taken for granted by students. We know that education is guaranteed under our Charter of Rights and Freedoms. I have never been in a position where I've had to choose between feeding my child and buying him a school uniform, although as a single mother raising two children, I could very well have been. I am thankful to be born in a country where I could rest easy, knowing that education is provided until my children graduate high school.
As we wrapped up our learning the Swahili alphabet (with the children giggling happily at our desecration of their language) I came to understand how these beautiful children were all empowered by having the chance for an education. I was able to see that lives are being changed.
I first sponsored a child through World Vision, with the intention of changing a child's life. I ended up changing my own.
Want to help children learn? Give the gift of school supplies through the World Vision Gift Catalogue to honour your child's teacher this holiday season!
Follow HuffPost Canada Blogs on Facebook