By Amanda Cupido, Social Media and Content Editor, World Vision Canada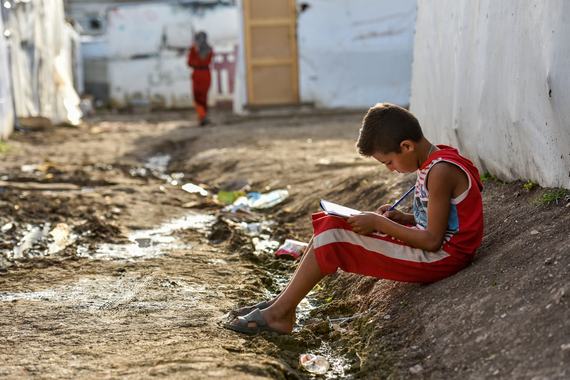 You've seen countless pictures of life in refugee settlements. But what's it like to be there? Photo/World Vision
It was a tsunami of thoughts and emotions, made possible by technology.
Hundreds of Canadians came to World Canada's Vision's Facebook page last Thursday, to experience a live event in a tented refugee settlement in Lebanon's Bekaa Valley.
The online tour we provided was nothing fancy. My colleague Brett simply walked around the settlement with an iPad, guided by a staff member from World Vision Lebanon.
Spontaneously, Syrian children popped into the frame, lured by the excitement of a visitor with a tablet. There was waving, and loads of smiling.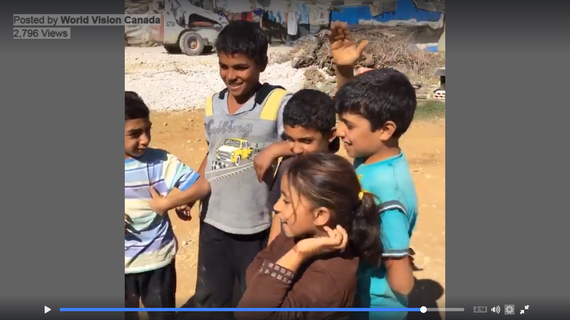 View the video of last week's live Facebook event.
A new way of feeling
At our World Vision office in Mississauga, Ontario, my colleagues dropped everything to crowd around my desk.
I was fielding comments from Canadians across the country, watching the posts popping up on my screen and responding back.
In Lebanon, Brett knelt down on the ground amongst the children to be at their level. They squished in, to get as close to him as possible. At that moment, the abstract concept of 'Syrian refugees' came into focus.
From screens across Canada, the brown eyes of the children looked straight into the viewer's eyes. Dark hair shone in the sunshine, just inches from the camera. On one little girl's wrist, hundreds of Canadians could see the scrape that was just starting to heal.
Many viewers seemed so excited, they didn't stop to compose full sentences.
"Hello!" wrote many, wanting to communicate with the children who seemed to be looking right at them before they disappeared.
"My heart," wrote one Facebook viewer. Just two words, but I knew exactly what she meant. My heart was bursting too.
Making it real
Today is World Refugee Day, a date to remember the plight of refugees everywhere. It's an occasion we've marked five times since the conflict in Syria began.
We wanted to find a way to give Canadians a new perspective on the situation. So World Vision arranged the Facebook live stream last week, to help draw Canadians toward World Refugee Day.
The global refugee crisis is largely out of sight for most Canadians. Humanitarian agencies can try to explain that 60 million people are currently displaced from their homes. That's double Canada's own population, yet a number like that is impossible to imagine.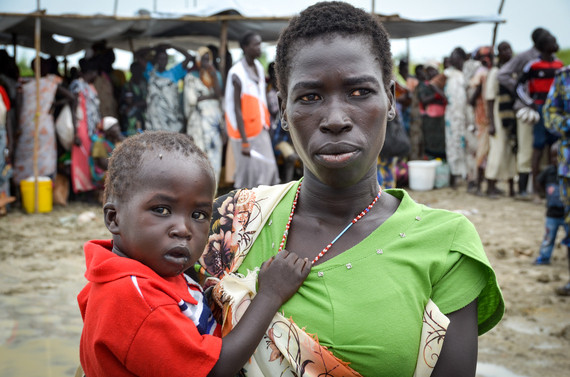 In South Sudan, Veronica and her son, Joseph, are two of the 60 million people displaced from their homes around the world. Photo/World Vision
We have never touched 60 million of anything. So how can the number touch our hearts? Perhaps spending a few minutes with refugee children, in real time, can deepen our understanding.
360 of a refugee camp
Imagine walking a mile in the shoes of a refugee child. It's something else World Vision is offering, through the virtual reality technology already found in thousands of homes across Canada.
With VR technology, a headset looking a bit like over-sized ski goggles transports you into the scene itself. When you turn your head, the device's video screen responds to the motion.
For World Refugee Day, World Vision is using this technology to put users 'on site' at a tented refugee settlement overseas, to tell the story of a 13-year-old Syrian child named Ali.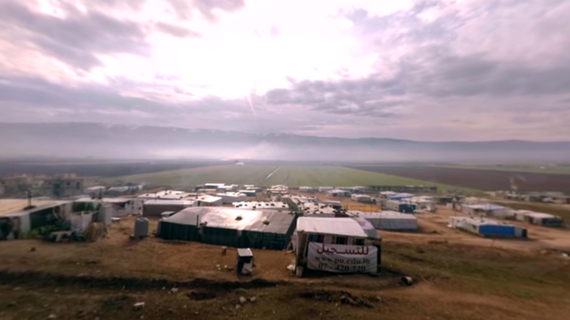 As Ali, this is the view of your tented settlement. Will you walk down the hill?
Ali and his family were forced to flee their homeland by the violence and bombings near their home. Now, Ali lives in a settlement in Lebanon. To help make ends meet, he has to go out and sell things on the street.
Try this at home
World Vision's video can be used with an iPhone slotted into a set of VR goggles. In a moment, you're standing atop a hill on the other side of the world. Below you is the camp. Look up at the sky, or down at your hands. What's behind you? Where will you walk first? You decide.
Don't have VR goggles? No problem. We've uploaded a 360 video to our Facebook page to give people a glimpse at a child friendly space for Syrian refugees in Lebanon.
If you're on a mobile device, it will shift your perspective of the video based on how you hold your phone. If you're on a desktop, use your mouse to click around the video to determine your perspective.
Many ways to connect
If live events and virtual reality aren't for you, you can still connect with refugees the world over this World Refugee Day. Here are some suggestions:
See the VR video without the goggles
Watch a 'Welcome Refugees' video made by Canadian children
Learn about ways to help refugees
Follow HuffPost Canada Blogs on Facebook