By Elly Vandenberg, Senior Director, World Vision Canada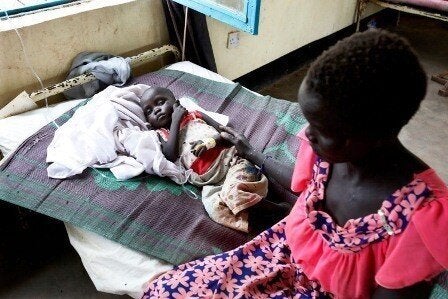 No time for half-measures. A young girl suffering from malaria recuperates in Kuajok Hospital, South Sudan. Photo by Andre Forget.
This week, Prime Minister Trudeau articulated that Canada would refocus international development assistance on the poorest and most vulnerable. It was an encouraging statement from Canada's new government. But who are the most vulnerable and what can be done to help them?
Millions of children in countries such as Syria, South Sudan, Somalia, Pakistan and Afghanistan live and die never having officially existed. Their communities are riddled with conflict, rocked with instability or dispirited by isolation. Their governments are either unwilling or unable to provide even basic health care. In the international development sphere we refer to these areas as 'fragile settings'.
Tough challenges, great potential
A recent visit to South Sudan helped reinforce for me both the profound needs of the most vulnerable, and what can be done about them. The world's toughest regions present the greatest challenges. Yet it's in these places where the most difference can be made. This is where Canada must refocus to reach the most marginalized.
As the United Nations formulated its new global Sustainable Development Goals last year, development organizations pressed successfully for the inclusion of the world's most vulnerable women, newborns and young children -- those living in these fragile settings.
We had previously witnessed the success of child and maternal health programs in freeing people from the clutches of poverty and injustice. Since 1990, programs like those funded by Canada have helped cut the global mortality rate for children under five in half, saving the lives of 100 million girls and boys.
But these effects have been felt mainly in countries where communities are both stable and easily reachable.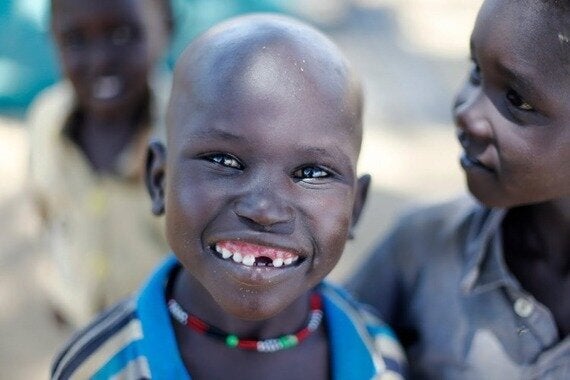 It could be the smile of your next-door-neighbour here in Canada. But this boy is growing up in a camp for internally displaced people. Twic County, South Sudan. Photo by Andre Forget
Time to reach the most vulnerable
It's now time to reach the world's most vulnerable children, those living amidst instability, conflict or disaster. Because health systems are weak, many have never been registered at birth, never received the most simple health checkup, never been immunized. Their parents have never received rudimentary advice about nutrition.
As the prime minister noted "Canadians are defined by our compassion, our generosity, and our ingenuity." When Canadians understand what is needed and what is possible we demonstrate care and creativity.
Simple, inexpensive, proven solutions
The solutions for many vulnerable communities are simple. They include inexpensive and proven interventions against deadly yet curable illnesses like malaria, pneumonia and diarrhea. Mosquito nets to protect children from malaria, and antibiotics for babies whose cold turns dangerous. And for expectant mothers, we need to provide basic prenatal checkups, a trained birth attendant to help with delivery, and breastfeeding support.
Canada has provided admirable child and maternal health leadership in the safer, cheaper, more straightforward spots on our globe -- countries with stable governments and far less gunfire... It is time now for our country to reach further. The very successes of our programs in countries such as Tanzania are proof that lives can be saved quickly and inexpensively.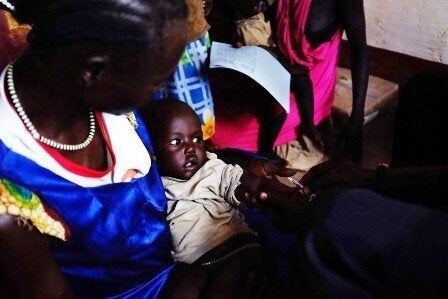 A mother prepares her baby daughter for a health checkup and vaccination at a World Vision health day. Tonj North County, South Sudan. Photo by Andre Forget
There are those who say long-term development can't be done in countries like South Sudan but I witnessed first-hand the lives saved there as a result of existing Canadian investments. Hardworking medical professionals brought critical services to communities in remote places. Midwives, male and female, expressed awe at the role they were able to play in helping women deliver. Community health workers improved maternal outcomes by promoting healthy timing and spacing of pregnancies.
Dedicated former refugee students to Canada who are now full Canadian citizens actively gave back as managers, aid workers and peace builders. And resilient mothers, fathers and community volunteers remain willing to go to great lengths to engage in health-care training and service to the weakest.
I've witnessed hope at work
Although nightly newscasts focus on the spreading of viruses and violence, I've witnessed the transmission of information, ingenuity -- and hope.
The United Nations General Secretary's visit to Canada this week highlights the new global goals for fighting poverty and injustice, providing a collective vision. A Canadian refocus on the most vulnerable gives us a timely and pragmatic lens to concentrate our compassion and generosity on the women and children living in the most fragile parts of our world.
Follow HuffPost Canada Blogs on Facebook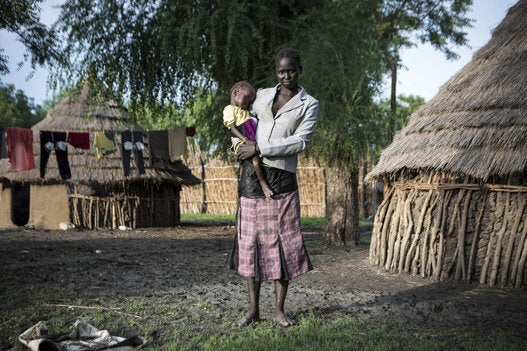 Save The Children South Sudan