By Brett Tarver, World Vision Canada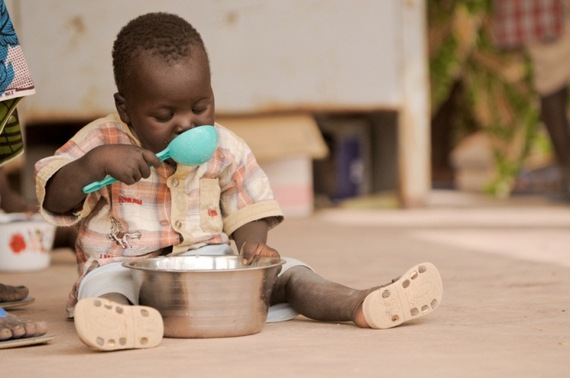 Baby Boua enjoys his nutritious porridge in Mali. Photo by World Vision
I LOVE turkey. Yet, there's so much more to my lifetime love affair with the great gobbler than a belt-loosening Thanksgiving Day eat-a-thon. It's that joy of eating up every scrap of tasty leftovers in the days that follow. From soup to sandwiches to curry, there are so many ways to keep the turkey party going.
But even I concede that after nearly a week, that turkey breast is getting a bit dry. So let's close the fridge door on that cold, congealed gravy and lumpy potatoes. It's time for a little liberation from those leftovers.
Friday is World Food Day, the perfect day to join thousands of people around the world by treating yourself (and others), to the most expensive and lavish feast you can afford. You deserve it!
Eat while feeding others
And here's the best part: you can satisfy that craving -- and be a humanitarian hero at the same time, helping some of the most vulnerable people on the planet.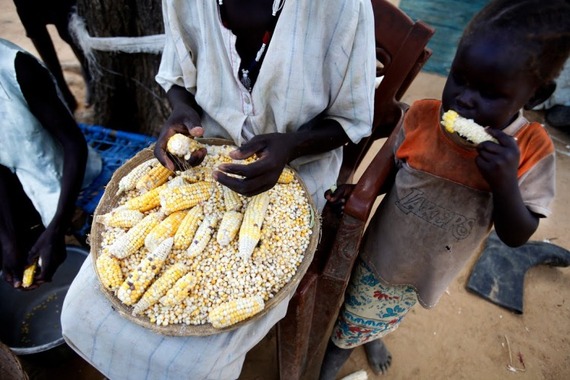 Meal time at a camp for internally displaced people in Twic County, South Sudan. Sept. 16, 2015. Photo by Andre Forget
World Vision's #HungerFree campaign is one of a number of worthy initiatives Canadian charities are championing right now, to support the United Nations' goal of ending global hunger in our lifetimes.
The idea is simple. Get together with your friends and loved ones -- and eat. Go to your favourite restaurant and order both your favourite appetizer AND your favourite entree. Or go on a shopping spree at the grocery store and invite people over to enjoy a heaping bowl of your 'world famous gumbo'. Or host a big party where it's all about the eatin'.
'Double up and donate'
Whatever you spend, whether it's $2 or $200, the #HungerFree campaign encourages you to 'double up and donate' an equivalent amount to a charity that is dedicated to alleviating world hunger.
Here's an example of a #HungerFree tweet meant to inspire people to enjoy delicious food on World Food Day while helping needy families at the same time: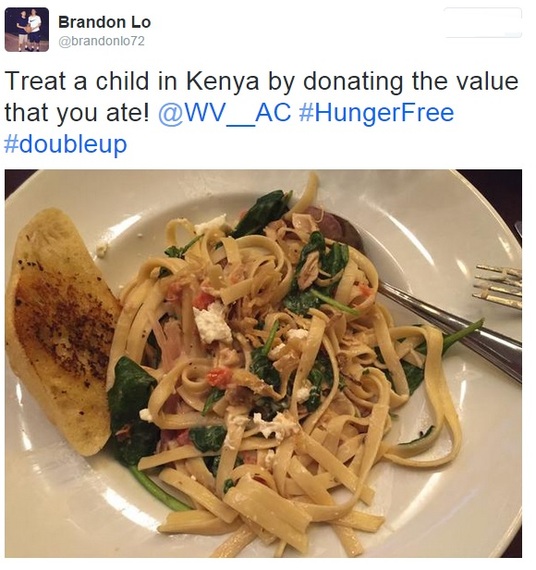 Photo by World Vision
Why pitch in to help?
Here's some food for thought on why to do this. Just over 15 years ago, the United Nations, governments and aid agencies joined together to create an ambitious plan to end global poverty and all the problems it causes. Extreme poverty has been cut in half and as a result, the proportion of undernourished people in developing countries has fallen to just 12 per cent. It's a great start, but now it's time to get that number down to zero.
The #HungerFree campaign focuses on food assistance projects in Kenya and South Sudan where many people suffer from extreme 'food insecurity' because of poverty or conflict or both. Put another way: large pockets of people live on the edge of severe malnutrition and even starvation. Sadly, it's the children, with their new immune systems and low fat reserves, who are in the greatest danger.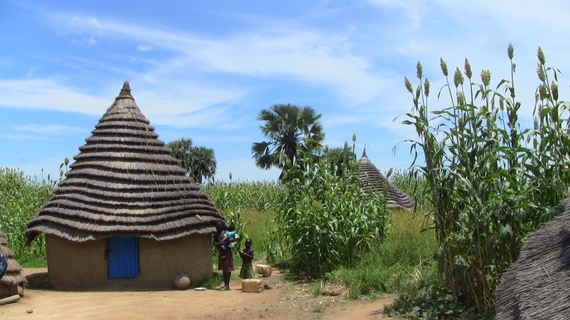 Children outside their farmhouse surrounded by Sorghum, their staple diet. Warrap State, South Sudan. Sept. 18, 2015. Photo by Brett Tarver
I've just returned from South Sudan, a place where people will benefit from this kind of support. Subsistence farmers across South Sudan grow sorghum, one of the most drought and heat-tolerant grains on the planet. It's a staple for some of the most resilient people on earth. But because of conflict and under-development, more than 4 million people in South Sudan are severely food insecure. In some areas, nearly one in three children under age five is malnourished.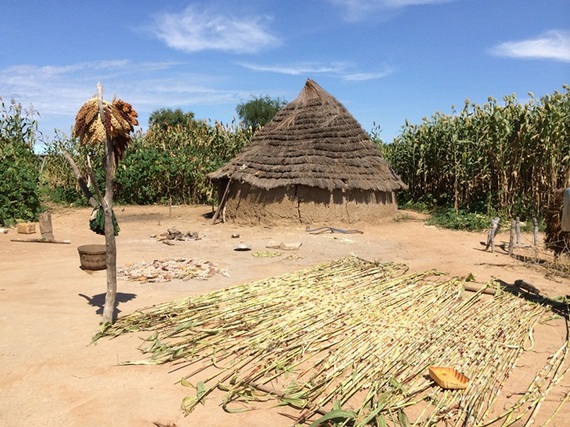 Sorghum plants being dried for consumption. Warrap State, South Sudan. Sept. 18, 2015. Photo by Brett Tarver
But it doesn't have to be that way. Funds from initiatives like #HungerFree help support the immediate needs of emergency relief efforts. They also promote long-term sustainable farming by providing training, resources, mentorships and empowerment to the people. Entire communities are being freed from hunger one at a time, by breaking the damaging cycle of poverty.
So treat yourself to help others on World Food Day -- and tweet your favourite meal pics and recipes using #HungerFree on Twitter. You'll be taking a bite out of global hunger.
To see some typical meals from around the world click here.
ALSO ON HUFFPOST:
10 Charity Apps That Make Giving Part of Living