By Chelsea Maclachlan, World Vision Canada
For Canadian humanitarians working in the field, the security threat has never been more serious. There are more attacks on aid workers than ever before, which is why today, World Humanitarian Day, we highlight the personal sacrifices they make to lift up the world's most vulnerable people.
World Vision's Alana Mascoll recently returned to Canada from South Sudan, the most fragile country on earth. Alana spent a year as the Chief of Party of the FEED program, which seeks to enrich food security, livelihoods and gender equality. We caught up with Alana about her time in the world's newest country.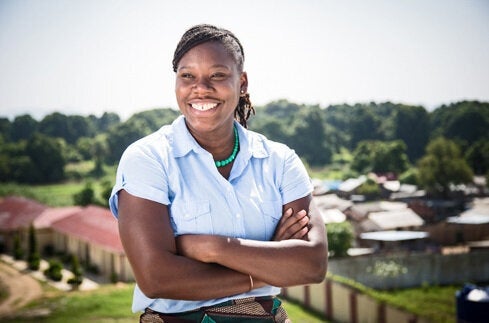 Alana Mascoll talks to a group of female farmers in South Sudan. Photo: Paul Bettings/World Vision
"When I arrived in South Sudan for the first time in 2007, I had no idea what to expect, and to be honest, I hated it. That first trip to South Sudan confirmed all the perceptions I had about Africa as a child -- the sounds of wild animals at night, snakes in the compound, bucket showers -- it was really basic, but I was only there for a short time.
Fast forward to 2014 and suddenly I found myself back in the place I said I would never go again. However, this time was different. As part of World Vision's Humanitarian and Emergency Affairs team I was responsible for a large food security project. I went to South Sudan to launch the FEED project with Oxfam and CARE and after having invested so much time and energy into designing the project, it was important to me to see it got off to a good start.
Sometimes it's really hard to have hope for these countries from afar, especially such a fragile country like South Sudan. You read figures and statistics about over 4.8 million people, more than a third of the country, who are going to be hungry in the coming months and it's hard not to be overwhelmed.
But when I lived in the country, I found it impossible not to have hope. How can you not have hope when you meet women who walk hours to deliver a baby in a clinic or when you meet a little girl who wants to be president? They deserve hope.
In Canada, I take for granted that a woman can be in a position of leadership, but in South Sudan it is completely against the norm.
Doing humanitarian work like this is definitely a marathon and not a sprint, and when your project has high points, you have to hold them dear. One of these moments was on a visit to a group of successful female farmers who had just had their first harvest.
I realized that despite the program having a huge gender component, these women had only worked with men on our team. It was men who told them about their rights and tried to inspire them to become leaders. When I arrived they were surprised to see that a woman was in charge of the project and that men were answering to me.
In Canada, I take for granted that a woman can be in a position of leadership, but in South Sudan it is completely against the norm. Not only were these farmers prospering in the project but in that moment I could actually see new confidence in themselves.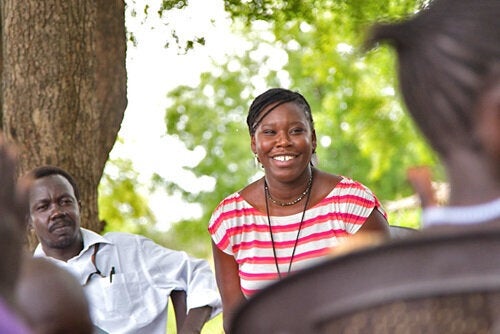 Alana Mascoll recently returned from a year in South Sudan as the Chief of Party for World Vision, Oxfam and CARE's joint FEED program. Photo: Paul Bettings/World Vision
Being able to put a face to the work motivates me. Since being back in the office in Canada I've been writing proposals and doing reports and we have a way of going about that that can make the work we do sound very sterile. People who are fleeing their homes get abbreviated to little acronyms--IDPs, and it all becomes very technical.
I met a group of women at a settlement who had walked for three days to get to safety, and when they arrived, they had nothing. No tent, no food, no nothing. They were cooking leaves for their kids to eat. Yet these women were determined to survive against all odds. That's what an IDP is and quite frankly remembering them motivates me to do the best work I can.
Returning to Canada can be as strange as leaving. Once, when I came back from Haiti, I got up at 4 a.m. and walked to the supermarket. I bought some groceries and walked home--just because I could. I had no curfew, no restrictions on my freedom and I didn't have to worry about being mugged.
I have gone back and forth from South Sudan a few times, but every time I leave the airport and hit the 401, the 10 lanes of traffic still amaze me. (South Sudan's roads suck.) I find myself turning the water off between soaping up in the shower and the speed of the internet still catches me off guard. I guess I am growing more appreciative of the freedoms that Canada has to offer.
We make so many assumptions about people in crisis. When I was in South Sudan, I was saddened when I learned a women's group couldn't appoint a secretary because none of them could read or write. A few weeks later when we were talking about gender the ladies looked at me with pity when they learned that I didn't have a husband or children.
It turns out that they don't think of themselves as less whole because they can't read and I don't think of myself as less whole because I don't have a husband. The women taught me that even in humanitarian work, it is essential to see people for what they have to offer. The truth is the people we serve are probably more resilient than you or I will ever be.
Humanitarians come in many shapes and sizes. There is a romantic notion that humanitarians are foreign people who fly in to the rescue wearing khaki vests with lots of pockets carrying NFIs. Let's not forget that it is local heroes who are usually the first to respond and who go to the most dangerous spots.
I love that today we get to celebrate the thousands of local humanitarians who stay in their country and make a difference."
Follow HuffPost Canada Blogs on Facebook