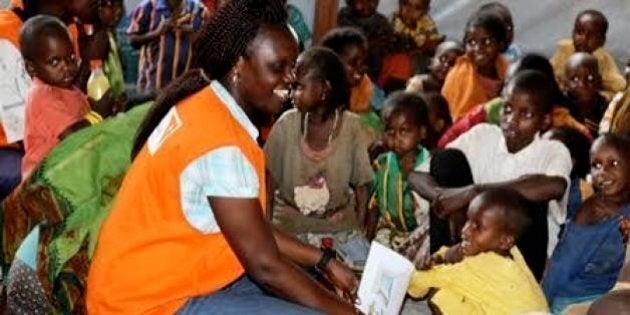 A black canvas bag was yanked down over my head. I suppressed an urge to panic as I was suddenly drowned in suffocating darkness.
Someone nearby shoved me to my knees, bound my hands tightly together, and thrust my arms forward in a shoulder-burning stress position. The discomfort set in immediately.
"Remember to keep your breathing slow and steady," said a voice.
I did as I was told and took stock of what my other senses were telling me. I could hear the steady breathing of my fellow hostages and the slow footsteps of my captors grinding into the sand. An ant tickled its way across my ankle.
"Your only job now is to stay alive," the instructor ordered.
Training for the real thing
This hostage scenario was part of my training as a communicator with international aid and development agency World Vision Canada. Although it's important that I be prepared for any situation that arises in my overseas travels, it's extremely unlikely that I'll ever be taken hostage. Also, I do most of my work from a quiet office in Mississauga, Ont.
But on World Humanitarian Day, August 19th, the United Nations asks us to "recognize those who face danger and adversity in order to help others."
There are many Canadian humanitarians working with aid agencies to help people in desperate need all around the world. It's work that leaves many Canadians shaking their heads with wonder. But humanitarian workers are the first to tell you that they are just ordinary people who happen to work in extraordinary places, driven by the desire to help others.
Although it's a job with more risk than a nine-to-five Canadian office job, headline-grabbing worst-case scenarios are extremely rare. Still, World Vision doesn't take any chances. That's why every staff member is required to complete comprehensive security training before traveling to higher risk places.
And it's why every step of a humanitarian's day follows strict security protocols, rigorous planning and in-depth insight on the latest developments in their work environment. Prevention is the priority. Safety comes first. Always.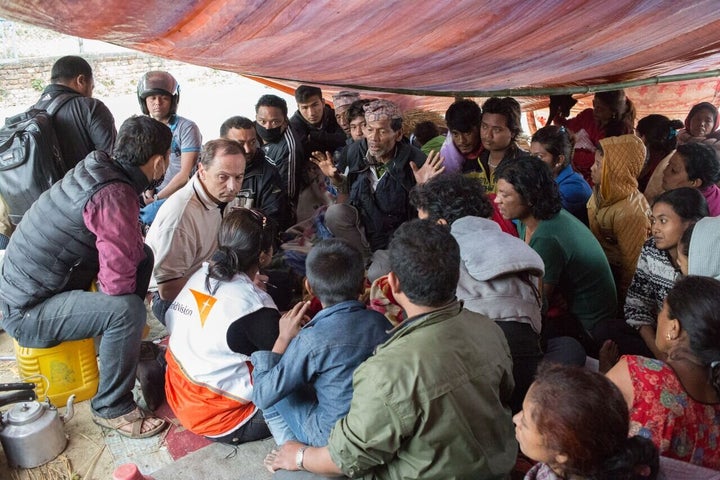 World Vision in action during the Nepal earthquake response. World Vision Canada President Michael Messenger (2nd from the left) is seen working with World Vision staff and members of the local community. World Vision Photo
Getting the job done Canadians are making a world of difference for people in the world's toughest places. They work on the front lines of foreign aid, with support in part from Canada and Canadians. For example, World Vision has reached over 500,000 people in need of support due to the crisis in Syria last month, with assistance in the form of food relief, water, sanitation, health care, and/or counselling.
Canadian humanitarian workers are far from wiping the dust from their hands, not with 1.5 billion vulnerable people still living in places where a proper diet and clean water are far from certain, where lives are shaped by conflict and natural disasters, robbing millions of people of the opportunities Canadians take for granted. Many such situations last for decades, exposing generations to risk, uncertainty, and desperate need. And with many of these families in so-called "fragile" states such as Somalia, South Sudan or Afghanistan, where governments are either unable or unwilling to provide services to their own people, relief workers continue to be called on to reach the unreached.
Be a Canadian humanitarian
Saving lives and protecting dignity. Wouldn't it be great if we could all put that on our resume? Well you too can join the ranks of Canadian humanitarians without travelling to the other side of the world.
Here's what you can do to help:
1) Make a donation to an aid agency program that helps people who are the most vulnerable and hardest to reach. Check out World Vision's Raw Hope program to learn how you can make an immediate impact.
2) Talk about it with friends and family, around the dinner table or on social media. Poll results show that Canadians want our country to be a global leader in helping to improve the lives of people humanitarian crises and fragile contexts. Join the conversation and keep it going: #ShareHumanity
What are you waiting for? Today you can start being a Canadian humanitarian hero and help lift up the lives of millions of children around the world.