DFID - UK Department for International Development/Flickr
By Ruth Roberts, World Vision Canada volunteer
You'd never know it to look at me, but more than 40 years ago I started a global movement.
After seeing the devastating images on TV of children starving in Ethiopia, my heart was broken. My friends and I didn't think we could do anything, and casually proposed the idea at our young people's group of doing something and having it be a weekend event where we went hungry.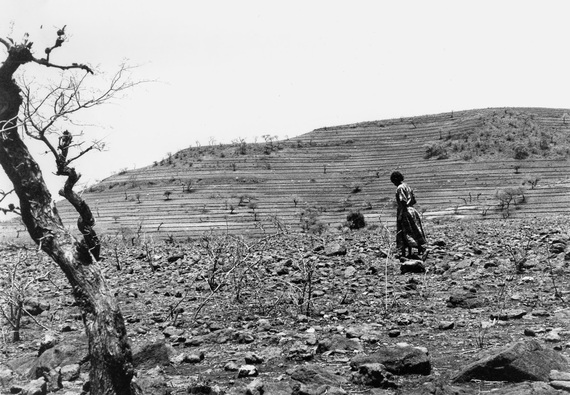 Images of drought and devastation in Ethiopia were seen on the news nearly every night.
We called it a "starve-in". This was the era of protests like "love-ins" and "sit-ins" so for us to take action on an issue that was important to us seemed like a natural thing to do. The date we picked was February 17, in 1971 and we held it in our church basement.
Here's how our first starve-in worked. We got our friends and family to sponsor us for every hour that we went without food and we used recipe cards to keep track of our sponsors. I raised about $50, and as a group we raised about $600 (which was a lot of money in 1971!) for World Vision's hunger projects. I still have a scrapbook of photos from our first year and the invitation we made.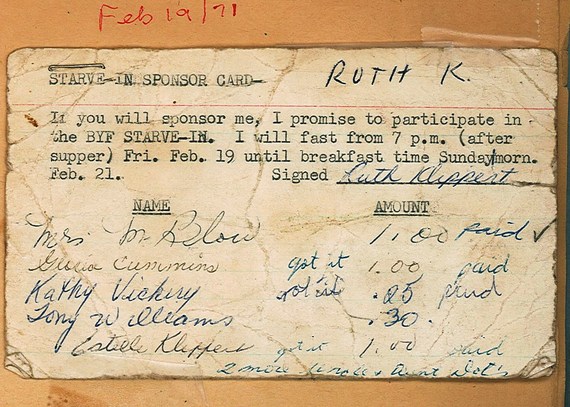 Ruth's pledge card from February, 1971.
This movement became known over the years as 30 Hour Famine. This fundraiser is now practiced annually in 21 countries around the world, and has raised close to a billion dollars for hungry children and families all around the world, who are helped through World Vision hunger projects.
Nowadays, thousands of young people all over the world do the same thing I did so long ago, raising over $20 million last year alone. Stadiums get filled with thousands of students all going hungry together -- something I could never have imagined all those years ago! And it all started because my friends and I were bored, and wanted to do something that would help turn life around for someone else. I mention this not as a pat on the back to myself, but rather in a sort of amazement about the capabilities of one student.
And we see this kind of thing in action across Canada all the time! One student, or a group of friends that pool their ideas and efforts and accomplish great things, whether in the field of technology and innovation or arts or athletics, and also very often these achievements benefit others.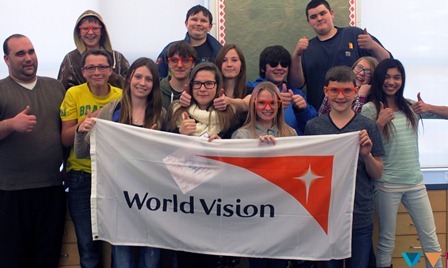 Students of Berry Creek Community School in Alberta are proof that today's kids care just as much as we did back in 1971.
There is something in the hearts of many youth that motivates them towards helpfulness and compassion, and this often combines with a natural creativity to problem-solve in some fantastic ways. World Vision recognizes this about students, and has leadership and mentoring programs in place to help develop young leaders. I love that a young person with just a kernel of an idea can get help and encouragement in making it a reality.
World Vision's Lon Wong, who works with students from across the country, notes that young leaders often need some structure as a jumping off point, to give them some parameters. From there they often surprise and amaze him about where they go, and what they accomplish.
In my case, my youth leaders were a couple named John and Grace Jarvis, and they helped and encouraged us along the way to putting together our fundraiser. I am grateful that they listened to us and took our idea seriously.
As adults, we can help the young people in our lives to do big things. We often have the information and resources they need. We know about processes -- where to find information and how to get from A to B -- and can help with ideas to overcome obstacles. We can help them with the "How" of what they want to do. We can let them run, and give them the freedom to see what's possible.
But first, kids first need information and education before they can understand how they can make a difference. They need exposure to problems before they can find solutions.
In my case, it was the television commercials about the desperate situation in Ethiopia. For you, it might be dinner-table discussions about the week's events. From there, you can raise all kinds of questions to kick-start their thinking. What about this situation needs to change? What's unjust, or unfair?
Your willingness to talk and listen can be the catalyst that gets them thinking. So please try to carve out time in your day -- whether over a meal or in the car -- to talk about these things, to have discussions with them, to listen to their opinions and to contribute the information that they need.
And teach them about students like 17 year old Malala Yousafzai, Pakistani education advocate and Nobel Peace Prize winner, to show them that kids can make a huge difference in the world. I think kids often have a feeling of helplessness and lack of power -- show them that this is not the case.
I can't wait to see what's in store for our young people. Our youth have the ingenuity and enthusiasm to solve the world's problems, and I think the adults in their lives can play a significant role in helping them realize that potential.
Learn more about how youth can get involved with World Vision Canada, including the 30 Hour Famine
ALSO ON HUFFPOST: