Written by Rebecca Dolson, Freshwater Policy Specialist
British Columbians are facing increased water restrictions as abnormally hot and dry weather continues across the province. But people aren't the only ones impacted by these uncomfortable conditions: salmon in the Columbia and Fraser rivers are also bearing the brunt of the blistering climate.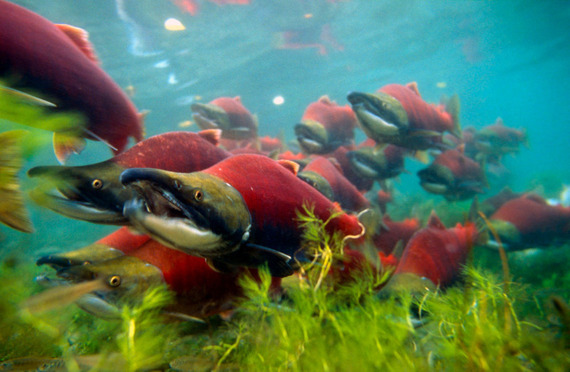 Sockeye salmon (Oncorhynchus nerka), adults migrating up the Adams River to spawn. © Michel Roggo / WWF
The Okanagan Nation Alliance recently suspended the sockeye fishery for its member nations, which represents eight First Nation communities. In addition, Fisheries and Oceans Canada (DFO) closed all salmon fishing in the Thompson and Shuswap until further notice, citing extremely low water levels and some temperatures reaching lethal limits for salmon. News of dying and diseased sockeye is prevalent throughout the U.S. portion of the Columbia River too. It is believed many of the returning sockeye will not survive their spawning migration, dying before they can lay their eggs.
Things aren't looking good for Fraser River sockeye either. In early July, reports pointed out that temperatures in the Fraser River were reaching 19oC -- well above normal for that time of year. River flow, a term for the quantity of water in a river, was also much lower than usual. Warmer rivers with limited flow can cause salmon to experience physiological stress which can lead to disease outbreaks and pre-spawning death. If the current conditions continue beyond this summer, as climate science suggests it will, salmon along B.C.'s coast could be facing many years of hard times that could spell disaster for their survival. This could have a major impact on the salmon fishery of B.C. because the Fraser River watershed accounts for nearly 30-40 per cent of all Pacific salmon produced in Canada.
WWF-Canada is working to assess the health of, and threats to Canada's freshwater -- including climate change -- and has just released results for 50 per cent of Canada's watersheds. This includes the Fraser River watershed and the Skeena River, which is part of the Pacific Coastal watershed. Both of these watersheds received a moderate threat score for observed climate change, which indicates their water resources and aquatic ecosystems have already been impacted. To assess the current threat of climate change we examined the occurrence of spring precipitation anomalies, summer maximum temperature anomalies, summer precipitation anomaly and winter mean temperature anomalies. These indicators are intended to identify where climate patterns in recent years have varied significantly from the historical norm. This analysis shows that summer precipitation and winter temperatures are changing in Fraser and Skeena.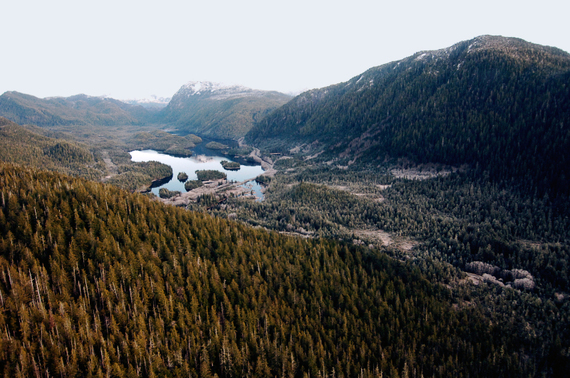 Skeena River watershed, British Columbia, Canada. © Mike Ambach / WWF-Canada
Salmon are an important contributor to the cultural, environmental, and economic wealth of B.C. Wild salmon fisheries are estimated to have provided over $700 million in direct and indirect value to the province's economy in 2007 alone, which builds a rock-solid case for continuing action on sustainable water management and climate change.
One important method to help protect salmon is to make sure enough water is left in the river to maintain a healthy aquatic ecosystem -- that is, maintain environmental flows. The Province of B.C. committed, in their Living Water Smart strategy, to maintaining the environmental flow of rivers and streams in all future water use decisions. The Province's new Water Sustainability Act received royal assent in May of 2014 and will become law in 2016. This new legislation allows the Province to make important sustainable water management decisions, including the protection of environmental flow and critical flow needs for salmon and aquatic ecosystem health. The power of this legislation and its ability to protect salmon will rest on the strength of the policies and regulations developed to support it. WWF-Canada is playing a role in ensuring this happens by working with many other environmental organizations and the government of B.C. to ensure that the Living Water Smart strategy is incorporated into the new policies and regulations.
ALSO ON HUFFPOST:
Lytton, B.C. Wildfire, June 2015