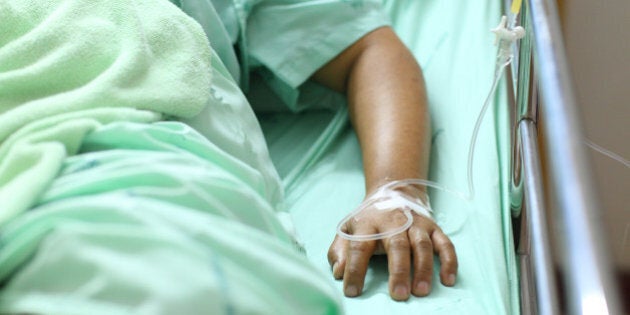 As the federal election approaches, I've been stunned by how little party leaders have discussed one critical issue -- healthcare. While the common assumption is that our healthcare is free in Canada, this is a huge misconception and here's why.
We have families forced to sell or remortgage their homes to pay for care for their aging parents. A sudden diagnosis of cancer can be devastating to a young family that depends on both parents earning a wage to pay the rent and put food on the table. And the support from the government that we assume will be there as our safety net in fact displays a worrying number of holes.
Granted, Federal NDP party leader Tom Mulcair shared his plan for improving healthcare during his visit to Surrey, BC in early October. Mulcair pledged to develop an Alzheimer's and dementia strategy and invest $30 million into palliative care. Additionally, Green Party leader Elizabeth May proposed the introduction of a national Pharmacare plan, offering 2 million Canadians access to prescription medications that they otherwise couldn't afford. While it's encouraging that our party leaders are briefly touching on healthcare, proposing to expand access to medication and planning ahead for our aging population, the truth is this -- we can't rely on our government to solve our healthcare crisis, no matter which party we vote for.
Here's what you need to know.
There are gaps in your company's benefits plan
I know what you're thinking. "I have a solid benefits plan at work. That covers everything." But does it? Make sure you're looking at the fine-print; many medications are not covered and there are limits placed on treatments, too. And sadly, many people are forced to quit their jobs to care for a sick spouse - meaning you would lose not only your salary, but your benefits package too. This creates an incredible amount of stress on the patient and caregiver (formerly known as husband and wife) in a time when staying positive is so important. My advice? Make sure you're looking at exactly what is included in your work's plan to ensure you're covered for every eventuality.
Not all cancer treatments are covered
While cancer may sound like an unlikely event, a survey by the Canadian Cancer Society found that 2 out of 5 Canadians are expected to develop cancer during their lifetime, with 1 out of 4 Canadians eventually succumbing to their disease. The assumption that all cancer treatments are covered by your provincial healthcare plan isn't accurate, either. There's a surprising level of inconsistency for cancer treatment funding in Canada. Depending on the diagnosis, recommended treatment and the drug funding guidelines of your home province, you may have to pay out of pocket. Simply put, what's free in BC may not be free in Ontario. In addition to this, some treatments are only available in the U.S. and making a trip across the border for medical treatment is incredibly costly. Do your research and plan for the future should this happen to you. Start looking into healthcare funding solutions -- most are surprisingly affordable for the average Canadian.
The public healthcare system isn't the solution for your aging parents
With BC's seniors population set to double by the year 2030, this is an impending issue for many of us. We assume the government will take care of this, and help is there but it's really limited. If we look at BC, the largest share of seniors' residential care in our province comes from private contractors - this type of care costs more than most of us earn in a year. This leads many of us to sell our homes to cover the costs. I can't even imagine how difficult it must be to make the choice to sell the roof over your head to fund putting your Mom or Dad into a care home. But that's the decision we could face as our parents age. Other options include sending our parents to a public care facility with a long wait list, or quitting our jobs to take care of them at home. It's also not uncommon for people to spend tens of thousands on their parents' care before making that difficult decision of placing them in a care home. In fact, a 2014 BMO survey found that nearly 1 in 6 of us are already providing some form of care to our parents or loved ones. So whether it's home care support or buying equipment like wheelchairs or walkers; or if it's a more longer-term option like assisted living or even a 24/7 residential care home, we are left to navigate the confusing and costly seniors' care system as our parents age.
One caveat. This isn't designed to scare you or fill you with dread. My hope is to educate you so that if the time comes, you are prepared and have all the information you need to make the right decision.
Be assured there are steps we can take today to ensure we are laying the foundation for our family's future in the face of ill health.