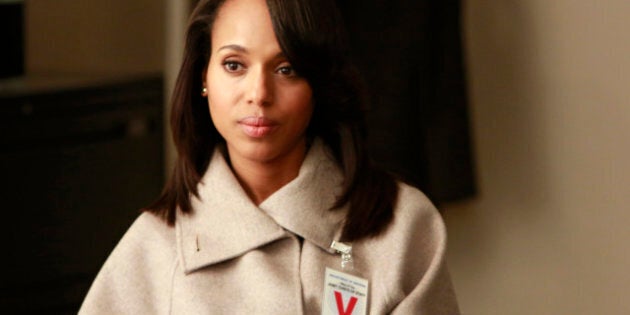 I've noticed a few discernible differences in season two of Shonda Rhimes' television show Scandal. For those who have not been watching the drama, Scandal features, as its main protagonist, a woman named Olivia Pope who works as a 'fixer' in Washington, D.C. When the big names are in trouble (be they elected officials or CEOs of companies) they run to Olivia to sort out their problems and to handle the media and publicity machine. In addition to being a 'fixer', Olivia is also involved in a sordid romantic relationship with the president of the United States, who she helped -- through fairly nefarious means -- to win the presidential election.
While the wheeling and dealing and fast-talking and fast-walking that are the staples of the show are fascinating in and of themselves, what's most striking about the show is how race is simultaneously discussed and not discussed at all.
Olivia Pope -- based on a real life figure, Judy Smith, a former press aide in the George Bush administration -- has managed to reach, interact with, and influence individuals at the highest echelons of power. She manages to do this not only as a woman, and sartorially elegant in designer wear, but also as a person of colour. To be a woman of colour and to have achieved the success necessary to play with and push the big wigs, she must be good -- extremely, terrifically exceptional, that is. While season one made no direct mentions of Olivia's race (although it should be said, given the visual medium that is television, her race is obvious for all to see), season two has dipped its toes in the bucket of American colour politics on a few occasions.
In "Happy Birthday, Mister President" a flashback episode, we witness the complexities of being 'the other woman', particularly complex when Olivia Pope, 'the other woman', or mistress, is black and her partner in matrimonial crime is the Republican president of the United States, Fitzgerald Grant, who happens to be white. Olivia, in a fit of frustration with their act of creeping around, declares to Fitz that she's "feeling a little Sally Hemmings-Thomas Jefferson" about their situation. It's a seemingly one-off line, but there is so much richness, history, and truth behind her comments. As the mistress -- even one who is described as the love of Fitz's life -- she cannot occupy the main stage of her lover's life. Her name will never be found indelibly etched beside his in the history books when the president's life is accounted for -- his wife will hold that spot.
Unlike Sally, Olivia is not legislatively or socially enslaved -- she lives in a different historical context. But, while she may have significant economic and political power, at the end of the day she's not so different from Sally. She's just one in a long series of black women in the tangled history of the United States, involved with a white man who holds most of the power and who can never really be hers.
The fact that Fitz is a white Republican makes the Olivia-Fitz relationship especially captivating and serves as a ripe foundation from which to build storylines for the show. Fitz, in the aftermath of surviving an assassination attempt, seems to 'see the light' and feels invincible and declares that he wants to divorce his (white) pregnant wife, in order to pursue his relationship with Olivia. In response, his chief of staff, Cyrus Beene, states, "'Liv is a lovely, smart woman... but she's not exactly a hue that most of your Republican constituents would be happy about." Hmmm. Le plus ça change, plus c'est la même chose...
The latest episode, "Top of the Hour," deals deftly with the topic of race without so much as a word. It touches on the judgements and assumptions many of us make about who we see as naturally filling powerful roles. Olivia comes to the rescue of a female CEO, arriving at this woman's home with a few members of her entourage: Abby (a pretty redhead) and Harrison (the black male lawyer in Olivia's company). The CEO has never heard of or seen Olivia Pope before. She immediately walks up to Abby and says, "You must be Olivia Pope." Before she can shake Abby's hand, however, the real Olivia interjects, shakes her hand and says, "I'm Olivia Pope," while Abby and Harrison give each other knowing looks in the background.
No one dwells on the moment, because it's time to get to the work at hand. But it is truly priceless.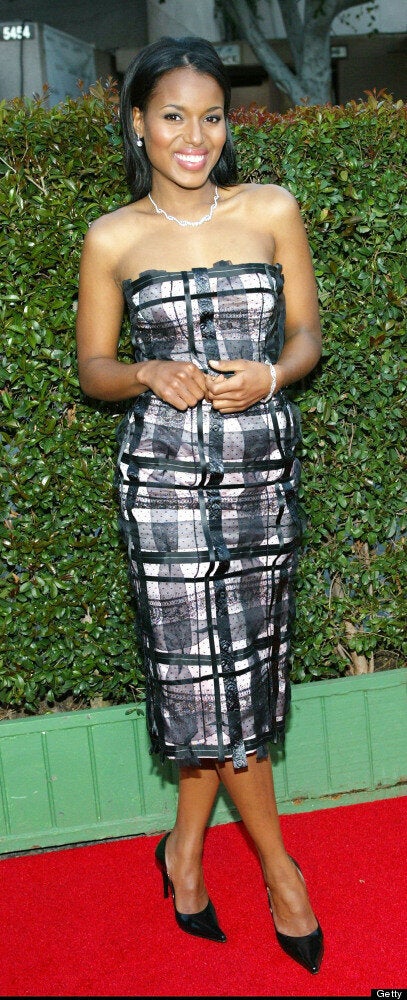 Kerry Washington's Style Evolution