Facebook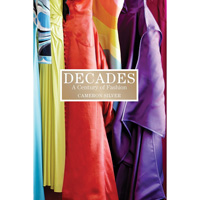 If you haven't already picked up your copy of Cameron Silver's new glossy paged coffee table book, Decades: A Century of Fashion, then head over to Amazon or your local bookstore immediately. His personal history of fashion and style over the past century is filled with amazing photos, style icons and cheeky anecdotes from Mr. Silver himself.
Cameron travelled to Toronto this past weekend to promote the release of this book and the documentary Versailles 73: American Runway Revolution (a must see as well!) and since he is a very close friend of mine and my mother, we got to spend some quality time with him. Below is my interview with Cameron about Decades, style and his opinions of modern day fashion.
Yael Kanter - What inspired you to make Decades: A Century of Fashion?
Cameron Silver - A friend who is a great writer, Jean Stein, who wrote the Edie Sedgwick biography, suggested it and she is smart, she connected me with her agent and it happened very quickly but I really had no intention before hand to pursue this.
YK - How long did it take?
CS - It was a five-year project. I still remember driving with Jean to the Ronald Reagan library to see the Nancy Reagan retrospective and she called her agent and within two weeks there was a book deal.
YK - What is your favorite decade of fashion and why?
CS - I think I am drawn to the '70s because it is very sexy; also it was a great moment for American fashion. Interesting what happens in the '70s because it is sexual liberation and then towards the end that punk British moment happens but I am very drawn to it as a child of the '70s, born in '69 so it kind of was a decade I wasn't hands on but there is a connection to it because I am a product of the '70s.
YK - Because growing up it being the first fashion you were exposed to...
CS - Yeah, as a child I can remember how people dressed. I remember being eight or nine and going to disco parties.
YK - Would you say that because you connect so strongly with the 1970s that your favorite fashion designers were big during that time?
CS - Yes, certainly one of my favorite fashion designer is Halston and of course Yves Saint Laurent, but I am very democratic. I like everything, which is a problem for me because since I love everything it was difficult to choose images and what we could include because everything couldn't go into this book
YK - But it is interesting the way that the book reads where it covers designers of each decade and style but also icons and how they shifted how women dressed and how women thought about dressing. It was one thing to love the designers of the era but to see such fabulous women wearing the clothing and setting the tone of the decade.
CS - I didn't want to use obvious people, I used Monica Vitti with Peggy Moffitt in the '60s, because Monica meant something to me when I was going to college and studying Italian cinema, her look it just resonated with me. It is a personal book, not a memoir but my fashion memoir of the decades.
YK - So Decades is your personal homage to your favorite fashion moments over the course of the 20th century into the 21st?
CS - Yes, not a definitive history, it's my fashion history.
YK - Would you say there is any fashion lesson to be learned for young people who are going to pick up your book?
CS - Well what we did try to do with this book was have imagery that was relevant, be it from the 1900s to today, and I think that when you go back and look at some of the images from the '20s and '30s and there is side boob. Just follow what these images do, you cant go wrong. Everything is relevant and modern today and I think that is a nice thing for a young person to just realize that everything has already happened.
YK - Do you think contemporary fashion has as much staying power as the strong designers and fashion of past decades?
CS - I do think in the last few years there has become a new fashion vocabulary that doesn't look so vintage. Rick Owens, to Garth Pugh, or Christopher Kane, Mary Katrantzou, it is looking modern. Rick looks apocalyptic actually, but it doesn't look vintage. That is the fashion that I am attracted to, certainly all of these designers have inspiration boards with things from the past but it is no longer acceptable to do a collection that looks retro which is what happened in the first decade of the 21st century.
YK - Except for Marc Jacobs, all he does is retro. Almost every collection is pulled right out of a history book.
CS - Yes, Marc Jacobs is the exception who gets to do it for some reason he is always able to do it.
YK - So would you say that those designer you just mentioned, Owens, Kane, Pugh, they are contemporary designers you see being in 20 or so years, the next chapter of Decades?
CS - For sure, and I certainly have seen in the last 10 years those designers who are becoming the future collectables, Margiela, Lanvin.
YK - I'd say Lanvin draping is very Poiret from the '20s.
CS - Yeah but the raw edge Alber does, that has become distinctive of the house.
YK - True. Since you know so much about women's style and the history of fashion, what is a common fashion mistake that every woman can make?
CS - I think people don't really understand what sexy is. I think quite often, that you can be sophisticated and sexy at the same time but sexy isn't necessarily T'n'A.
YK - So do you think the ideas of 'sophistication' and 'elegance' is missing from modern fashion and culture? At least modern fashion on a mass scale, there is no modestly any more...
CS - Well everyone wants to look like a whore and it is such a weird thing. Whores don't become icons. And not like whores in a good way, like Klute Jane Fonda. That is the thing, looking cheap and slutty and also people are looking so cookie cutter and so scared to look unique and separate from the pack and that is one of the beauties of vintage, that is what we love about it, is that it doesn't make you ubiquitous?
YK - Yes of course, my biggest pet peeve with fashion right now is this very young fashion trend (guess it is a sign that I am getting old!) of the 'denim diaper' and the pop top and those horrible clunky boots, it is the trashy hipster teen look but it has become so mainstream. It is like when punk became mainstream and it suddenly became fashionable but instead of a million punk posers walking around all these young girls just look slutty. Slutty has become fashionable nowadays.
CS - The problem is that it is very limiting. I think people should have a varied crazy wardrobe, which is what I am into. Play dress up! Sometimes you want to look slutty, you wear an Alaia.
YK - Alaia is more sophisticated than slutty.
CS - Yes, you're right!
YK - A lot of the Alaias that we have (at VintageCouture.com) are covered up, high necks and long sleeves but a skintight body con with a short hemline; all covered but still sexy. There is an element of sexiness that isn't screaming "street walker" but more "I am sophisticated and sexy."
You have made Decades into a brand. Who and what makes a Decades woman?
CS - A Decades woman is a fashion dictator not a follower. A Decades woman is really confident. She isn't cookie cutter and understands that it is not about kitchen sink dressing. Yes to the conversation piece, but not all at once. And hopefully she wears vintage...not that it is mainstream to wear vintage but if you are a fashionable person you probably wear some vintage that is just how it works,
YK - Agreed.
Cameron Silver is the owner of Decades and Decades2 in LA. Decades is a high end vintage clothing showroom and Cameron is considered one of the most famous vintage dealers in North America.
Yael Kanter is the fashion consultant to VintageCouture.com, an online website for amazing vintage clothing and accessories which was started in 1998 by her mother, Lynda Latner. Images from Amazon.ca.
This post originally appeared on Rantings of a Shopaholic.