Animal prints have always had a place in interior design: from the earliest days of dressing up caves and farms, to modern times, people have used faux hides and furs to let a natural element warm up their space. Lately however, animal motifs have surpassed these untameable prints in popularity: birds were the first huge trend, and now fauna of all kinds can be found adorning decorative papers, fabrics and objects galore.
Here are a few ways I've found to embrace the wild side in any décor:
1) During the recent design of the Entertainment City interview suite for the Toronto International Film Festival, I discovered a pair of spectacular sconces from cool new boutique Bentley Flanders - the arm of each shade features a charming monkey statuette for a classic touch of whimsy.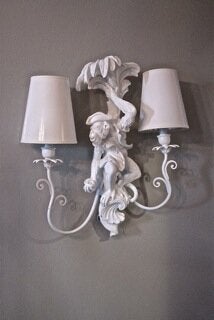 2) Working with a long-time client, I'm incorporating multiple animal species into her environment: in her dining room I contrasted a cool mid century table and chairs with bright and colourful Hummingbirds wallpaper (through Lee Jofa), for a balance between organic and man-made. Then, for another space, I'm considering an infusion of Thibaut's Tropical Fantasy (featuring images of urns adorned with zebras and monkeys) for a both classic and modern look.
3) For my Oct. 7th Cityline feature on foyer styling (here's the episode), I showed a fun butterfly print paper -- Flutterby from Graham & Brown. It makes for instant artwork that gives even the simplest space plenty of personality. For a lighter touch, try something like this printed Christian Lacroix pillow, and pull colours from the wings to inspire other solid fabrics.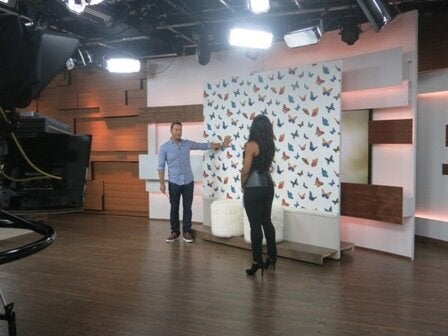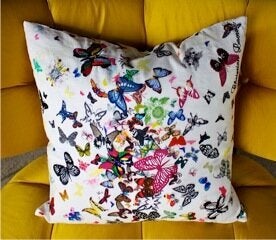 4) A dramatic animal statuette is like having a furry friend, without any of the responsibilities -- or the fur. Sit one at the end of your island, on top of a buffet, or in its own niche overseeing your table. If you really want to be King of the Jungle, Maximo Riera creates lavish throne-like sculpted chairs mimicking life sized rhinos, elephants and even octopuses.
5) Designer Jonathan Adler's lighting line carries a number of animalistic light fixtures, such as the Giraffe lamp (also available as a sconce) which sees the head of the famously long necked animal peeking out above the simple shade.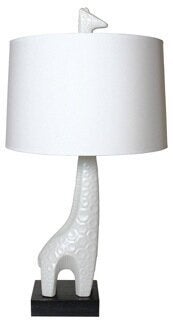 6) Branch Handmade's screen-printed tea towels and pillow cases feature zebras or giraffes in subdued colours, adding a quick playful touch without animal-print overload.
7) Art gallery-style collections are trendy: gathering a collection of disparate items to make a large collage makes a bold statement while celebrating pieces you love. Adding in decorative faux antlers or animal busts (available in fun materials such as a gold leaf or even funky cardboard) gives depth, either grouped together or mixed between framed memories.
8) Lastly a peek into the design future: behind the scenes, I've been working with Canadian accessories mogul Torre & Tagus on creating my own accessories line, Yanic Simard Living. While drawing inspiration from all over the design world, I stumbled across a great metal edge tray featuring a painted image of a black dog -- the graphic image is simple but memorable, and adds personality while remaining sophisticated. This is exactly what I look to infuse in my accessory collection, and just how to go about adding an animalistic pop: skip the untamed clutter, and choose a few bold touches you love to take your décor to wild new heights!