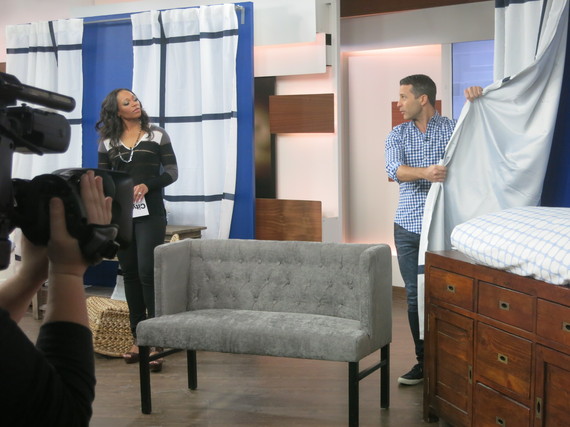 "What's The Difference?" on Cityline with help from

Urban Barn (Settee/Credenza) and IKEA (Curtains/Duvet/Chairs)
Think you know your interior design terms? Recently on Cityline I decided to play a little game of What's The Difference?, showing the subtle distinctions between words we use every day -- and even I learned a thing or two! For a quick brush-up on your vocabulary, with some practical design tips along the way, here's that game of "WTD?" so you can play along at home.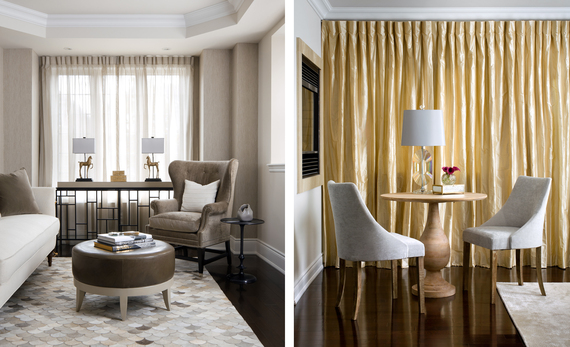 Curtains (TIDG) / Drapes (TIDG)
Curtains vs. Drapes
Curtains: Pieces of material suspended at the top to form a covering or screen, typically covering a window.
Drapes: Heavy curtains, usually with a lining for additional filtering of light.
Why Curtains: Although ready-made curtains do not usually give the luxurious look we associate with elaborate drapes, when used in multiples to add fullness they can be an easy and inexpensive solution. Thin sheers can also be a perfect solution to add privacy without completely blocking all light.
Why Drapes: Custom-fitted drapery usually provides the cleanest look, making it a worthwhile investment if you're staying in your space over the long term. For more light filtering options, consider having either a sheer or blackout layer hung on a separate rail, so you can choose whether to fully or partially block the incoming sun.
Tip: Dressing a full wall in drapery/curtains is an effective way to cover awkward or asymmetrical windows, while adding a luxe textural statement and absorbing unwanted noise.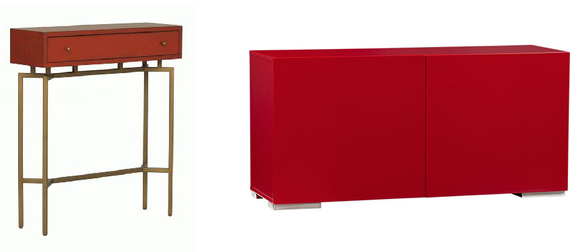 Console (Ming by Mitchell Gold + Bob Williams*) / Credenza (Fuel by CB2)
(*Mitchell Gold + Bob Williams available through select retailers and designers)
Console vs. Credenza
Console: A wide, shallow table, typically placed against a wall.
Credenza: A wide, low heavy chest for storage, with short legs or without legs.
Why a Console: Although the two terms are traditionally interchangeable -- and they both start with "c" -- modern designers usually think of a console as a minimal, visually light table, typically in a slim shape and thus perfect for small spaces such as foyers or hallways.
Why a Credenza: A credenza or sideboard is a good compromise between a console and a full height cabinet, as it provides storage while maintaining open sightlines -- excellent for spaces such as a dining room or living room (leaving upper wall space free for art, a mirror or a television).
Tip: When shopping for a desk for occasional use, consider consoles, as the slimmer profile will save space while still providing enough surface area for a laptop or notepad. This versatile piece will then also look good as an entry table or backing a sofa down the road.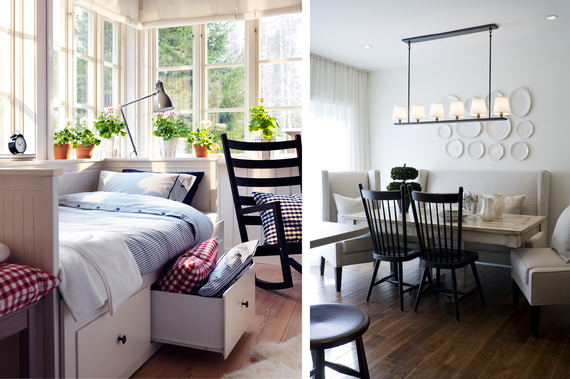 Daybed (IKEA) / Settee (TIDG)
Settee vs. Daybed
Settee: A long, shallow upholstered seat for more than one person, with a back and arms.
Daybed: A mattress-topped sofa suitable for occasional sleeping.
Why a Settee: A settee is typically sized for brief (or formal) sitting, rather than lounging, and this compact depth makes it perfect for tight spaces where the look of a sofa is desired, such as a foyer, landing or small bedroom.
Why a Daybed: A daybed can be thought of as halfway between a settee and a sofabed, as it allows for sleeping, but usually without having to unfold as it already has a mattress top (although some daybeds expand from a single to double size). Daybeds usually have hard sides, so add extra pillows for comfortable seating.
Tip: Try replacing two chairs at your dining table with a settee -- it makes a spacious seat for one, or a fun option for a couple (or a parent and child). Use contrasting chairs on the opposite side for a look that reads as eclectic instead of mismatched.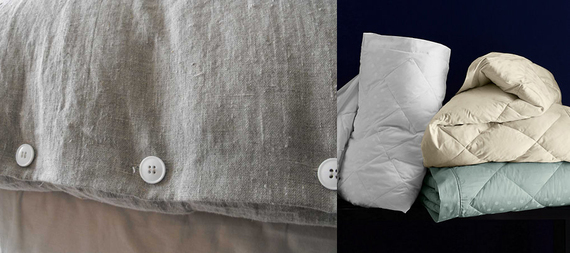 Duvet / Comforter
Duvet vs. Comforter
Duvet: A wide, flat fabric bag containing filler such as feather or a synthetic alternative, used in place of layered bedding.
Comforter: A piece of bedding which combines layers of insulating material sewn to a finishing layer of fabric.
Why a Duvet: The main difference between a duvet and a comforter is that a duvet usually contains just loose materials (such as feathers), in fabric compartments. Duvets are then used with a duvet cover which can be washed separately, easing washing (especially in compact washing machines).
Why a Comforter: A comforter is typically one piece, without a removable cover. This means the entire piece must be washed at once, but the contents are less likely to shift and become lumpy -- a comforter is then often used with a sheet to reduce the need for washing.
Tip: A bed with storage can hide extra duvet covers, allowing you to swap between seasonal looks easily. To switch up a comforter, add a beautiful faux fur throw blanket over top in the winter.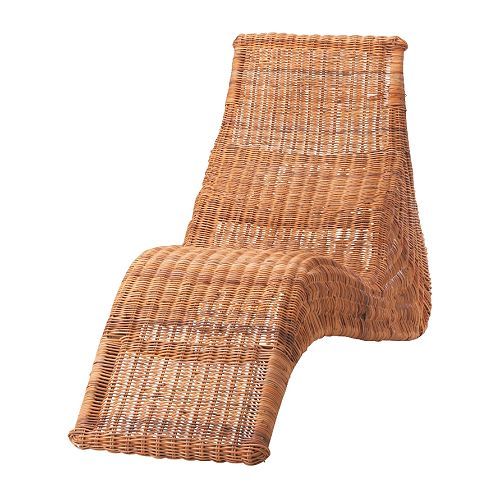 Wicker Chair (made of Rattan) - (Karlskrona by IKEA)
Wicker vs. Rattan
Rattan: The thin, bendable stems of a palm plant, often used to make furniture.
Wicker: Pliable material, plaited or woven to make items such as furniture and baskets -- often made of rattan, but can be many other natural or synthetic fibres.
Why Rattan: Rattan is a plant material used to make furniture, typically for outdoor settings or traditional looks. It can be woven or bent or both, and is a popular choice for chairs and other exterior pieces as it wears well outdoors.
Why Wicker: Wicker is various forms of woven material made of either plant fibres or a synthetic alternative -- the rich textural look is common for outdoor or outdoor-inspired settings. When choosing a synthetic-fibre option, look for a truly woven material (rather than faux-weave embossing) for a more high-end appeal.
Tip: Quality synthetic wicker (often called "resin wicker") can actually be preferable to organic for outdoor use, as it resists sunbleaching and weather. For interiors, I recommend sticking to true rattan or other natural fibres.