Want to get a designer bathroom as easy as 1-2-3? Here's a breakdown of the design of this recent TIDG client renovation, and the key details you can keep in mind to get your own space feeling like a private spa.
First, a little number crunching: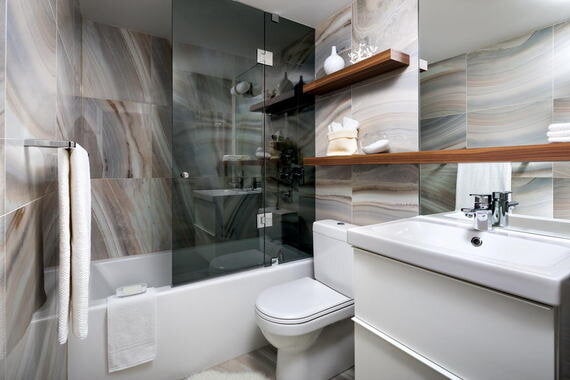 -A typical compact home bathroom is 5' by 7': standard bathtubs are usually 60" long (aka 5'), and so this length usually defines the short end of the room. Enough space next to it for a toilet and sink means about 7' on the longer wall, for a total of just 35 SQF.
-Considering that a tub is usually about 30-32" wide (or 2.5'), the tub/shower is a often over 1/3 of the room. For this reason, using an opaque shower curtain is going to visually cut the room almost in half! This is a big part of why glass shower enclosures have become so popular -- though more costly, they avoid the visual barrier that even an open shower curtain creates, for a much airier (and more contemporary) overall effect.
-I often combine a fixed panel with a swinging door to allow easy access to the shower while ensuring no water will spill out. Each space will be slightly different, but consider using an 18" fixed panel and 24" door, leaving about 18" open (where the water will not typically reach) -- then consult your contractor or glass fitter to confirm the door won't hit any other objects.
TIP: Tinted or smoked glass keeps the eyeline open while adding a sophisticated atmosphere.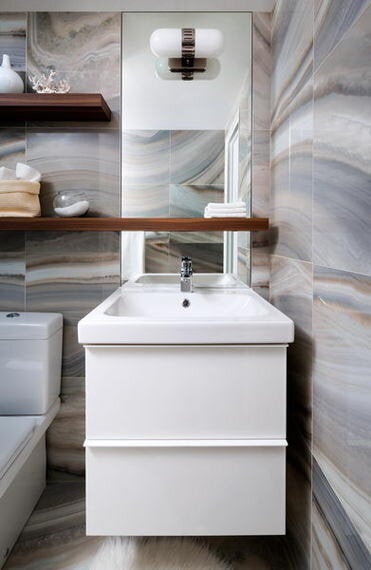 -Another effective way to raise your visual square footage is with fixtures that take up the least room possible. A floating vanity satisfies both a need for handy storage and a desire to maintain an open plan, especially when given a simple white gloss finish to match your porcelain surfaces. Here, I used a sleek and simple IKEA Godmorgon cabinet to compliment the Azzura Adora tub (from Mirolin).
-Even though space is limited, I made sure to position the vanity just a few inches away from the adjacent wall. This maintains the floating look, for a visual that feels much lighter, even if a sliver of space is technically "wasted" -- the optical illusion more than makes up for it.
-The original plan for this space called for a wallmounted toilet that would actually hide the tank inside the wall, further opening the sightlines. As is the case with most renovations, we could not be sure this installation would work until our contractor revealed the existing plumbing, and the plan had to be scrapped - keep in mind when beginning construction to set a budget aside for last minute changes. In the end, the minimalist Duravit toilet complimented the other fixtures beautifully!
TIP: The bathroom is a great place to go a little modern, especially with fixtures -- this creates a clean spa-like appeal, and can always be "warmed up" with small touches (like wood stools, coral accessories, or beachy woven baskets).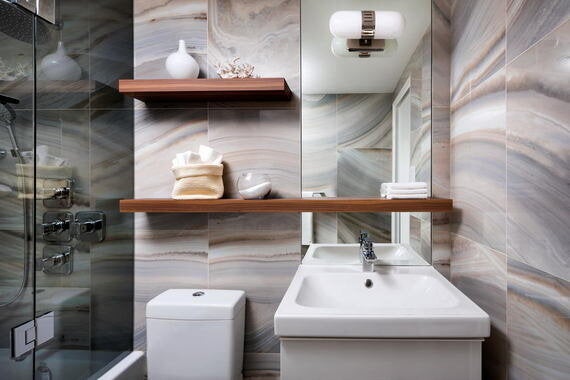 3. Know When to Hold 'Em or Fold 'Em
-As a designer, I'm a fan of fully tiling bathroom walls. It creates the most dramatic impact (for that spa-like feel), and since the bathroom is typically one of the smallest rooms in any home, the price for this wall treatment is relatively low compared to, say, tiling an entire kitchen. Keep in mind, though, that this always comes at a cost, especially when choosing true, natural stones: I find this is where clients often experience a bit of "sticker-shock" during the design phase, but find the incomparable results worth holding onto in the budget.
-If you want to save while creating impact, consider tiling just an area, such as the walls surrounding the tub, but still taking the tile to the ceiling -- this often avoids awkward breaks which can be formed by tiling the walls part way up, so the look remains polished. Then, paint the remaining walls a similar shade to the tile and double the look with a large stretch of mirror.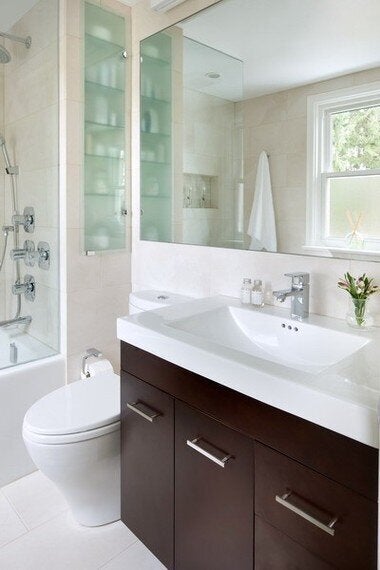 Another TIDG Bathroom Renovation
-Here a custom fit mirror was inset between tiles, following the width of the vanity cabinet for a clean line. Make sure to always finish a mirror by either setting it into the wall treatment or applying a proper frame, for a complete look that doesn't feel like an afterthought -- in other projects I have often stretched the mirror over both the toilet and vanity for a bigger effect, but here the gorgeous tile took precedence.
-Adding at least one custom detail helps achieve that "designed" look, so your space feels like a personal oasis and not generic. Here, the floating wood shelves create a memorable moment and give space for both whimsical decor accents and functional jars or baskets.
TIP: Clean white towels cap off your luxe bathroom experience and become part of the decor -- freshen up your linens and fold a few extras on a shelf for an instant update.