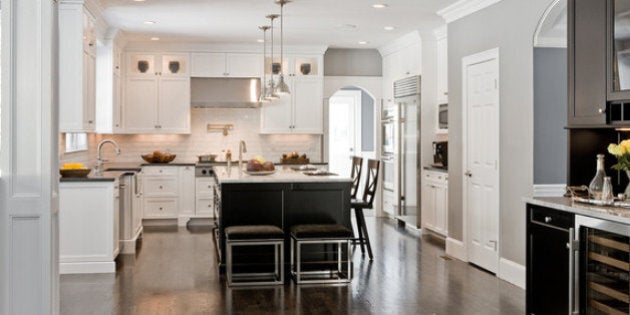 When it comes to interior design, grey may seem like the opposite of a colour... and by definition, this is technically true! However, grey can actually be a powerful tool for creating spaces of any colour palette, from subdued to bold. It's like design tofu: it doesn't seem like much on its own, but when you mix it right, it adds up to a look that's tied-together, sophisticated, and full of flavour.
Here are four of my favourite ways to go grey in style, and ideas for how to apply each: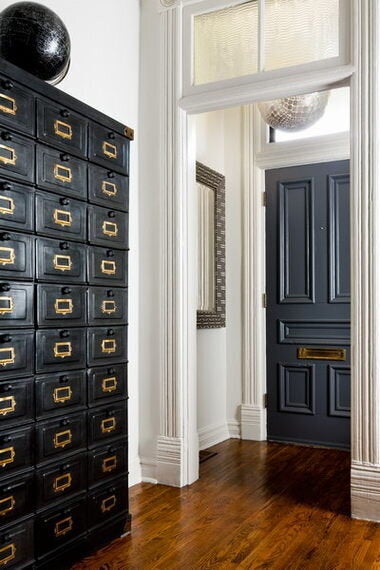 Interior by Toronto Interior Design Group
A medium or dark grey sofa is one of the strongest interior investments you can make, in the long and short term. It works with brightly coloured walls without demanding attention, or adds some depth and contrast to monochromatic surroundings -- plus, it's easy to keep looking beautiful, and because it resists trends, it'll last through years of use and future redesigns.
-Bold punches: A grey sofa is a perfect backdrop for high-contrast black and white patterns like bold stripes or zebra prints, and/or hits of supersaturated colour like raspberry. Feel free to layer prints and colour together, and use the connecting power of grey to tie these accents to a disparate wall colour like sky blue or leafy green.
-Feminine yellow: If you prefer soft over strong, mix a grey seat with buttery yellow walls and delicate prints for a gentle, relaxing effect. Don't forget to enrich the look with textures like fluffy shearling or supple leather by layering up a variety of pillows.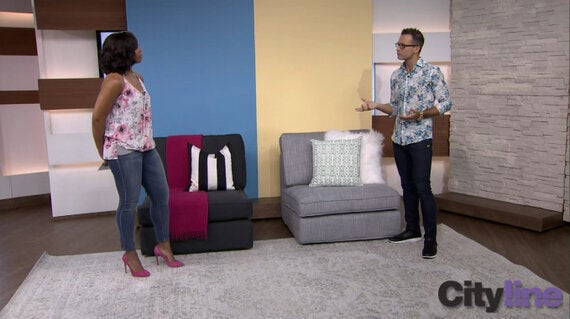 Yanic Simard on the set of Cityline
There's just something about the inviting texture of an area rug, rendered in a silvery grey shade, that gives a room an instant sense of luxury. However, a cool carpet can accomplish more than just adding interest underfoot, depending on how you mix it:
-Wood floors: It may seem like a shame to cover up beautiful wood floors with an area rug, but besides helping to define a zone within a space, a cool grey rug will perfectly contrast the warm undertones in wood, revealing the best of both. Layer it over anything from espresso to blonde woods, using a warmer shade the lighter the floor.
-Wild colours: if a room has a wild palette, harness the power of grey to bridge different colours without adding any new drama to the mix -- grey is technically a mix of all colours, so it helps tie different hues together. Use a rug large enough to tuck fully under the major seating elements, adding a sense of structure and peace to even the most dynamic design.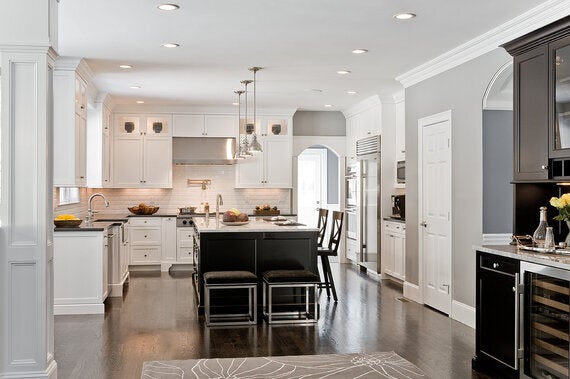 Grey walls and and a silvery carpet add depth to this space and highlight the warmth in the espresso floors
Replacing a dated neutral wall hue with a grey or "greige" (warm grey-beige) gives a room an instant update, while adding more depth and richness than a simple white. Try a no-fail Benjamin Moore shade like my go-to Classic Gray (OC-23), or go deeper with their 2015 trend grey Silver Fox (2108-50).
-Crisp white: The clean white kitchen is a highly sought after look, but a purely white-on-white scheme is too strict for some. A great way to soften the effect is by pairing demure grey walls with your white cabinetry, adding some depth without breaking the monochromatic palette for a result that's eye catching but approachable.
-Metallic accents: Grey naturally works well with it's cousin silver, and the combination of matte walls and shimmering metals will give a room instant depth. However, grey also mixes with warm metallic tones for an unexpected twist, and a hint of sophisticated glam -- try a copper faucet, bronze scones, a brass pendant light or a textural gold accessory for instant tone-mixing magic.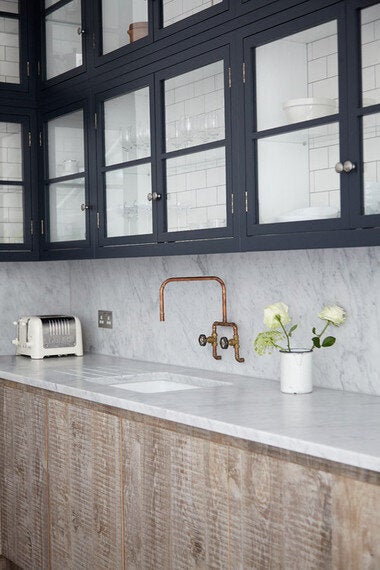 Pair grey cabinet doors with warm metal fixtures for unexpected but subdued glamour.
Want to break out of the white moulding mould? Try a grey shade for your trim and/or doors (like Benjamin Moore's 2121-10 Gray), and add a stately, architectural appeal to your home.
-Heritage home details: if you want to make your home's history a feature (or add a sense of character to a new build), try using grey instead of white or wood for details such as crown moulding, stair treads, bannisters, doors or radiators, making every architectural element a subtle feature.
-Brick walls: instead of painting over a beautiful brick, try making it work with the interior by matching it up against grey -- like with a wood floor, grey will accentuate the multi-tonal warmth of brick, making it a feature while simultaneously helping to integrate it for a harmonious look with plenty of personality.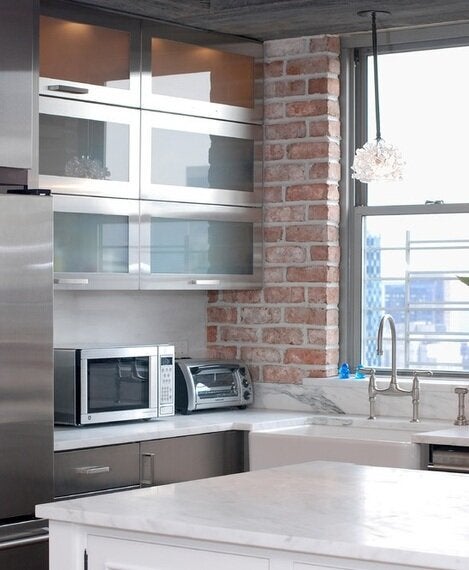 Grey trim blends beautifully with simple walls and even natural brick.
For more interior design ideas of any shade, and my Yanic Simard Selected accessory collection, visit tidg.ca. Got a grey-t idea to share? Find me on Twitter or Instagram at @yanicsimard!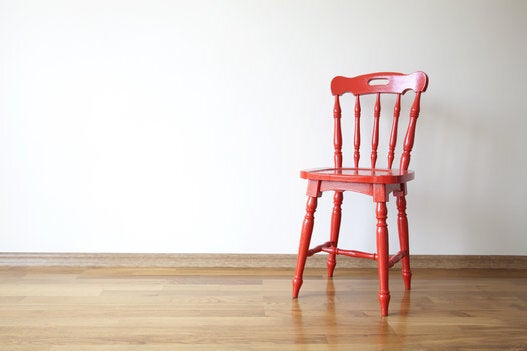 Decor Ideas That Make Your Home Look Messy