Yanic Simard
Classical master painters had one major thing in common: those who were considered the best painted so deftly you would "never see the artists hand." Centuries later, designers are proudly showing off the personal touch of painterly patterns, with bold brushstrokes, trippy paint drips, and crisp paint dips. Here's my guide to embracing your palette-passions:
Brush Strokes:
-Watercolour paintings and impressionist art inspire the current trend of raw, expressive brush strokes in interior design. Transcending the canvas, these dynamic lines can now be found dressing anything from walls to fabrics to accessories, bringing a sense of whimsy and energy -- and usually an unapologetic pop of colour.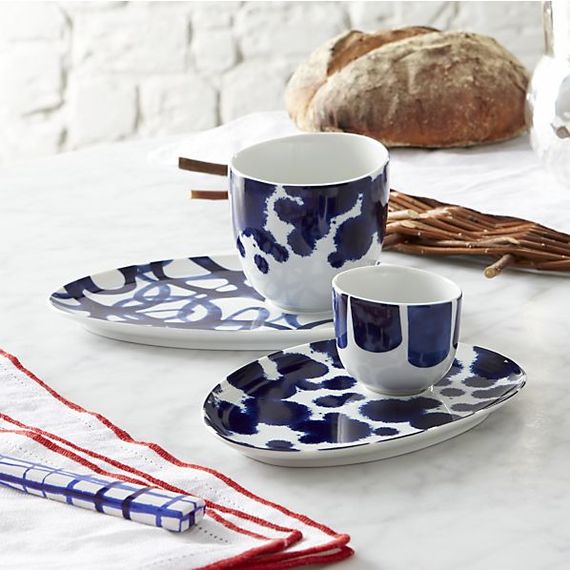 Como Collection, Crate&Barrel
Get the Look:
-Dress a table with the "Como" collection of cups, plates and bowls to get the vibe of a Greek Isles summer, any time. (Crate&Barrel)
-Apply the textural look of big brush strokes in a glam golden tone via the "Swishy" wallpaper treatment. (Rollout)
-Add an eastern twist to a bedside table with a Brush Stroke Lamp in a zen motif. (Bunny Williams)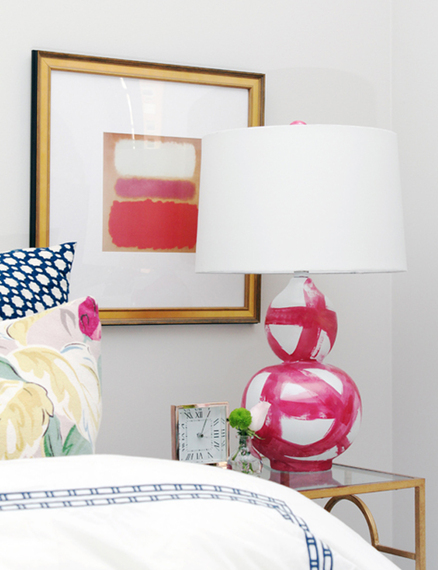 DIY Idea:
-Leftover paint in shades you love makes for an easy and unique artistic statement: take a frame with a wide matting, and simply brush a few strokes of paint onto a piece of canvas or paper sized to fit the opening. This adds a vibrant punch to any space and helps continue your colour scheme for a sense of rhythm.
Paint Drips:
-Taking the carefree approach of bold brush strokes a step further, dripped paint creates a graphic visual effect and a real sense of texture, whether poured on by an artisan or recreated as an edgy print.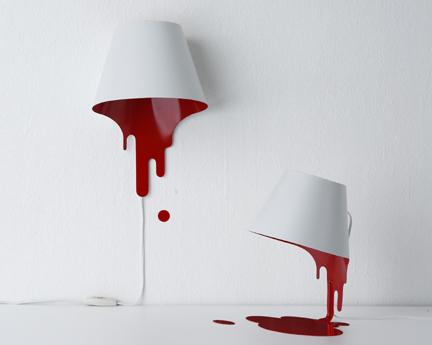 Liquid Lamp by Kouichi Okamoto
Get the Look:
-Take the seriousness out of a ticking clock with a colourful dripped face, perfect for anywhere from a child's room to a playful kitchen. (ArtIsEverything via Etsy)
-Add the Liquid Lamp table light to your desk for a little creative inspiration - the dripping silhouette disguises the base and cord. (Kouichi Okamoto)
-Browse Society6.com for their artist-created dripped paint images available made-to-order as pillow prints, art canvases, or other noncommittal accents (even phone cases) for a quick decor refresh. (Society6)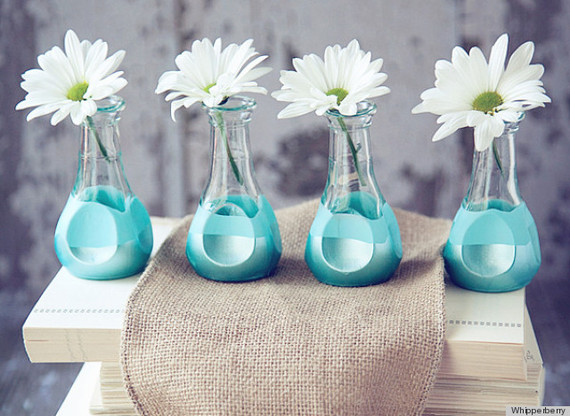 DIY Idea:
-Take a simple, inexpensive vase (clear, white, or a solid colour -- try a mason jar), turn it upside-down over newspaper, and slowly pour a small amount of paint on the bottom so it drips down the sides without completely covering. Let dry, turn over and you've got a gravity-defying look in a unique piece!
Paint Dips:
-The hottest paint trend, paint dipping gives objects a two-hued appearance by either literally dipping them in paint or simply painting the entire form up to a consistent line, creating a modern and graphic statement (often with traditional pieces). Perfect for DIYers, the possibilities are endless and the process is easy, so here's a few extra ideas to get you inspired: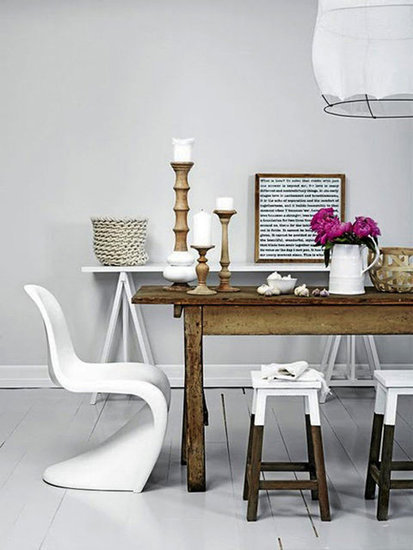 DIY Ideas:
-Transform a leggy nightstand, desk or console table by dipping the legs directly into a paint can for a small splash just at the feet, or painting them two-thirds of the way up.
-Paint the top of some bentwood dining chairs starting from a straight line (drawn with a level and taped off), and then pair these with plastic or upholstered end chairs in the same hue to create an eclectic but harmonious scheme.
-Dip wooden serving spoons, woven baskets, or decorative plates in white or metallic paint to play against the different textures.
-Take a damaged or reproduction art canvas and dip the entire piece (frame included) to give a simple portrait an edgy new appeal!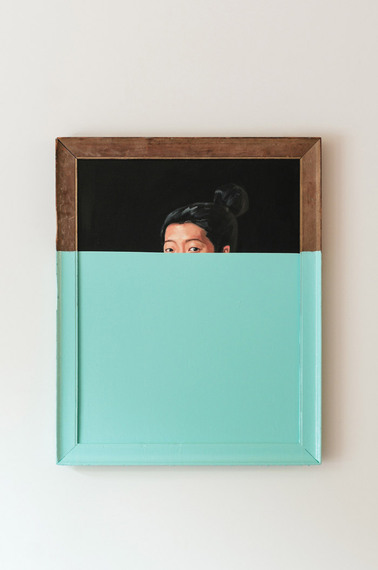 Get the Look:
-If you want a paint dip without the work, visit PrettyPegs.com for a selection of furniture legs and feet designed with IKEA pieces in mind (but suitable for transforming countless build-it-yourself lines), including their new collection at desk height. (Pretty Pegs)